November 4, 2019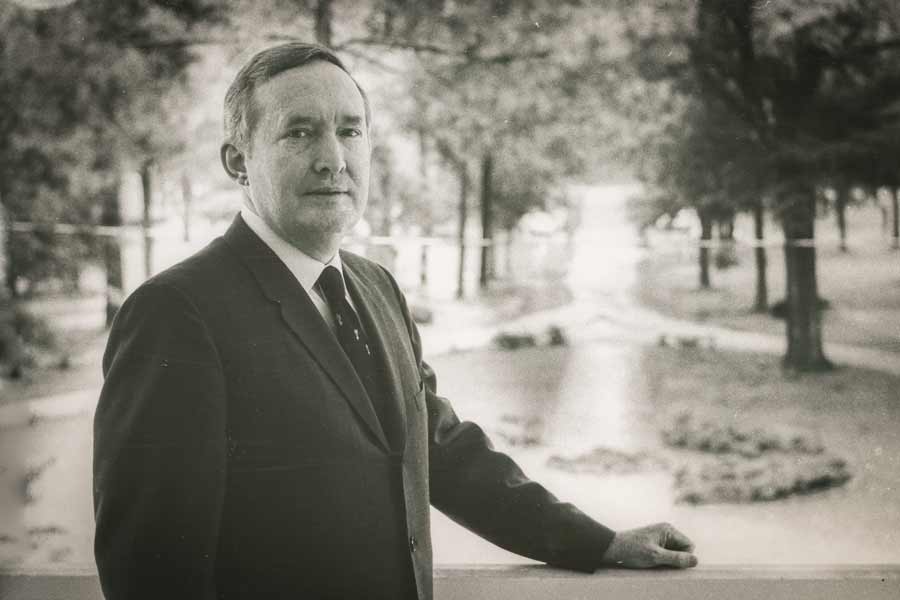 Francis Marion University to honor founders
Francis Marion has a lot of reasons to celebrate this year.
It's the University's 50th year of existence and its headed continuing to chart a path for growth in the future.
FMU will pay homage to some of the people that have made all of this possible with a celebration of its founders on Nov. 14 with Doug's Day.
Doug's Day will be an evening of food, fun, and all things Francis Marion, along with a free concert by the legendary Edwin McCain. 
Doug's Day will begin at 5:30 p.m. at the Griffin Athletic Complex on FMU's campus. Food vendors, craft beers, a DJ and much more will be on hand as the University community gathers ahead of McCain's concert on the infield of Clifford S. Cormell Field at Sparrow Stadium – FMU's baseball field.
The public is invited to join the Francis Marion community in this unique celebration of the University's semicentennial. The University, which was officially founded on July 1, 1970, will be celebrating its 50th anniversary throughout the 2019-2020 academic year.
FMU named the founders' day event after Dr. Doug Smith, the founding president of Francis Marion, but the event is a continued celebration of the staff and faculty who saw the University through its fledgling years 50 years ago when Francis Marion College first opened its doors.
The nearly 100 men and women laid the foundation for all that FMU has accomplished through the years, and are still having an impact on the University today.
More than 20 members of the original faculty and staff were honored recently at a dinner and reception at the FMU Performing Arts Center on Oct. 23. The honorees were presented with speeches from former provost Dr. Richard Chapman and current FMU President Dr. Fred Carter, participated in a viewing of a video commemorating FMU's 50th anniversary, and received a handsome commemorative art piece depicting the campus plaque that bears their names.   
Dr. Smith served the University from 1970 to 1983, and passed away in 2018 at the age of 99. Through nearly a century of life, Smith left an endearing legacy that carries on to this day.
Smith came to Francis Marion a year before the inaugural school year to oversee preparations for the new college. Smith hired the college's first faculty and staff, created the campus layout and facilities plan, and put in place the standards that allowed FMU (then FMC) to grow and flourish. That included a commitment to quality education focused on the classroom experience and fiscal prudence that kept tuition low.  Both remain FMU hallmarks.
During Smith's tenure, enrollment grew from 500 to 2,800 and the faculty increased from 20 to more than 130. He presided over the addition of more than a half million square feet of new campus buildings and was part of awarding more than 3,500 degrees. 
In a newspaper interview shortly after his retirement in 1983, Smith called his 13 years at FMU "happy times."
The founding faculty and staff at Francis Marion were: Juan A. Albarran, Evelyn W. Dilworth, Alice C. Baker, James E. Dooley, John W. Baker, Elizabeth M. England, Margaret C. Baker, Ruby G. Fail, Jay R. Beasley, N. Casey Frederick, Alice B. Beaty, Carol H. Frink, Guillermo Bernal, Jeanie H. Gillam, Robert M. Blakely, Shirley J. Hall, John S. Boyce, Jr., Shirley J. Hanford, William H. Breazeale, Jr., Jean G. Harper, Redden P. Byrd, Renee G. Harrell, Janice G. Coleman, Clarice B. Harris, Eugenie G. Comer, Harlan G. Hawkins, Mary Ellen Cooper, Lynn D. Hendrick, Ogal P. Crews, Jr., Linda T. Hodge, Lynn M. Croshaw, Eva C. Hoff, Frank H. Crow, Jr., Louis A. Hoff, George D. Crow, Robert L. Hogsett, J. Thomas Davis, Judith H. Holland, B. Steve Irick, Sandra C. Irvin, Teresa A. McRae, Ronald T. Jebaily Frances C. Means, Brinda A. Jones, Dolores J. Miller, Donald E. Kelley, Louis W. Moelchert, Jr., Adrian R. Ketcham, Lenna V. Morrow, G. Wayne King, Everett F. Myers, Betty R. Kirven, William L. Neal, Jr., James R. Knight, Jerry L. Need, Ernest H. Leggett, Frances S. Padgett, Louise R. Lester, Robert R. Parham, Johannes R. Lischka, Adele R. Parker, Marvin W. Lynch, Charles E. Parker, Osvaldo Marrero, Hans A. Pawley, Helen S. Martin, James E. Potterfield, Owen M. Martin, Katherine R. Powers, John B. Martino, J. Mitchell Reames, Sandra T. Massey, Eleanor K. Rogers, Teresa A. McCormick, Willie Rogers, Doris L. McKenzie, Martha E. Rose, Michael L. McQueen, Robert A. Ryan, Olin B. Sansbury, Jr., Patricia M. Sellers, Hood Singletary, Jack W. Smith, Robert E. Smith, II, Walter D. Smith, Beverly Spears, Jane T. Spivey, Lawrence F. Swails, E. S. Swearingen, Gayle H. Sweat, Lucy C. Thrower, Theresa A. Wachowski, Frank F. Welbourne, Anne S. Welch, J. Franklin West, Eugene N. Zeigler, Kristen L. Zillken, and Theodore C. Zuppa.