April 20, 2018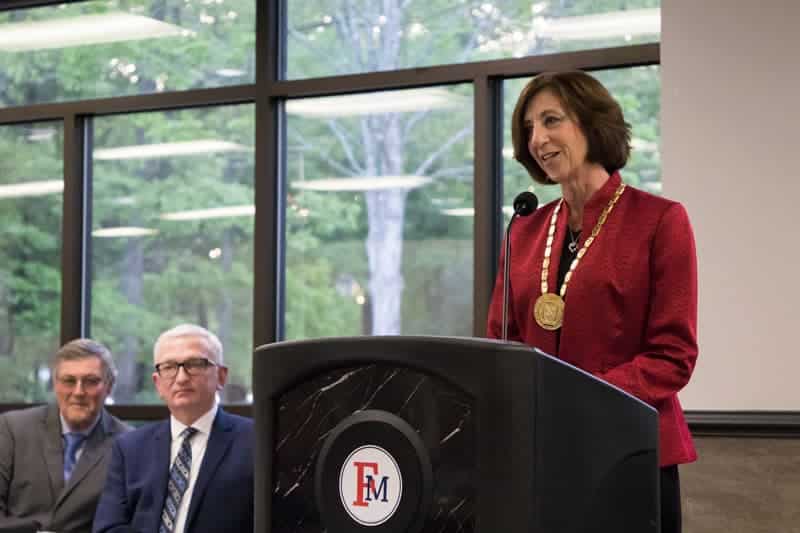 Francis Marion's Wittmann-Price named distinguished professor for 2018-2019
Dr. Ruth Wittmann-Price, Dean of the Francis Marion University School of Health Sciences, was named FMU's J. Lorin Mason Distinguished Professor for the 2018-19 academic year at the school's annual faculty awards dinner Thursday night.
The award, named in honor of a former chairman of the FMU Board of Trustees, is the highest honor bestowed upon an FMU faculty member each year.
The award will be presented formally at FMU's spring commencement Saturday, May 5. The Mason Distinguished Professor award was first given in the 1975-76 school year and has been given every year since. It is based upon a faculty member's ongoing contributions to teaching, professional service and scholarly activities. Winning the award also means that Wittmann-Price will be the FMU nominee for the Governor's Professor of the Year Award competition.
Wittmann-Price said she was overwhelmed by the honor. She told the faculty assembled for the dinner that the work she does  would not be possible without the assistance of the entire University administration and faculty.
Wittmann-Price joined the FMU faculty in 2010 after working as an assistant professor and coordinator for the Educational Track in the Doctor of Nursing Practice Program at Drexel University. She has taught all levels of nursing students over the past 16 years and has completed an international service-learning trip. Currently she teaches baccalaureate students leadership and in the MSN Nurse Educator track. Ruth mentors DNP and Ph.D. students and is on several committees for both Drexel and Widener Universities.
She received her AAS & BSN degree from Felician College in Lodi, N.J., her MS as a Perinatal CNS from Columbia University and completed her PhD in nursing at Widener University, Chester, Pa. and was awarded the Dean's Award for Excellence.
Dr. Fred Carter, FMU's president, praised Wittmann-Price for her numerous contributions to the university.
"Ruth's record is phenomenal as measured against any number of criteria- administration, teaching, research, grant-writing, and nursing practice," Carter says. "She is admired and respected by everyone with whom she works, be they colleague, student or professional associate. Much of this success stems from her intellect, her initiative and her compassion, but it's also based on her determination to make our health programs the very best in the country. She's well on the way toward accomplishing this, and the trustees, faculty and I couldn't be more appreciative."