April 1, 2021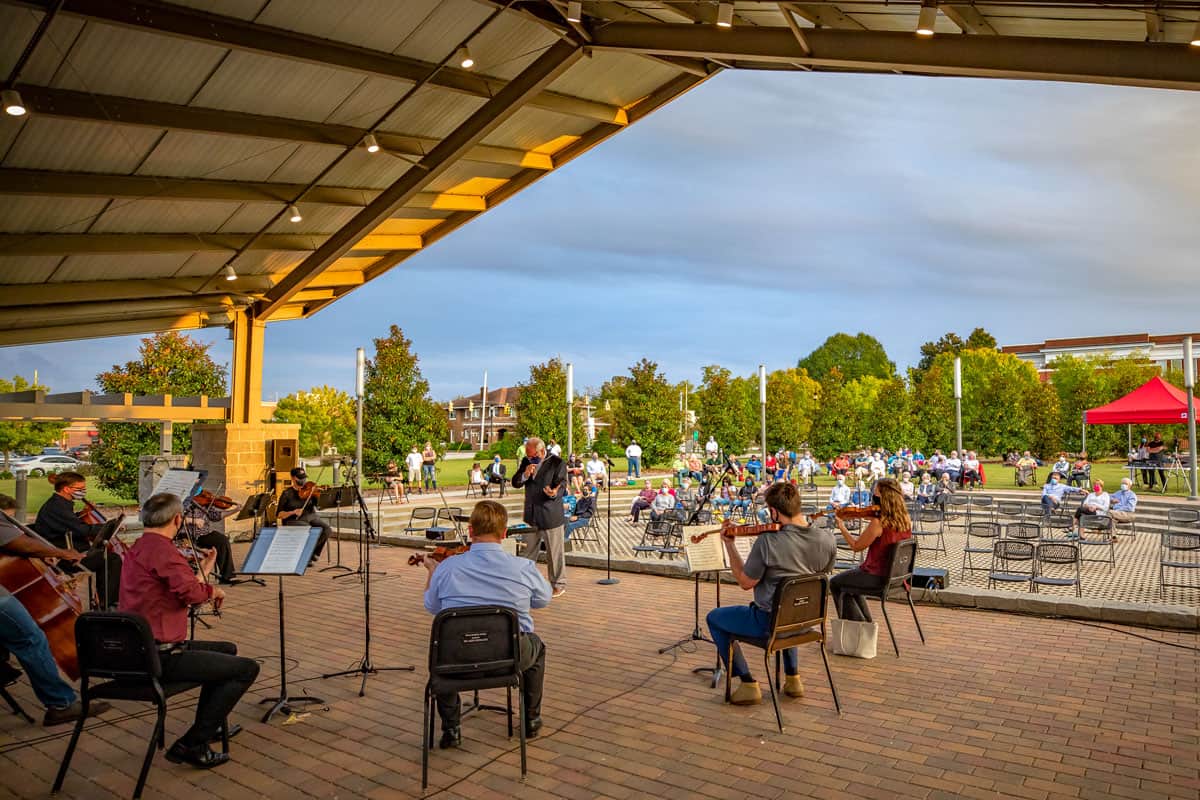 Fresh Air Fest concert series returns to FMU PAC amphitheater this spring
Francis Marion University's Performing Arts Center, in collaboration with the FMU Department of Fine Arts and the Florence Symphony Orchestra, will present a free, outdoor concert series this spring at the FMU Performing Arts Center amphitheater.
The concerts are an extension of  the "Fresh Air Fest" series that initiated in the fall. The concerts will offer a variety of performances in a safe, outdoor environment. Audiences will be limited to 150, and FMU policies requiring masks and social distancing at all University events will be in place.
The performers include ensembles from the Florence Symphony Orchestra, FMU's Jazz Combo, and FMU's Voice and Choir, among others.
The free concert series begins on April 10 and will be held on various afternoons and evenings throughout April 25.
The series will be held in conjunction with special extended hours at FMU's University Place Gallery featuring FMU alumnae Anna Dean's "Dust and Shadows" exhibition around most of the Fresh Air events. The exhibition closes on April 23. Admission to the gallery is free.
To assist with managing the size of the audience and keeping everyone safe, reservations are recommended. To make a reservation, contact the FMU PAC ticket office at 843-661-4444. Patrons who make a reservation will check in at the information tent near the entrance to the amphitheater. Others will be admitted as space allows. The amphitheater will open for patrons one hour before show time.
Socially distanced seating will be provided at the amphitheater, but guests may bring portable seating as well. Individuals may bring food and drinks to the events, but please note that each concert will last an hour or less.
For more on the Fresh Air Fest, visit the FMU Performing Arts Center website or call the PAC at 843.661.4444 during normal business hours.
Saturday, April 10 @ 1 p.m. – FMU Arts Day // University Place Gallery – 1 – 4 p.m.
Tuesday, April 13 @ 6 p.m. – FMU Jazz Combo // University Place Gallery – Noon – 6 p.m.
Thursday, April 15 @ 6 p.m. – FMU Voice Choir // University Place Gallery – Noon – 6 p.m.
Tuesday, April 20 @ 6 p.m. – FMU Department of Theatre // University Place Gallery – Noon – 6 p.m.
Sunday, April 25 @ 4 p.m. – Florence Symphony Orchestra