August 16, 2019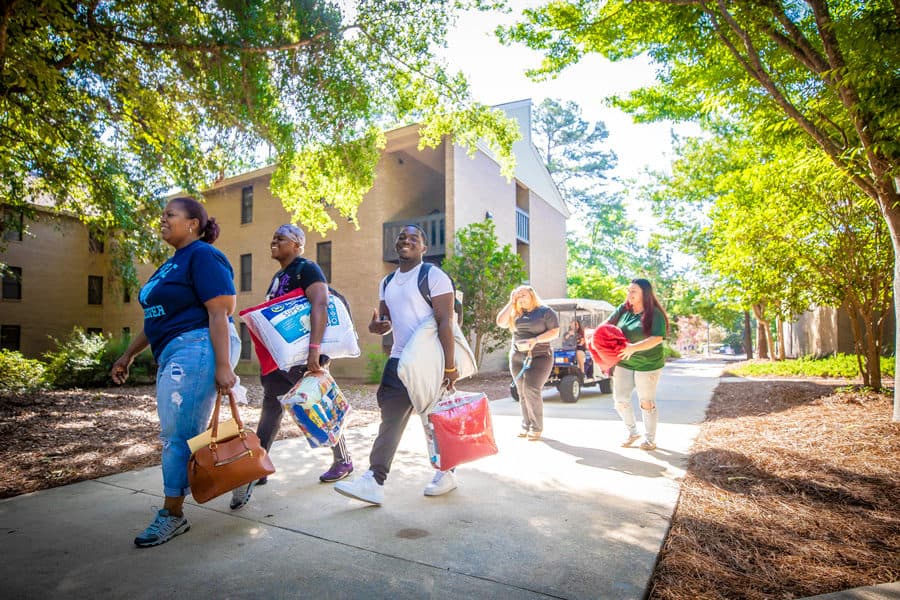 Freshmen move-in kicks off busy week at FMU
Francis Marion University welcomed more than 700 new students to campus this weekend for its freshmen move-in, kicking off a week full of exciting events.
Saturday's move-in will bring in members of FMU's class of 2023, along with hundreds of current students, faculty, staff and alumni volunteers to help the newest Patriots and their families find their place and settle into campus life.
Upperclassmen moved in on Sunday. The first full day of classes for the fall semester will be on Tuesday.
First Week 2019 is the second annual iteration of FMU's weeklong series of special events, including mixers for first year-students; exciting games, parties, and cookouts for all students; and the culminating event, the First Friday music festival at the Griffin Athletic Complex on Aug. 23.
 The week kicks off what will surely be a dynamic and active academic year for Francis Marion.
EVENT LISTING: 
Saturday, Aug. 17
PATRIOT LIGHTS
7 PM – 10 PM @ the Smith UC Gym
UC DANCE PARTY
8 PM – 10 PM @ the Smith UC Commons
Sunday, Aug. 18
PATRIOT GAME SHOW
1:30 PM – 3:30 PM @ Chapman Auditorium
PATRIOT POOL PARTY
4 PM – 7 PM @ the FMU Outdoor Pool (near The Grille)
EVENTS IN THE GRILLE
Noon – 6 PM @ The Grille
Monday, Aug. 19
WALK YOUR SCHEDULE
8:30 AM – 11:30 AM // 1:30 PM – 3:30 PM @ tents near Founders Hall, Leatherman Science Facility, and the Smith UC
SCAVENGER HUNT
Noon – 1:30 PM @ the fountain near Founders Hall
Tuesday, Aug. 20
FIRST DAY OF FALL CLASSES
ASK ME TENTS
8:15 AM – 2 PM @ tents near Founders Hall, Leatherman Science Facility, and the Smith UC
JOSH MCVICAR SHOW
7 PM – 9 PM @ the Smith UC Gym
Wednesday, Aug. 21
COMMUNITY COOKOUT
4 PM – 6:30 PM @ the Smith UC Lawn
MEN'S SOCCER GAME
7 PM – 8 PM @ Hartzler Field
Thursday, Aug. 22
MOVIE NIGHT with The Pre-Vet Club
6 PM @ Lowrimore Auditorium in the CEMC
Friday, Aug. 23
FIRST FRIDAY
7 PM – 11 PM @ The Griffin Athletic Complex