April 23, 2021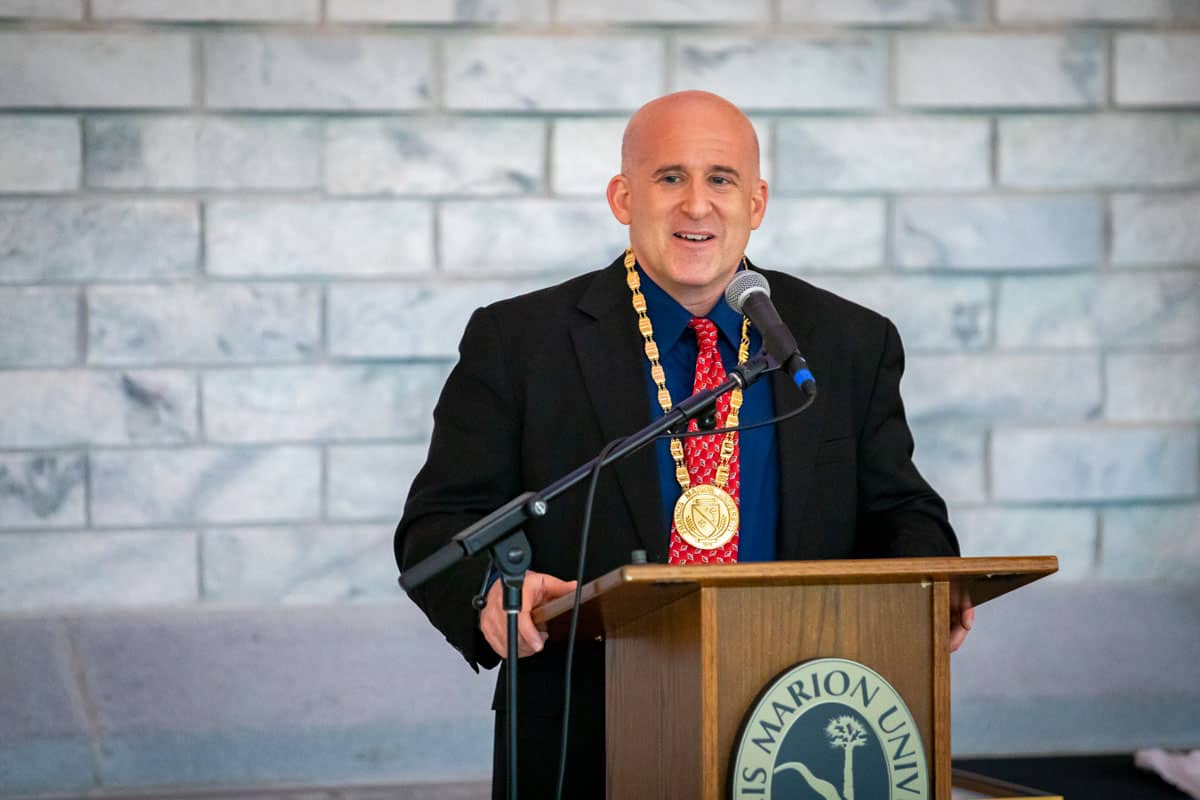 Kaufman named Francis Marion's distinguished professor for 2020-2021
Dr. V. Scott Kaufman, chair of the Francis Marion University Department of History and professor of History, was named FMU's J. Lorin Mason Distinguished Professor for the 2020-2021 academic year at a special awards ceremony Thursday night at the FMU PAC.
The annual award is named in honor of a former chairman of the FMU Board of Trustees and is the highest honor bestowed upon an FMU faculty member. Kaufman will also be the FMU nominee for the South Carolina Governor's Professor of the Year Award by merit of receiving the FMU recognition.
The Mason Distinguished Professor award is based upon a faculty member's ongoing contributions to teaching, professional service, and scholarly activities.
Kaufman, the 46th recipient of the Mason award, joined the Francis Marion University faculty in 2001. He was named an FMU Board of Trustees Research Scholar in 2007. He served as a founding co-director of FMU's McNair Center for Research and Service from 2008 to 2012, and was the faculty advisor for the University's Model United Nations program for almost 10 years.
He has also been lauded as a vigorous researcher and publisher within his field, penning numerous works including Project Plowshare: The Peaceful Use of Nuclear Explosives in Cold War America, Ambition, Pragmatism, and Party: A Biography of Gerald R. Ford, and a soon to be published comparative history of the Panama and Suez canals.
Dr. Fred Carter, FMU's president, praised Kaufman for his numerous contributions to the university.
"Scott Kaufman is an exceptionally prolific scholar who excels at every academic endeavor that he undertakes," Carter said. "Beyond this, he's an extraordinary department chair who is respected and admired by our students and faculty alike. No one is more deserving of this honor, and the entire FMU community joins me in applauding this recognition."
The distinguished professor award is typically announced at a dinner with most, if not all, of the FMU faculty in attendance. This year's award was presented at a more intimate affair attended by Kaufman, his family, representatives of his academic department, and some University officials.