May 22, 2017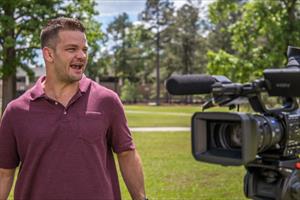 Lights, camera, preparation! Grad says FMU education has left him ready for Hollywood and more
For aspiring actor Christian Brunetti, all the world is a stage. But when he walked across the stage Saturday, May 6 at Francis Marion University's spring commencement, he wasn't acting.
The emotions were very real.
"It was a big moment for me," says Brunetti. "It's a long road for me to a college degree. I'm not sure there's any other college in the world where I could have gotten this done besides FMU. At every turn, all my professors, everyone really, has just been so supportive."
Brunetti's college path began more than a decade ago after he graduated from high school in Summerville. He started college in Charleston right after high school, dropped out when his financial aid dried up, and then joined the Army.
That led to an eight-and-a-half year stint as a special operations soldier with the 82nd Airborne, which in turn led to Brunetti's immersion in television as both an actor and advisor. Brunetti's first taste of "Hollywood" came with the cable series "Army Wives."
Through association with one of his Army buddies, he landed a role as an extra on the show. Then, after discovering an aptitude for show business working on the Army Wives' set, he landed role as the show's military advisor.
That led to an assortment of other roles – some small acting parts, some behind the scenes or behind the camera – in a wide variety of shows. Along the way, Brunetti also got married and had a family. Family concerns eventually led him to Florence after his military service ended. Then and there his thoughts turned to resuming his aborted collegiate education.
"Francis Marion was here, I'd heard some good things about it, so I applied and got in," says Brunetti. "It's been a great choice."
Brunetti says university staff helped him navigate the unique options available to a veteran, and FMU's close-knit academic community helped deal with some unique challenges. A brain injury suffered during his military service left Brunetti unable to process certain kinds of knowledge, like higher level mathematics.
That forced him to change career plans. Nurturing professors helped guide him to a new major (English, with a Theater minor) that would support and fit his budding film career. And on a couple of occasions they pitched in to help him balance academics with his duties as a father.
"There were a couple of times when I had the kids (he has a 12-year-old daughter and a 10-year-old son) and they were out of school and I wasn't," says Brunetti. "I don't like to miss class. I talked to one of my professors and she said, 'bring 'em along.' And so I did that a few times. They participated in class and even took a couple of quizzes.
"That was a pretty neat thing that I doubt would happen many places," Brunetti says. "But it happened here. This is a special place."
Brunetti says he plans to pursue a showbiz career, unsure exactly which direction that will take him. In late May he will debut a short film for a Florence-area non-profit that he produced, and co-wrote with an FMU classmate.
That same month he'll make his Netflix debut with a small part in a fairly popular show from that provider about politics. "That's all I can say about it for now," says Brunetti.
What is clear is that he'll have plenty of options and the preparation needed to make the most of them.
"After my time at FMU I feel like I'm ready for just about anything," Brunetti says.