May 22, 2017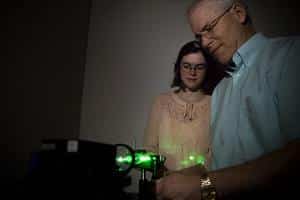 Rare math-physics double was 'perfect' for FMU grad
Math and Physics top most lists of tough college majors.
Francis Marion University's Mary Mulholland just saw them as a perfect pair.
So, she majored in both subjects and completed her studies with a perfect score.
Mulholland, a magna cum laude graduate in the FMU class of 2017, which marched last Saturday in the school's annual commencement ceremony, with a 4.0 grade point average in both Mathematics and Physics.
That's an almost unheard feat at FMU, but no great surprise to Mulholland or her professors.
"I've always been good at math," Mulholland says. Says Dr. Seth Smith, the Pee Dee Electric Co-Op Professor of Physics at FMU, "Mary is one of those students that every professor dreams of teaching. She's got all the right skills… She's curious about how the world works and she's never satisfied with just knowing how to do the problems. She wanted to know how the world worked around them."
Smith, who's been at FMU since 1987, has taught thousands of students. He says Mulholland is clearly one of the best.
Mulholland, a Sumter native who came to FMU as the recipient of the university's prestigious McNair Scholarship, says the complementary nature of the Math-Physics pairing was attractive.
"I was always been good at math, but I wanted to be able to apply it and Physics was the perfect way for me to do that," she says. "I love puzzles, so anything that's similar to a puzzle, I would enjoy."
Mulholland says the ability to complete the double major was one of several aspects of FMU's intimate and vibrant academic life that made her four years at the school both challenging and memorable.
She also received an opportunity to participate in serious research — her projects included "resonance ionization spectroscopy and multiphoton ionization spectroscopy on Cesium using a Nd:YAG-pumped dye laser system," among others — and she was also able to spend a semester abroad.
Mulholland went to Germany. FMU students have more than two dozen study abroad locations from which to choose.
"The more you travel, the more you'll get out of the experience," she says. "You get to meet a lot of difference people. My Facebook page is filled with all these different languages because we still keep in touch."
Mulholland's superb undergraduate work has also left her with a benefit that any grad can translate: lots of choices. Mulholland is deciding between or a job as a programmer.
"I think I would enjoy research simulating different physics phenomenon," she says. "I also think I would enjoy a job with linear programming."
Either way, she's certain she made the right college choice.
"FMU was perfect for me," she says. Of course.