Mathematics Department Hosts Conference
On Friday, April 22, 2022, the Department of Mathematics proudly hosted its annual Francis Marion Undergraduate Mathematics Conference. The conference was well attended by students and faculty from colleges and universities in the region. FM math majors gave talks about their mathematics research projects. For more information about the conference, contact Dr. Nicole Panza, Conference Director.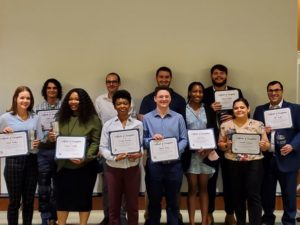 Mathematics Students Honored
Each Spring at the University academic awards ceremony, outstanding students in every campus department are honored. This year, the Mathematics faculty selected graduating senior mathematics majors, Taylor Boatwright, Dalton Buffkin and Sarah Harkins to receive the Mathematics Award. Taylor also received the President's Undergraduate Research Award, the Scholastic Achievement Award and the Secondary Education Award. Math major Jacob Ballington was recognized by the School of Business with the Finance Award and by the Honors Program with the Honors Student Advisory Council Award. Also recognized by the School of Business was math major Roland Vu who earned the Computer Science Award. Congratulations to these five students and all of our majors and minors on an outstanding academic year!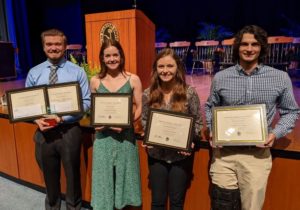 FM Mathematics Faculty Promoted and Awarded Tenure
Two FM Mathematics Faculty members were recently promoted and awarded tenure. Dr. Sharon K. O'Kelley was promoted to Professor of Mathematics and Dr. K. Daniel Brauss was tenured and promoted to Associate Professor of Mathematics. We congratulate these individuals on these accomplishments!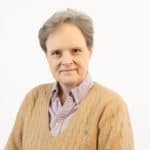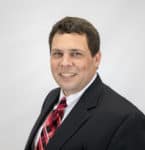 FM Mathematics Faculty Elected Chair
At the February 5, 2022 General Faculty meeting, the FM faculty elected Department of Mathematics Faculty member Dr. Sharon K. O'Kelley as the 2022-2023 Chair of the University Faculty. Congratulations, Dr. O'Kelley!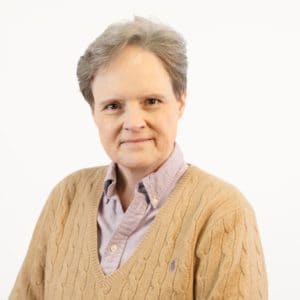 Inspiring Women for Generations: NCUWM 2022
From January 21-23, 2022, FM students Brianna Bradley, Ja'Nya Breeden, and Sarah Harkins and FM Math faculty Dr. Nicole Panza "attended" the 24th annual Nebraska Conference for Undergraduate Women in Mathematics through the University of Nebraska-Lincoln. The conference, which boasts the goal of supporting women in their pursuit of mathematics, was held virtually due to COVID-19. Brianna gave a presentation entitled, "Interconnectedness of Math and Art: Exploration of the Fibonacci Sequence." Ja'Nya presented a talk entitled, "A One-dimensional Field Dislocation Mechanics Model Using Discontinuous Galerkin Method." And, Sarah participated in the poster session with her work entitled, "A Comparative Study of Gaussian Mixtures and Clustering on Health Data." We look forward to returning to Lincoln next year!