GO BEYOND THE CLASSROOM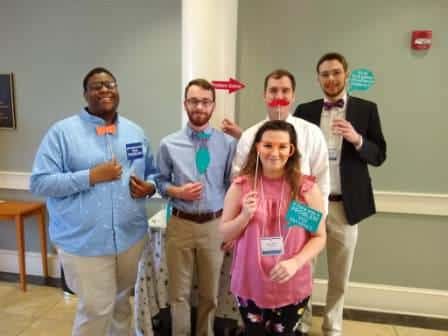 The Department of Mathematics believes that some of the best mathematics is discovered outside of the classroom. The Department sponsors activities and events each year to promote real world learning and inquiry. They are:
MATH CLUB
During  the fall and spring semesters, Math Club generally meets twice a month for talks and recreational math activities. In addition, there are several opportunities throughout the year to travel  and connect with the wider math community.
For more information, see Math Club Advisor Dr. Daniel Scofield.
FM UNDERGRADUATE MATHEMATICS CONFERENCE
 The Spring 2020 Francis Marion Undergraduate Mathematics Conference

The Department of Mathematics at Francis Marion University
regretfully shares that the 2020 conference has been cancelled. Please join us in spring 2021.
PEE-DEE REGIONAL HIGH-SCHOOL MATHEMATICS TOURNAMENT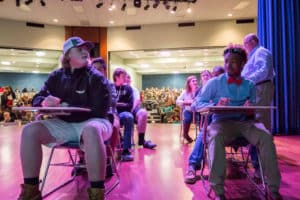 The Pee-Dee Regional High-School Mathematics Tournament will not be held this coming December, 2020.
Note from the Supervisor: The Tournament has always required extensive planning and preparation. No one is able to foresee the dynamics of the current pandemic. Even in the event that the pandemic later abates, it is not possible to know that ahead of time. In short, it has become impossibly problematic to plan the event, and a Tournament that cannot be planned cannot be done. We look forward to having a Tournament in December of year 2021.
Questions should be directed to Dr. Damon Scott, current Tournament director.
Past Questions and Champions
KAPPA MU EPSILON: MATHEMATICS HONOR SOCIETY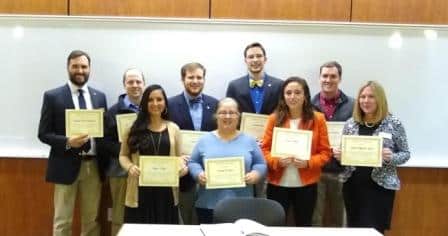 South Carolina Epsilon Chapter

Kappa Mu Epsilon is an honor society in mathematics whose purpose is promoting mathematics among undergraduates. Students of mathematics or related disciplines who are of academic distinction and have achieved professional and scholastic merit are eligible for membership. Francis Marion's chapter of Kappa Mu Epsilon, the South Carolina Epsilon Chapter, was established in March 2005.