GO BEYOND THE CLASSROOM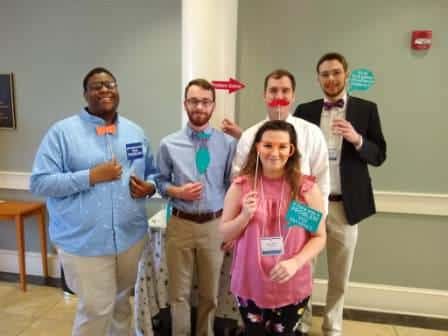 The Department of Mathematics believes that some of the best mathematics is discovered outside of the classroom. The Department sponsors activities and events each year to promote real world learning and inquiry. They are:
MATH CLUB
During  the fall and spring semesters, Math Club generally meets twice a month for talks and recreational math activities. In addition, there are several opportunities throughout the year to travel  and connect with the wider math community.
For more information, see Math Club Advisor Dr. Daniel Scofield.
FM UNDERGRADUATE MATHEMATICS CONFERENCE
 The Spring 2022 Francis Marion Undergraduate Mathematics Conference

The Department of Mathematics at Francis Marion University
is proud to host on 
Friday, April 22, 2022
The 2022 Francis Marion Undergraduate Mathematics Conference
in which undergraduate students will present their research
from 1:30  to 5:30
p.m.

MATH IN INDUSTRY SPEAKER SERIES
This series brings speakers in diverse industries that use mathematics in their professions to speak about their work and hold a Q&A dinner with interested students.  For Q&A dinner reservations, email Dr. Ivan Dungan. Funded by a FMU PEAK Grant. 
February 3, 2022

Lecture: 5:00-6:00PM LSF 405
Dinner (RSVP to Dr. Dungan): 6:00-7:00PM
Speaker:  Carol Rosenberg

Position:  Cryptanalyst
Affiliation:  National Security Agency
PEE-DEE REGIONAL HIGH-SCHOOL MATHEMATICS TOURNAMENT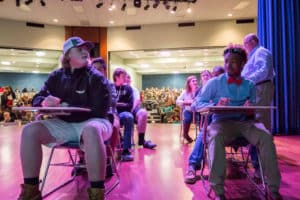 The Pee-Dee Regional High-School Mathematics Tournament will not be held this coming December, 2021. We look forward to having a Tournament on December 6, 2022.
Questions should be directed to Dr. Damon Scott, current Tournament director.
Past Questions and Champions
KAPPA MU EPSILON: MATHEMATICS HONOR SOCIETY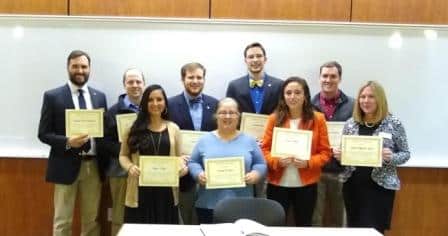 South Carolina Epsilon Chapter

Kappa Mu Epsilon is an honor society in mathematics whose purpose is promoting mathematics among undergraduates. Students of mathematics or related disciplines who are of academic distinction and have achieved professional and scholastic merit are eligible for membership. Francis Marion's chapter of Kappa Mu Epsilon, the South Carolina Epsilon Chapter, was established in March 2005. 
MATH DEPARTMENT EVENTS
Nebraska Conference for Undergraduate Women in Mathematics
Virtually attend the Nebraska Conference for Undergraduate Women in Mathematics, an undergraduate math conference dedicated to women. Students will have opportunities to meet other women who share their interests in the mathematical sciences. This is also an opportunities to share any research and listen to research done by fellow undergraduates. Contact Dr. Panza if you are interested in attending. Registration occurs during the first week of October.

January 21- January 23, 2022
MCM/ICM: Mathematics Contest in Modeling/ Interdisciplinary Contest in Modeling
Compete in the MCM or ICM from here at FMU. It challenges teams  of students to clarify, analyze, and propose solutions to open-ended problems. See Dr. Panza for more information.

MAA Southeastern Section Spring Meeting
Attend the sectional meeting at Berry College in Mount Berry, GA. Compete in Math Jeopardy, participate in the Undergraduate Treasure Hunt, attend talks given by students and faculty, and network with fellow undergraduate math students from other institutions.

Francis Marion Undergraduate Mathematics Conference