September 8, 2023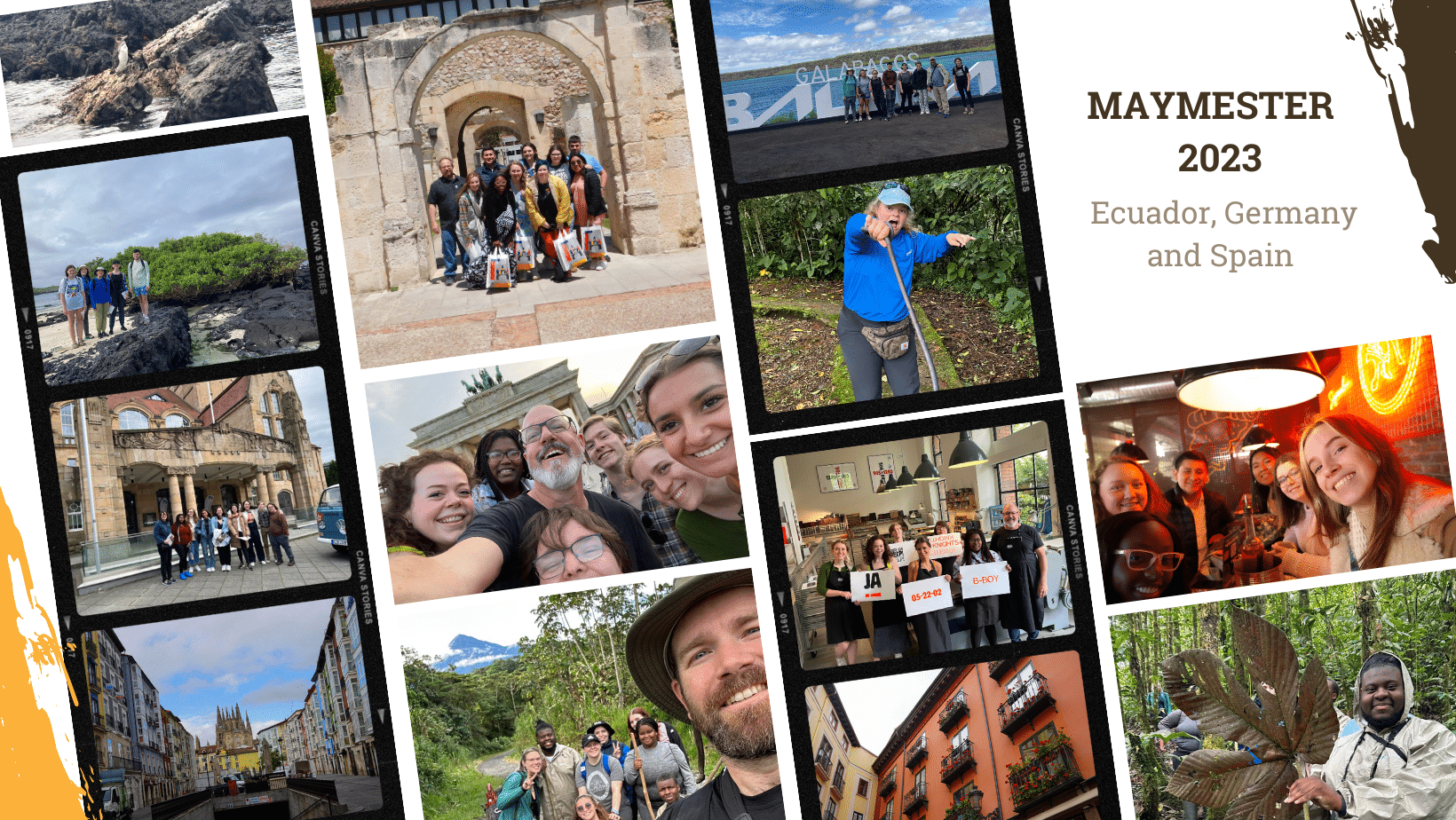 Maymester 2023: Travel Study Reflections
Faculty and students had the opportunity to participate in three different travel study courses in the Late Spring 2023 semester. The courses, offered by the Biology, Fine Arts and Modern Languages departments, travelled to Ecuador, Germany, and Spain, allowing students to immerse themselves for two weeks in the country they visited and experience all that they had learned in their Maymester class.
Ecuador
Drs. Nathan Harness and Paul Zwiers both travelled to Ecuador for the their Late Spring Biology courses. Dr. Harness, who teaches Biology for Teachers, took a group of students to Wildsumaco Biological Station. While at the station students were required to keep journals of their daily observations of the natural world around them. The course focused on giving students a greater understanding of how science works, especially in relation to how our environment works.
Dr. Paul Zwiers' class, which focused on Island Biogeography, took place in two locations – the Galápagos Archipelago and Wildsumaco Biological Station. Topics covered included the geological processes of island formation and EO Wilson's model of Island Biogeography. Students were also required to make observations of island plants and animals throughout their trip. Some of the most exciting things that students were able to experience were "learning a new culture and snorkeling with HUGE sea turtles" said Mia Doerr, a student in the Island Biogeography class.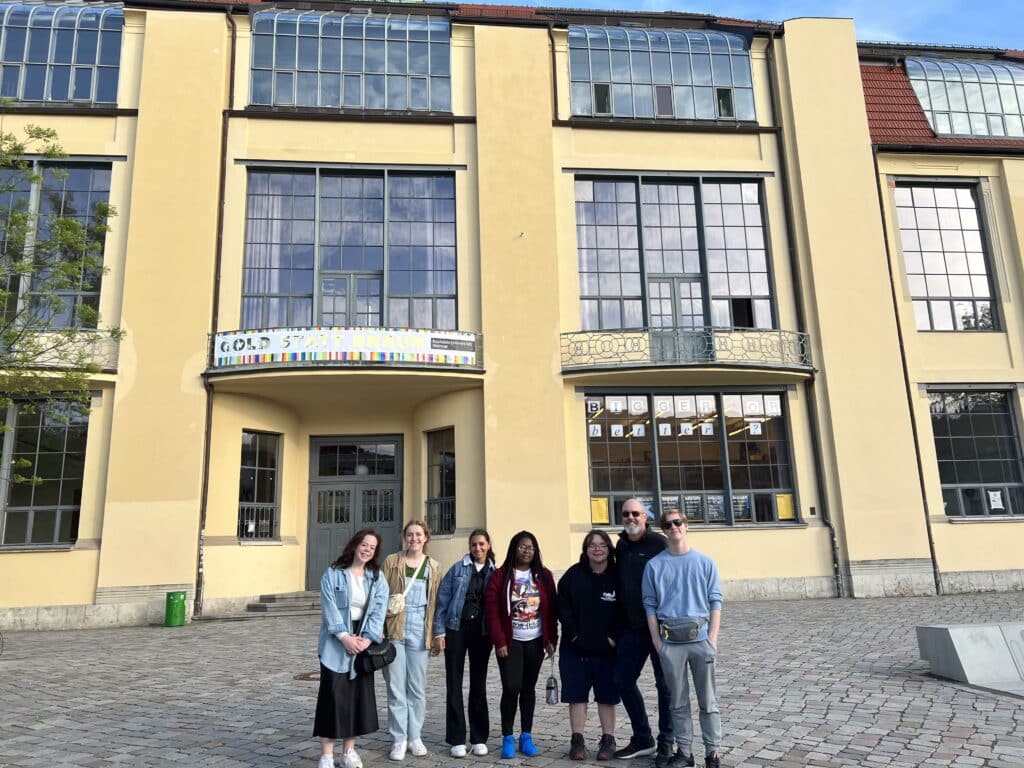 Germany
Professor Charles Jeffcoat led a group of students to Germany as part of ART 306: History of Bauhaus. The class focused on the development of the Bauhaus movement, which began in 1919 in the German city of Wiemar, and the influence it has had on graphic design.
During the trip 10 day trip, students visited Landau, Wiemar, Jena, Dessau and Berlin, making stops along the way to two of FMU's exchange partner universities, RPTU Landau and EAH Jena. Highlights from the trip included a visit to the Bauhaus Museum and Bauhaus University in Wiemar, seeing the Buchenwald concentration camp, and taking in the city of Berlin while on a bike tour.
"Seeing the Bauhaus building and Haus am Horn was also a highlight of the trip for me. To imagine the Bauhaus students working in that building 100 years ago and consider the impact they've had throughout the world is an amazing experience," said Anna Boyce, an FM student who took part in Professor Jeffcoat's class.
"The Travel Study opportunities Francis Marion University makes possible are invaluable. Students take their first flight, visit another country for the first time, experience another culture and more. I am grateful to see them return home with open minds and new ideas," expressed Professor Jeffcoat.
SPAN 497: Dictators and Heroes

BIO 306B: Biology for Teachers
Spain
Drs. Kristin Kiely and Shawn Smolen-Morton led a joint class, SPAN 497: Dictators and Heroes, Spanish Politics and History, which focused on two key figures in Spanish culture – El Cid (Rodrigo Díaz de Vivar) and Francisco Franco, dictator 1939-1975. The class visited the cities of Burgos and Madrid. While in Burgos, students were able to explore the old city, the University of Burgos, and the Military Museum. In Madrid, students toured the Alcázar of Toledo, the historic plazas and parks of the city, the Prado, and the Spanish National Library.
"Traveling through Spain, seeing Burgos and the countryside, and the city of Madrid; taking in the beauty of another country was something I will never forget," said Melanie Dozier, a participant in the class.
Students in the class were not only able to see the historical sites that they had read and discussed in the class but they were also able to experience Spanish culture, cuisine, and the lifestyle first hand. "The Spanish sense of time and space is fundamentally different: life is not frenzied and the day swings back and forth between work and relaxation. There is time to think, because it is slower but also fuller, thicker. The FMU students quickly and happily adjusted to this more humane schedule," said Dr. Smolen-Morten.
"I was allowed the opportunity to experience new places and cultures that most aren't able to. I experienced mornings, noons, siestas!, and nightlife in places I would have never dreamed of being able to experience. Studying abroad helped me appreciate what other parts of life are out there, in the best way possible." said Maggie McElveen, FM student that took part in the class.
International Programs recently signed an agreement with the University of Burgos in Spring 2023. Semester exchange opportunities will begin in Fall 2024.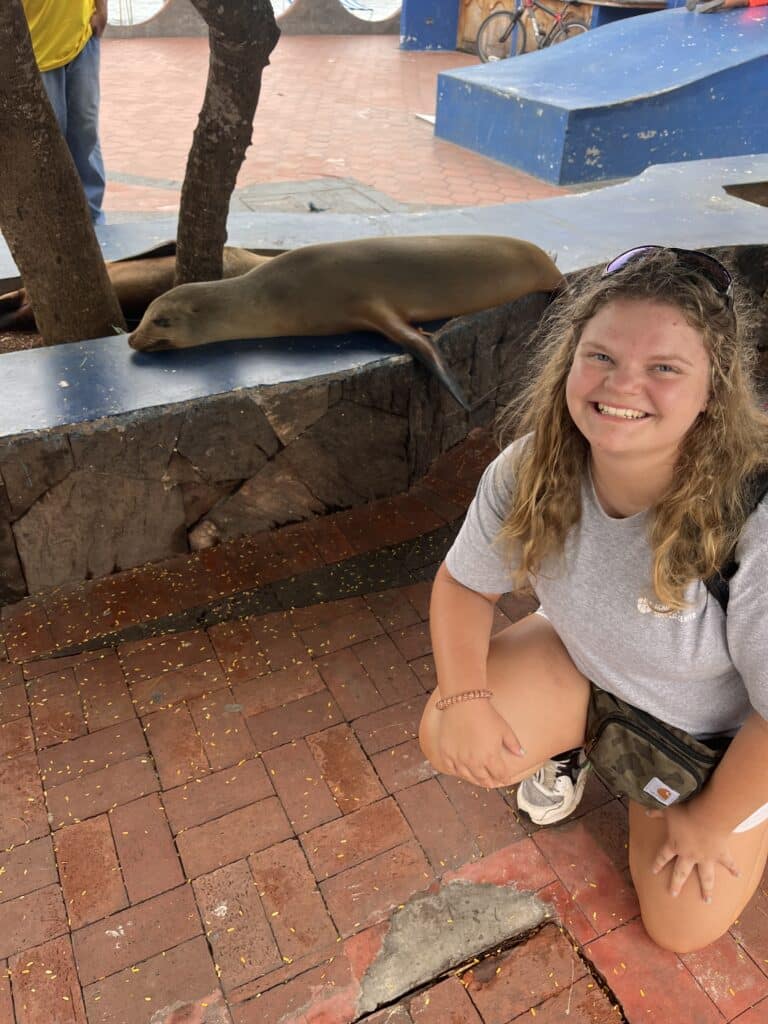 More information about Late Spring travel study courses that will run in May 2024 will be available in November 2023. More Information about FM International Programs, the list of our current exchange partners, and the outgoing exchange application form can be found at our website, https://www.fmarion.edu/internationalprograms/.
A special thank you to the professors and students who provided photos and feedback about their experiences!