May 8, 2020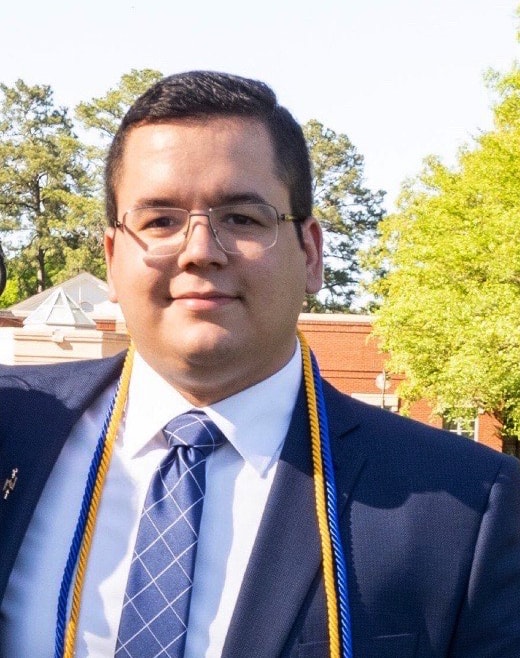 Parra is right on track, Career, MBA next in line
FLORENCE — College worked out just the way Derek Parra thought it would.
The Scranton, S.C. native came to Francis Marion University because he thought it was a great value and he believed he'd find a nurturing environment. He found all of that and more.
He graduated from FMU recently as a part of the class of 2020 with a business degree in supply chain management and a bright future ahead. He has an interesting job lined up and also plans to return to FMU in the fall to pursue his Masters in Business Administration (MBA). FMU's MBA includes hybrid instruction and a flexible schedule that allows professionals to work on their degree while continuing, or in Parra's case, starting a career.
"I'm happy to say that following graduation, I have accepted a role with ACS Technologies in Florence, says Parra. "I began an internship with ACS in 2018 thanks to the help of (FMU School of Business) Dean Hari Rajagopalan and have been fortunate enough to be given an opportunity to show what I can do. I'm proud of what I've accomplished and I am incredibly proud to be a Patriot."
Parra is one of the most honored members of the class of 2020. He's graduating Magna Cum Laude and won both the marketing and management awards given by the School of Business faculty.
Parra credits the faculty at FMU with a lot of his success. They were all he hoped they would be.
"The professors at FMU were heavily invested in my growth as a student and as a professional," he says. "All of my professors in the Business department have pushed me to pursue internship opportunities and to take on challenges that I might not have had the confidence to take on had I not had their guidance."
This meant success not only in the classroom, but in his life on campus, too. He worked as an orientation leader, guiding new Patriots into life at FMU, and  as residential assistant, leading his classmates by example. He also attended a leadership conference in Chicago.
"I feel like I have been afforded every opportunity to succeed at FMU," Parra says. "I would say that FMU has done more than enough to prepare me for graduation and life after college."
Parra says he originally chose FMU because it was a good value proposition — a fitting reason for a future business whiz.
"I chose FMU for a number of reasons, but ultimately it came down to value.," Parra says. "There's nowhere in South Carolina that offers such a high quality degree in business for such a reasonable cost, thanks to Dr. Carter."