March 26, 2019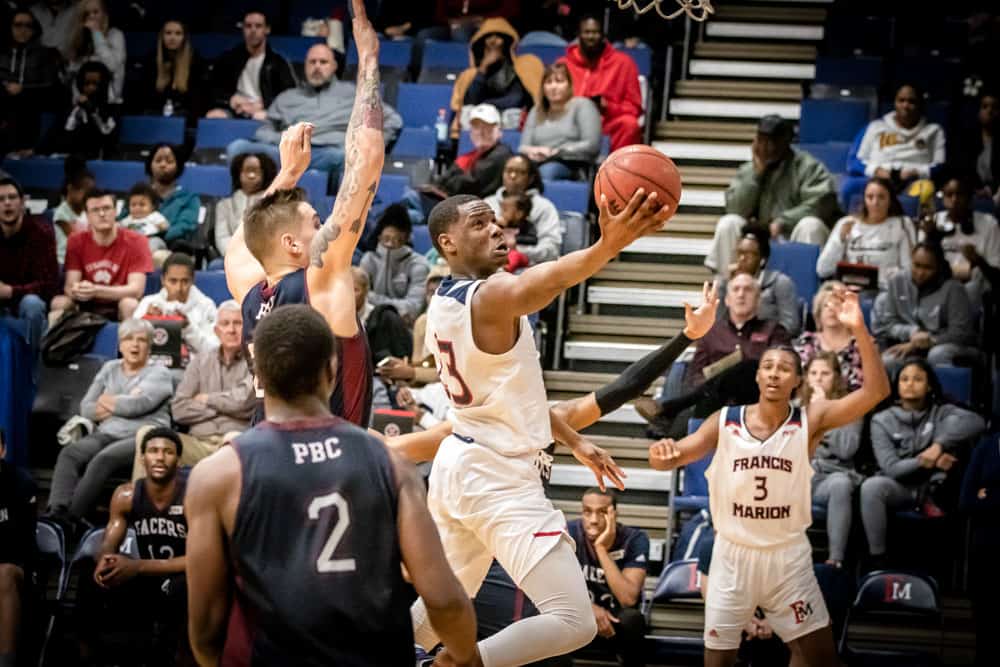 Patriot's Parker named to All-American team
Francis Marion University senior Brandon Parker has been selected to the 2018-19 National Association of Basketball Coaches (NABC) Division II All-America Team.
The recognition of Parker marks the second year in a row the Patriots have had a member of their men's basketball squad named to an All-American team, as guard Detrek Browning was recognized for 2017-18.
Parker was one of only two players from the Southeast Region (and the only Peach Belt Conference Player) named to the 16-member squad.
A 6-3 native of Sumter, S.C., Parker finished fourth in the Peach Belt in scoring, averaging 18.6 points per contest. He scored in double-digits in 25 of FMU's 30 games, including a dozen 20-point games, and four 30-point outings.
He also averaged 6.6 rebounds, 2.8 assists, and 1.2 steals per contest. Parker made the most free throws in the Peach Belt this season (139) and connected on 83.2 percent from the line. He was also one of the top three-point marksmen in the nation, making 93 three-pointers (28th highest total in Division II) at a rate of 45.8 percent (10th-best in NCAA II).
Parker registered three double-doubles, and handed out five or more assists on seven occasions.  He helped guide Francis Marion to a 21-9 record and its second consecutive berth in the NCAA Tournament this season. FMU finished third in the Peach Belt's regular-season standings and set a new program record for conference victories with 16.
Earlier this month, Parker picked up first-team All-Region accolades from both the NABC and the Division II Conference Commissioners Association (D2CCA).  He was also selected to play in the 2019 Reese's® Division II College All-Star Game on March 29 in Evansville, Ind. He was named the Peach Belt Conference Co-Player of the Year, earned a spot on the PBC All-Tournament Team for the second straight season, and earned first-team All-PBC recognition.
Parker ended his career at FMU, 14th on the program's career scoring list (1,299 points), 22nd in rebounds (470), tied for ninth in steals (123), and tied for 18th in assists (202).