May 1, 2019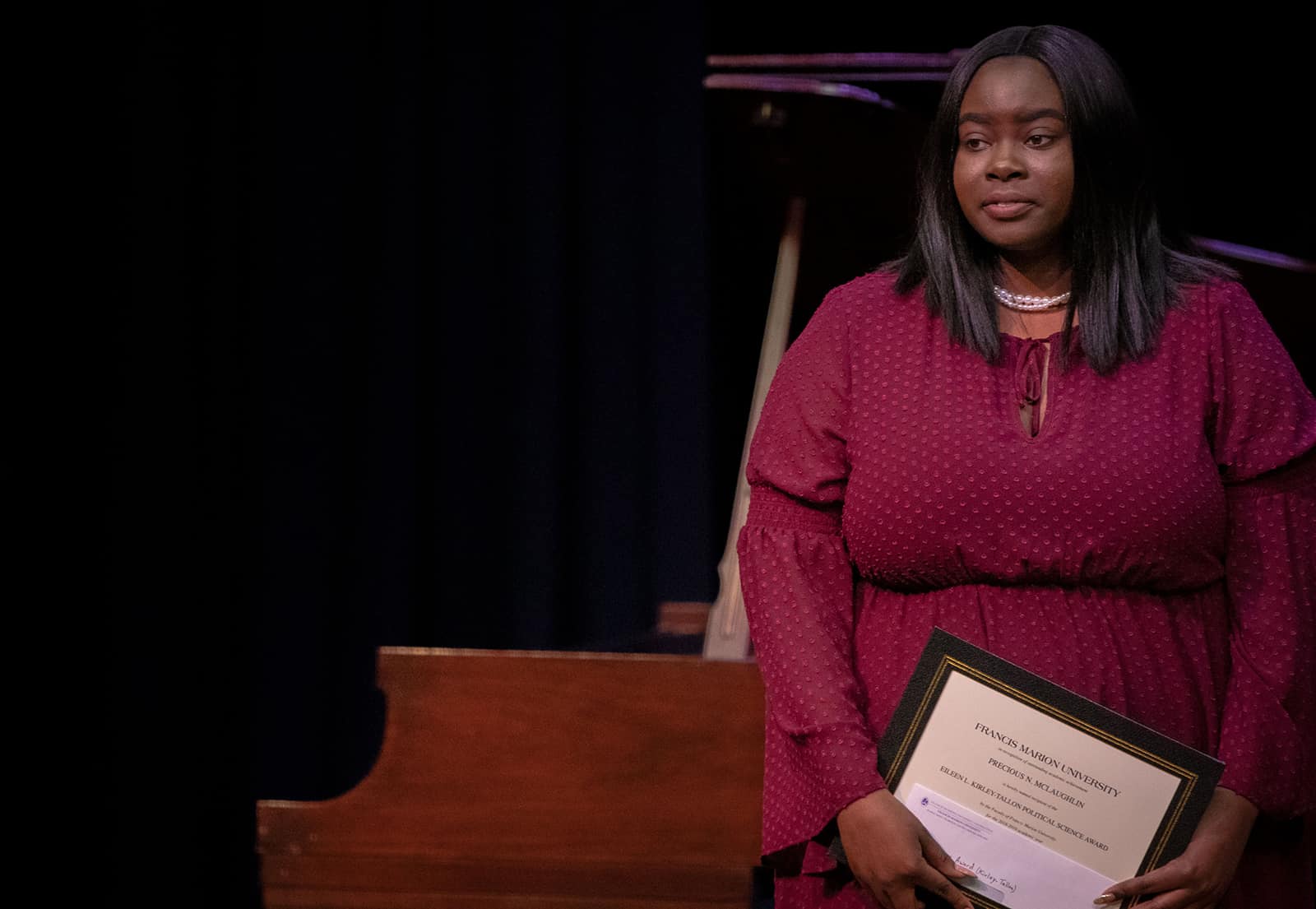 Plans changed for McLaughlin and that's a good thing
Plans change.
Every college student knows that (or should) but Precious McLaughlin says they should really embrace it.
McLaughlin, a celebrated part of Francis Marion University's class of 2019, did. She came to FMU four years ago planning to graduate from another college. It wasn't her first choice but her mother suggested it. So McLaughlin made plans. Go to FMU for awhile, then … transfer.
It never happened.
"I came here and I absolutely fell in love with the campus, the faculty, my curriculum, and the people I met," she says. "I stayed!"
And now she's headed to law school at Wake Forest University.
McLaughlin made a lot of connections at FMU. Most of them were connected to politics and government. She'd been involved with student government at her high school alma mater, Florence's Wilson High School, so college student government wasn't a leap. But she never imagined it would spill over into a course of study and, now it appears, a career.
"When I got into (political science) I loved my professors, I loved what we were learning, so I knew this was what I wanted to do," she says. "Francis Marion has really helped me reach that goal because my professors were so supportive."
The level of support was evident this spring when McLaughlin received her law school acceptance letter from WFU.
"The entire Political Science department ran out of their offices to celebrate with me," McLaughlin says. "We were so excited. We were yelling in the hallways.
"It was amazing to have that kind of support, they were there every step of the way helping me apply, taking me to law school fairs, it was definitely a team effort."
McLaughlin says the fact that the college plans she'd mapped out so carefully years ago never came to fruition has been one of the best things that ever happened to her.
"FMU has given me so many opportunities to blossom and grow into the person I am," she says. "I would not be the person I am without the opportunities given to me by FMU."