December 17, 2016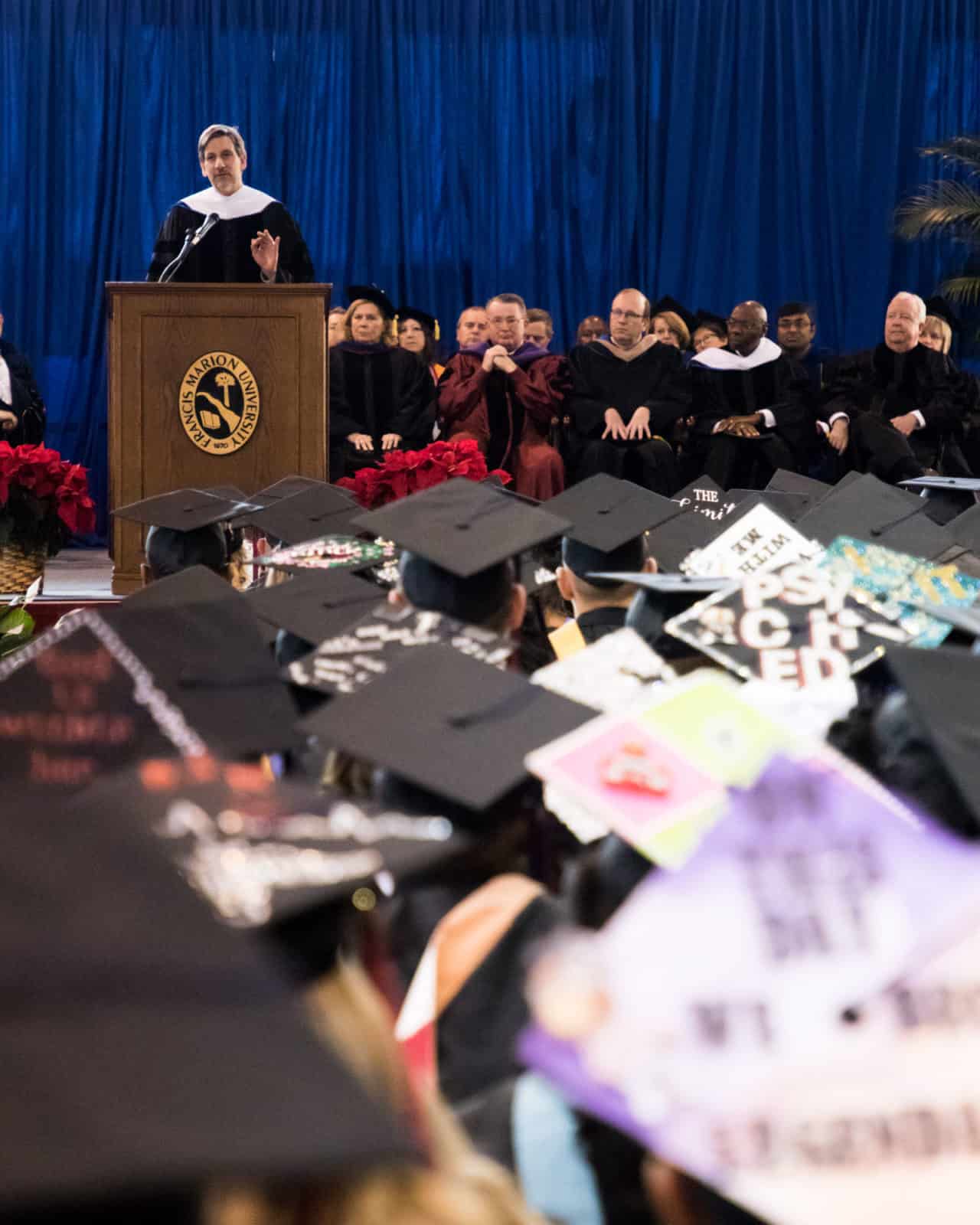 Sheheen to Francis Marion University graduates: be courageous
Francis Marion University awarded 350 degrees at its fall commencement ceremony on Saturday, Dec. 17 at the Smith Center on the FMU campus.
The graduates included 282 baccalaureate degrees and 68 graduate students in Business, Education, Nursing and Psychology.
Among the undergraduates students who marched were  27 majors  from FMU's new Healthcare Administration program. They marked the first grads from that program, though certainly not the last. The two-year-old program is growing quickly along with FMU's other initiatives in the field of health and medical education.
Honorary doctorates of Humanities were conferred on South Carolina State Senator Vincent A. Sheheen of Camden and Florence City Councilwoman Teresa M. Ervin. Sheheen delivering the commencement address.
Sheheen told graduates that their exits from college come at a great time with incredible opportunities, which can only be obfuscated by unnecessary fear.
"We live in the most glorious time in the history of humanity," Sheheen said. "Right now, right here, the words of Franklin Roosevelt ring out to me today. 'We have nothing to fear, but fear itself. Nameless, unreasoning, unjustified terror.'"
Sheheen, who has spent the past 12 years as a member of the S.C. senate, represents District 27 (Chesterfield, Kershaw and Lancaster counties).
Prior to his service in the senate, Sheheen served as a member of the S.C. House of Representatives from 2001-2004. In 2010 and 2014, Sheheen was the South Carolina Democratic Party's nominee for Governor.
Ervin has served as a member of the Florence City Council since 2010 and has served the city and region for more than three decades in a number of additional roles. She is a registered nurse, and organizer and provider of health education seminars, as well as a long-time community advocate.
Twenty-seven students graduated with university honors based on their cumulative grade point averages.
Leading that list were two students who graduated Summa Cum Laude ("with highest honors") after completing degree requirements with a cumulative grade point average of 3.9 or higher.
They were Ashley Harris of Loris, S.C and Tanner Sarvis of Nichols, S.C.
Five students graduated with students graduated magna cum laude ("with high honor") in recognition of a cumulative grade point average between 3.75 and 3.89. They were Kasey Ethridge of Lake City, S.C.; Eloise Hicks of Timmonsville S.C.;  Tlisha Morgan-Alston of Dalzell, S.C.; Ellen Payne of Florence, S.C. and Caitlin Tidwell of Cassatt, S.C.
Sixteen students graduated cum laude ("with honor") after completing degree requirements with a grade point average between 3.5 and 3.74. They were Nazum Ashraf of Warren, MI; Virginia Bazen of Pamplico, S.C.; Brittany Bradley of  Rock Hill, S.C.; Katlyn Brown of Hartsville, S.C.; Thomas Brown of  Mullins, S.C.; Jerome Deas Jr. of Johns Island, S.C.; Kathleen Kennebeck of  Effingham, S.C.; Tabitha Moorehead of  Kingstree, S.C.; Zachary Newton of  Florence, S.C.; Emily Rowe of  Florence, S.C.; Dustin Schauer-Watford of Bennettsville, S.C.; Lindsay Smith of  Florence, S.C.; Andrew Ward of Florence, S.C.; Ashley Watford of  Kingstree, S.C.; Sarah Watford of Timmonsville, S.C. and Lauren Woods of Raleigh, N.C.
Honor cords were presented to four students who compiled a grade point average of 3.25 or better and completed a minimum of 21 hours in Honors courses, through FMU's fast-growing Honors Program. They were Katlyn Brown, Ashley Harris, Kathleen Kennebeck and Ellen Payne.
Graduates receiving both Honor cords and University Honors were all greeted with applause, but none was any warmer or enthusiastic than the ovation for Carrie Radke, whose trip across the stage took a little longer than most.
Radke, a Psychology major from Myrtle Beach, has struggled with Spina Bifida, a crippling birth defect, all her life. Wielding a pair of crutches, Radke marched across the stage with her classmates.
Radke, who will being graduate school in February, says she never considered not making that walk.
"It didn't cross my mind," she said. "We practiced a little (at commencement rehearsal on Friday) but I knew I could do it. I walk all the time. The key to making it today was just taking my time."
For more information, contact Matt McColl, Francis Marion's director of media relations at mmccoll@fmarion.edu, 843.661.1227 or 843.687.0186.