October 23, 2017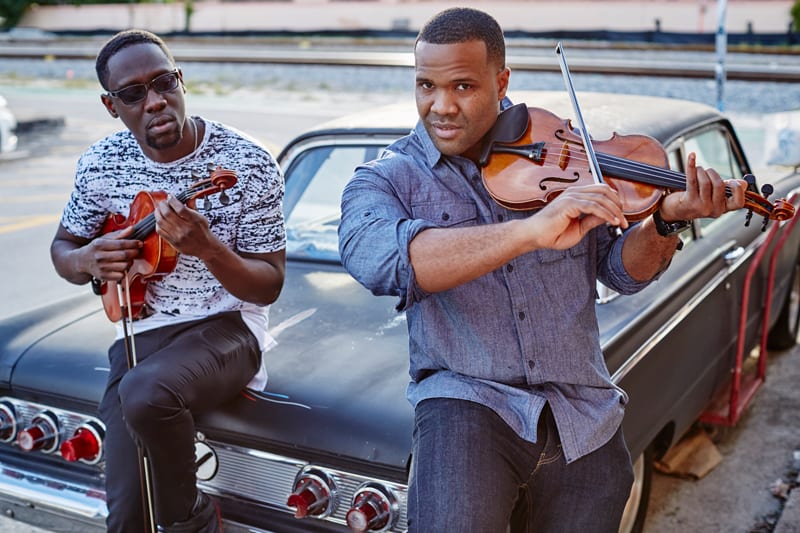 Black Violin's 'Classical Boom' coming to the FMU PAC
The Francis Marion University Performing Arts Center will present an entertaining and stunning collision of musical worlds this spring when Black Violin brings its innovative mix of hip-hop and classic sound to the PAC's main stage theater.
The one-of-a-kind show will be at the PAC at 7:30 p.m. on April 21.
Tickets go on sale Tuesday, Oct. 24 and begin at $22. Tickets can be purchased online at www.fmupac.org, by phone at 843.661.4444, or in person at the PAC box office in downtown Florence.
Black Violin features classically trained violinists "Wil B" and "Kev Marcus" at the center of a fiery, high-energy show that has brought them worldwide recognition. In its fast-climbing career, Black Violin has performed with Alicia Keys, Aerosmith, Tom Petty and Kanye West, and has appeared on HBO's Ballers, The Tonight Show, The Tavis Smiley Show, The Wendy Williams Show, The Ellen Show and 2016 Heisman Trophy presentation on ESPN.
Black Violin's dynamic duo, William Baptiste and Kevin Marcus, met while high school students in a performing arts program in Florida. There they began cultivating their love of hip-hop and classical music and an interest in the fascinating fusion that blend creates. After college, Baptiste and Marcus formed Black Violin, creating a remarkable genre mashup that has been described as "classical boom."
In 2015, Black Violin released their album Stereotypes, which attained the status of No. 1 on the Billboard Classical Crossover Chart and No. 4 on the Billboard R&B Chart.
The Miami Herald recently said, "Black Violin upends cultural and musical stereotypes…an unexpected blend of classically trained musicianship and hip-hop beats and inventiveness."
More recently, Black Violin has been touring full time, selling out venues throughout the country, while averaging more than 150 performances each year.
As their fame has grown, Black Violin has not forgotten its roots. Baptiste and March devote much of their time to emphasizing the importance of educational outreach, performing for more than 100,000 students across North America and Europe over the past year.