May 2, 2019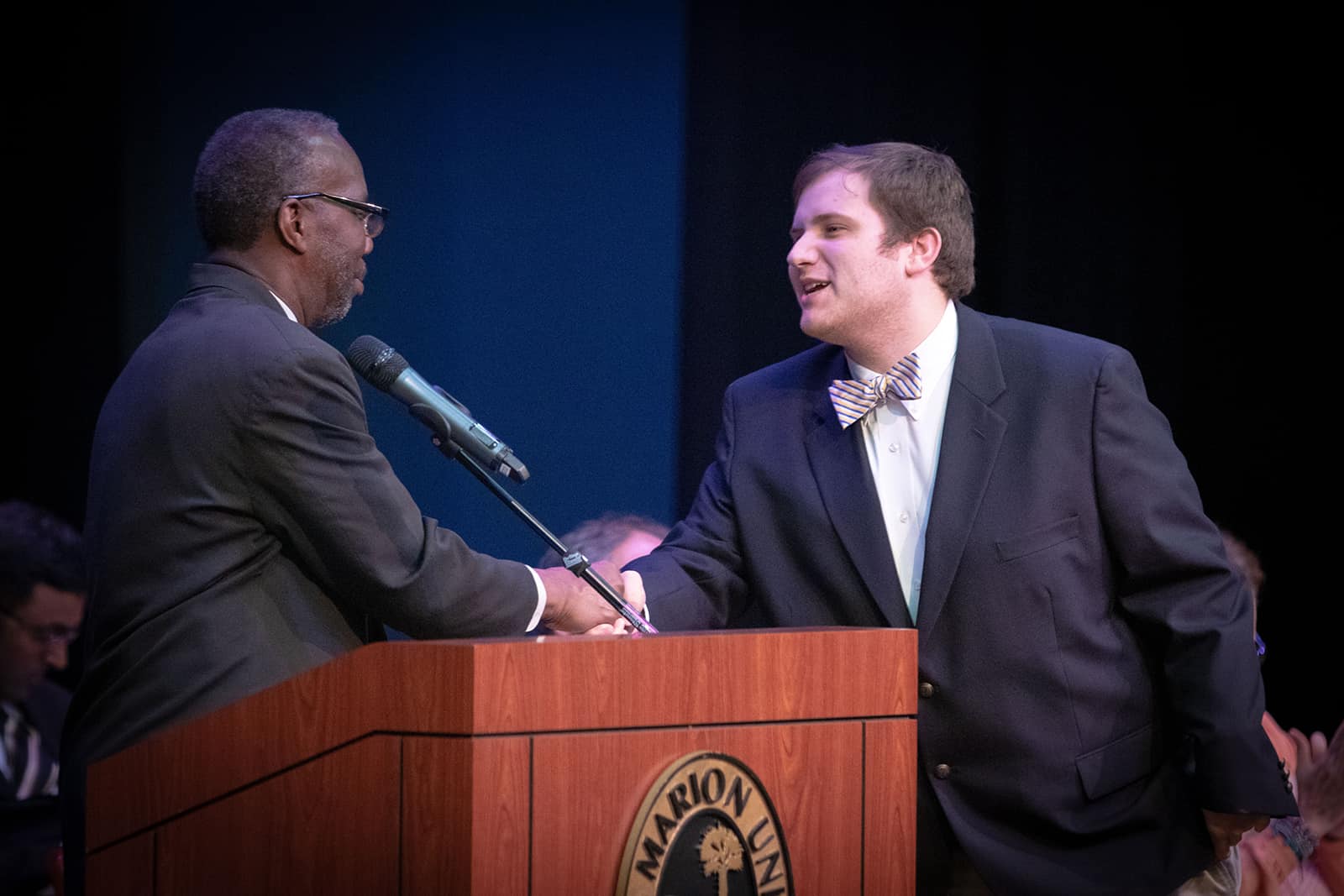 Chemistry grad headed to LSU to work on doctorate
Corbin Witt loves chemistry.
Following a superb four-year career at Francis Marion University, it looks like he might make a career out of it.
Witt received his chemistry degree, magna cum laude, at Saturday's FMU commencement ceremony. Now he's headed to Louisiana State University where he'll begin work on a doctorate in chemical engineering. He's the recipient of the prestigious Donald W. Clayton Graduate Assistantship Award, which provides Ph.D students in the LSU School of Engineering a living stipend. That stipend, in turn, is dependent upon the student receiving a graduate assistantship in his particular department.
Witt's connection to LSU came after he took part in a special National Science Foundation undergraduate research experience at LSU after his sophomore year at FMU. Witt's love of chemistry, and his academic skills, caught the attention of some LSU chemistry faculty members.
Prior to that he caught the attention of FMU's chemistry faculty.
"I owe the faculty and staff here at Francis Marion a debt of gratitude," Witt says. "They pushed me to (go to LSU). It's worked out very well. It's something that interests me on a personal level and on an intellectual level. I'm excited to take this on."
It's no surprise that Witt's excelled at FMU. He was a winner of FMU's prestigious McNair Scholarship coming out of high school, typically a good predictor of academic success, and has made the most of his time at the University. Witt is an Honors graduate, meaning he completed at least 21 hours of honors classes, and he'd been on University-sponsored trips to Barcelona; Philadelphia; New York, and Leicester, England. He spent a semester abroad at the later.
Like many FMU students, Witt says the unusual amount of personal attention he's received from faculty has made his undergraduate years particularly rewarding.
"I have professors that will stop and talk with me in the hallways for five minutes just because they genuinely want to know how I'm doing and they're interested in me as a person," he says.