April 15, 2019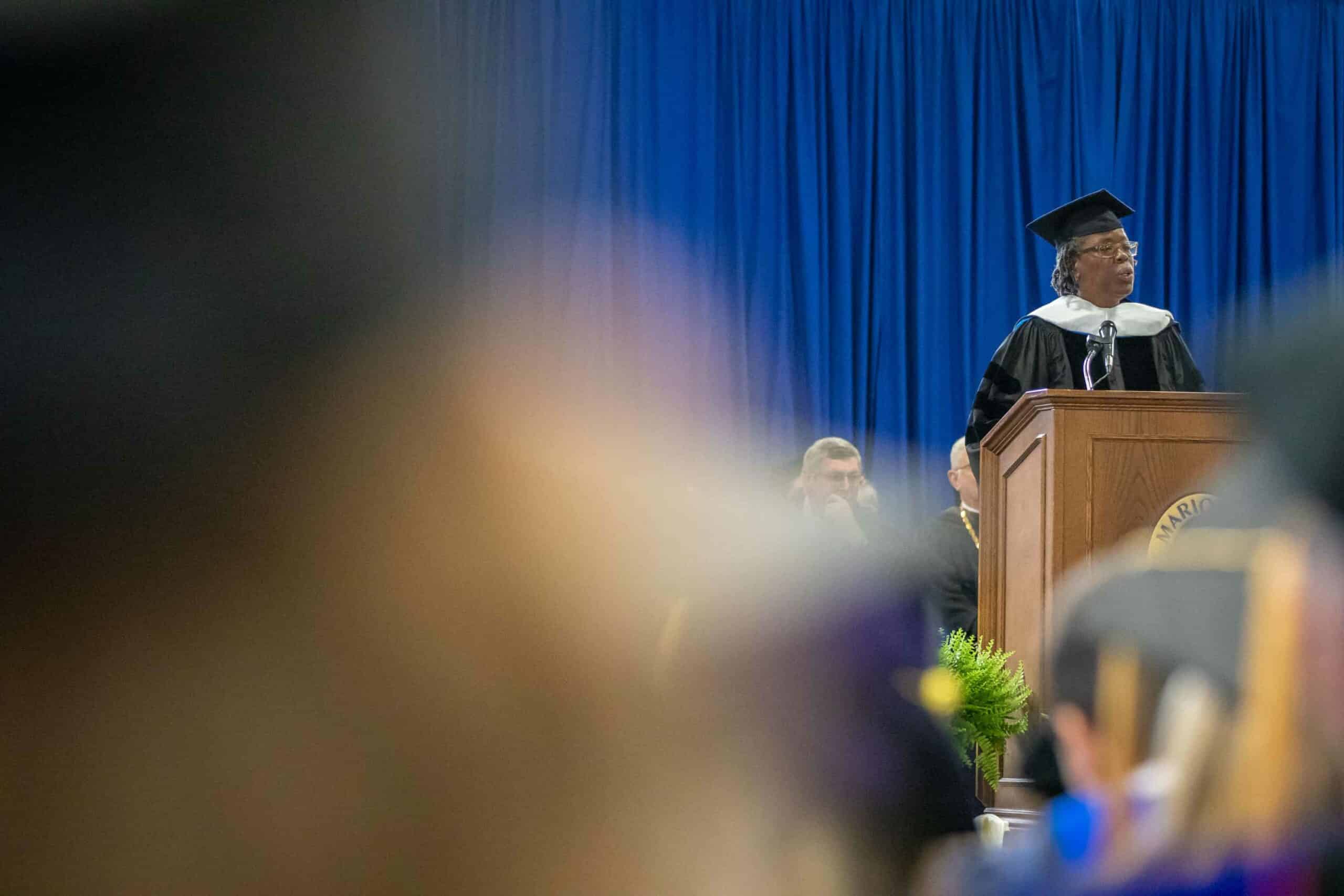 Cobb-Hunter, Whisnant, Kispert receive honorary doctorates 
FLORENCE — Francis Marion University awarded degrees to 308 graduates at its spring commencement ceremonies Saturday on the FMU campus. 
The University awarded 290 baccalaureate degrees and 18 master's or specialist's degrees. The undergraduate recipients included one of the largest classes of engineering and physics students in University history.  
Fifty-nine students graduated with Latin honors. Nine earned University honors.  
Presley Amber Hucks, a biology major from Myrtle Beach, and Courtney Madison Smith, a graphic design major from Hartsville, received the Blackwell Award as the top academic achievers in the class. Hucks will enter FMU's Physician Assistant program this fall. Smith is pursuing a career in advertising.  
The graduates included 288 South Carolinians, but also graduates from as far away as Sweden, Norway and Morocco.  
Francis Marion University also awarded honorary degrees to S.C. Representative Gilda Cobb Hunter, retired Francis Marion University professor of English Ted Whisnant, and FMU Vice President for Business Affairs John J. Kispert, who is retiring in July. 
Cobb-Hunter, a member of the South Carolina House of Representatives since 1986, was the House minority leader from 1997-2000, and is a member of the House Ways and Means Committee.  
Whisnant is a life-long educator who dedicated most of his career to teaching in the Pee Dee region. He was an English teacher at Marion High School for 33 years and then joined the English faculty  at Francis Marion from 2003-2018.  
Colonel John Kispert, USMC Retired, has dedicated his life to public service, including spending the past 18 years as vice president for business affairs at FMU. Prior to that, Kispert served 30 years in the United States Marine Corps (1967-96). He held a distinguished array of posts and received numerous honors. 
Rep. Cobb-Hunter also served as Saturday's commencement speaker. She told graduates that should affect change on the world while also embracing their own humanity.  
"I encourage you to not let greed get in the way of seeing people as people and all they have to offer you," she said. "Regardless of their title or position, you can learn something from anyone you meet… At the end of the day, your real success is based on how you treat the least of these or those that can do absolutely nothing for you."  
In his remarks, Dr. Fred Carter, FMU's president, lauded the graduates for their progress as individuals, and offered a special message to the many parents of first generation college students on hand.   
"For every mother and father here who sacrificed so much for your child's education but never had an opportunity to earn a degree yourself … well, you have one now," Carter said. 
Carter also acknowledged the contributions of three members of the FMU faculty — Dr. Jacqueline Campbell, Associate Professor of History Dr. Ken Williams, Professor of Chemistry and Professor Marsha Taylor, Assistant Professor of English — who are retiring with 83 years of service amongst them, and he applauded the ongoing work of the University's faculty. 
"You and I and the people of South Carolina owe (the faculty) our deep appreciation for their commitment and passion for educating the people of this state," said Carter. "I would hope that over the next couple of years, their salaries would receive an appreciable boost too — especially the faculty at comprehensive universities, who perform miracles every single day. But that's a different subject for a different time." 
FMU also recognized 69 students who earned Latin or University honors. 
Students earning Latin Honors in the class of 2019 were: 
Summa Cum Laude (grade point average of 3.9 to 4) — Andrew Westfall, Anna Patton, Brianna Dingle, Carolina Shelley, Chandler McIntyre, Courtney Smith, Fabiola Ruiz, Gabriel Hutson, Kaitlyn Lowry, Kristen Darmafall, Matthew Harrington, Megan Whaley Mitchell and Precious McLaughlin.  
Magna Cum Laude (grade point average of 3.75-3.89) — Bruce Cross, Callie McGill, Chace Covington, Chelsea Welty, Christopher Sousa, Claire Brown, Connor Graham, Corbin Witt, Courtney Conyers, Emily Blackmon Jack Evans II, Jacqueline Hancock, Julie Roscoe, Matthew Bainbridge, Michael Dmytruk and Parker Brown. 
Cum Laude (grade point average of 3.5 to 3.74) — Aolani Robinson, Alex Turbeville, Alexandra Barber, Allison Floyd, Allison Mahn, Caleb McDowell, Carlton Wise, Carly Runyon, Caroline Hancock, Carrie McGinnis, Casey Evans, Courtney Hayes, Cydney Welch, Daphne Converse, Diamond Gregory, Elizabeth Haywood, Emily Jackson, Emily Nettles, Emily Bochette, Emily Cocchiola, Garrett Brown, Georgia Garrison, Janine Gordon, Jason Pack, Jennifer Price, Jessica Gaddy, Julian Kersting, Kacey Medlin, Lars Sandvoll, Morgan Calcutt, Nicholas Winterstein, Rebekah Ivey and Ryan Singh. 
Sixteen students who are part of FMU's fast-growing honors program, graduated with University Honors. To receive University Honors, students must maintain an overall GPA of 3.25 or higher, complete 21 hours of honors courses and maintain a GPA of 3.25 or higher in the honors courses.  
University Honors grads included: Matthew Bainbridge, Jack Evans, Emily Blackmon, Connor Graham, Parker Brown, Jacqueline Hancock, Claire Brown, Callie McGill, Courtney Conyers, Julie Roscoe, Chace Covington, Christopher Souza, Bruce Cross, Chelsea Welty, Michael Dmytruk and Corbin Witt.