April 9, 2019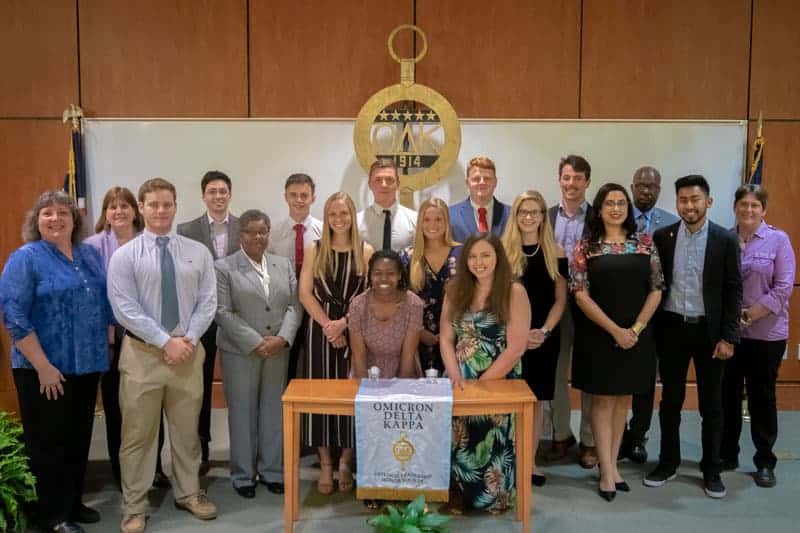 FMU's ODK honor society inducts 18 new members
Francis Marion University's chapter of Omicron Delta Kappa, the national honor society, inducted 18 new members at its annual induction ceremony Monday night in Thomason Auditorium on the FMU campus.
ODK is a 105-year-old organization that celebrates contributions to the collegiate community across a range of activities, including academics, service, athletics, journalism and writing, and the arts. FMU's chapter was founded in 1979.
Prospective members are nominated by faculty and staff at the school, then vetted through an application process.
Fifteen students were inducted Monday night. They were: Matthew Bainbridge, Bruce Cross, Emma Driggers, Luke Fennell, Jessica Garnett, Carli Gauthier, Anthony Johnson, Julian Kerstin, Avonlea Samuel, Caroline Shelley, Pitambar "Ryan" Singh, Joshua Smith, Jasmine Watson, Maitland Weaver, and Nicholas Winterstein.
Faculty and staff are also eligible for entry into ODK. Staff and faculty initiates were: Dr. Karen Gittings, associate dean of the School of Health Sciences and chair of the FMU Nursing program; Teresa McDuffie, network administrator; and Professor Lisa Pike, associate professor of Biology.