January 11, 2019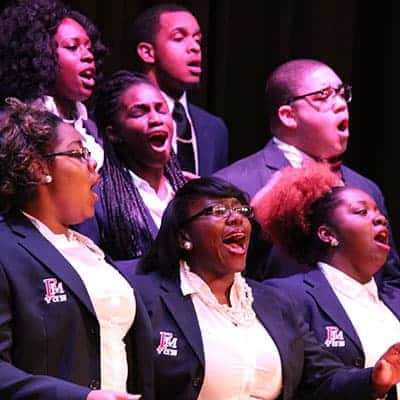 Commemorating the legacy: Francis Marion to host 21st Annual MLK Celebration
Francis Marion University's annual Martin Luther King, Jr. celebration will be held Thursday, Jan. 17 in Chapman Auditorium on the FMU campus. The Greater Florence Chamber of Commerce is co-sponsor of the event.
The event, which brings together both the region and the FMU family to celebrate King's legacy in the field of civil and human rights, will begin at 6:15 p.m. with a candlelight march. The march begins on the front lawn of the Wallace House and proceeds to the McNair Science Building and the Chapman Auditorium.
The 21st Annual MLK Jr. Celebration Program will be held at 6:30 in the Chapman Auditorium, with performances by Young, Gifted and Blessed Gospel Choir and others. South Carolina Rep. Carl Anderson of Georgetown will provide the event's keynote address.
Dr. Daphne Carter-McCants, FMU's assistant vice president for student affairs and one of the event's organizers, says the importance of the event cannot be overstated as it provides a valuable forum for the campus and surrounding community as a whole to learn of the legacy of Dr. Martin Luther King, Jr.
McCants says the event is a great way to educate FMU's students and the community as a whole on the life and legacy of Dr. Martin Luther King Jr. and his role in the Civil Rights Movement.