March 5, 2018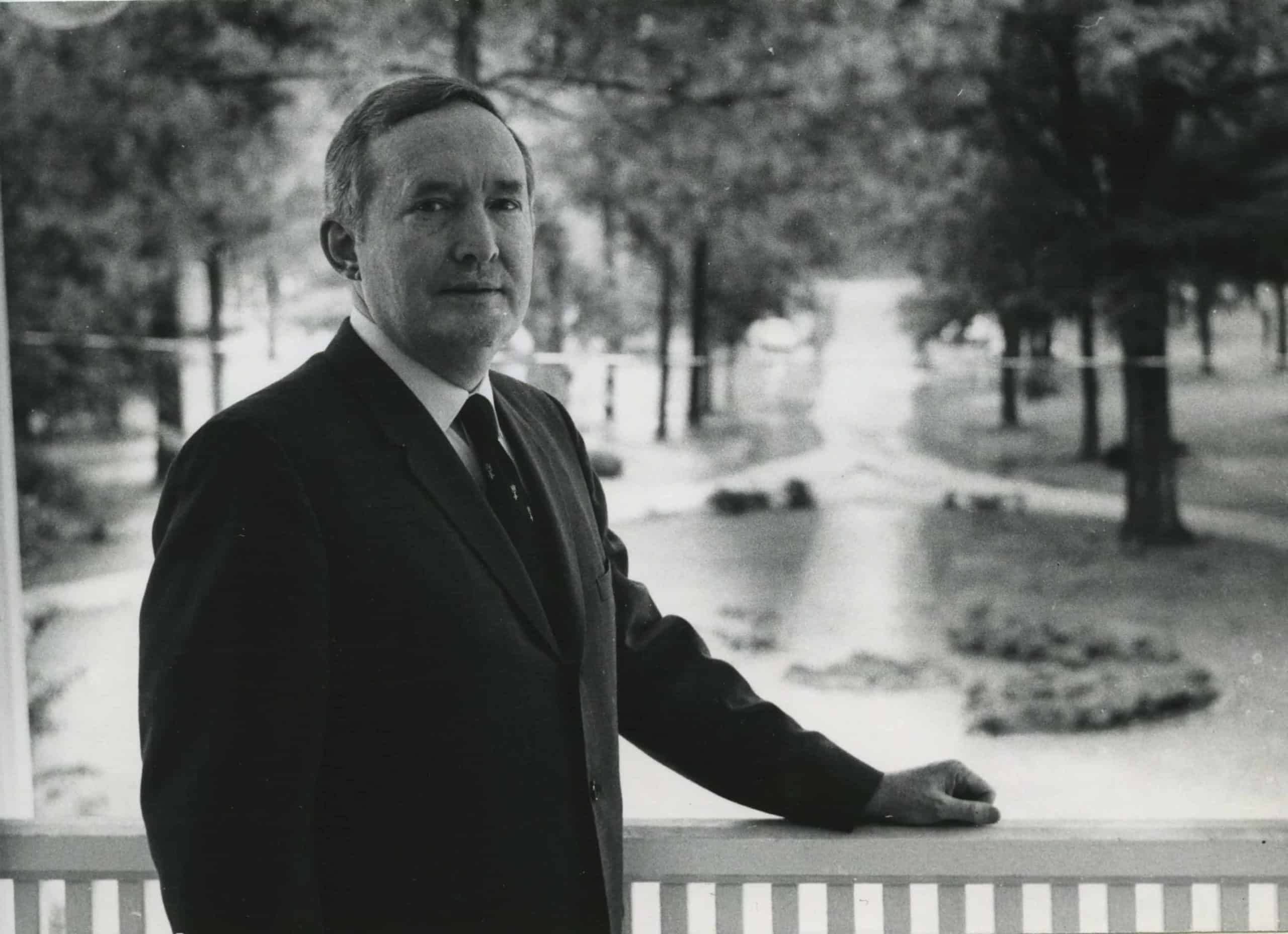 Dr. Walter D. "Doug" Smith, founding president of Francis Marion University, has passed away
FLORENCE – Dr. Walter Douglas "Doug" Smith, Francis Marion University's beloved founding president, has passed away.
Smith, who served the university from its opening in 1970 through 1983, died last weekend in a Columbia, S.C. hospital. He was 99.
Dr. Fred Carter, Francis Marion's current president, says Smith will be sorely missed by the entire Patriot community.
"The University is in mourning; we've lost our father," says Carter. "Doug Smith was the ideal leader for Francis Marion in the early years of the institution. He began with a pine forest and farmland, hired faculty and staff, constructed buildings, developed a curriculum, and established a very fine college in a relatively short period of time. Doug accomplished all of this with vision, energy and determination.
"He's been a great friend of the university in the years since. I've treasured our friendship over the past 20 years and will miss him terribly. It's a sad day for us, but also a great time to reflect on a wonderful man and the legacy he left this university."
Ken Jackson, chair of the Francis Marion University Board of Trustees, and a student at the school during Smith's tenure, says Smith was the ideal founding president for the new college.
"Dr. Smith was everything you could have wanted in a college president," says Jackson. "He was visionary, he commanded immediate respect, and he provided steady, stable leadership. Francis Marion wouldn't be where it is today without the foundational work Dr. Smith provided."
Smith came to Francis Marion a year before the inaugural school year to oversee preparations for the new college. Smith hired the college's first faculty and staff, created the campus layout and facilities plan, and put in place the standards that allowed FMU (then FMC) to grow and flourish. That included a commitment to quality education focused on the classroom experience and fiscal prudence that kept tuition low.  Both remain FMU hallmarks.
During Smith's tenure, enrollment grew from 500 to 2,800 and the faculty increased from 20 to more than 130. He presided over the addition of more than a half million square feet of new campus buildings and was part of awarding more than 3,500 degrees.
In a newspaper interview shortly after his retirement in 1983, Smith called his 13 years at FMU "happy times."
Smith was born in Harriman, Tenn.
He earned an undergraduate degree at Lincoln Memorial University in 1943, then served in U.S. Navy for three years during World War II, skippering a motor torpedo boat in the Pacific Theater. He met his wife Rhondda, an Australian, while on leave in Sydney during the war.
After the war, Smith resumed his education. He earned his masters and Ph.D. in Psychology from the University of Michigan. He landed at Michigan in the waning days of World War II as a Naval ROTC instructor.
Smith taught at Eastern Michigan University while completing his graduate studies, and began his full-time teaching career in 1950 at Florida State University, advancing to the rank of Full Professor in 1958. Smith also served as a visiting professor at Western Washington College for several summers in the 1950s.
Smith moved to Winthrop College in South Carolina as Dean of College and Professor of Psychology in 1959. He later became Dean of Faculty and Vice President of Academic Affairs. While at Winthrop, Smith served on a several committees for the South Carolina Commission on Higher Education, and also traveled on a federal grant to Japan, Korea, Taiwan and Hong Kong to study public schools and colleges there.
In 1968, Smith was hired as president of Salisbury State University (then Salisbury State College) in Salisbury, Md..  Smith was at Salisbury when he was offered the chance to open Francis Marion. The opportunity to create a college from scratch was irresistible Smith said in interview in 1994.
Ever a humble and affable man, Smith wrote shortly after beginning his tenure at Francis Marion that sessions on the golf course helped temper potential hubris in the president's office.
"A middle-aged male's less than brilliant performance on the golf course prevents him from taking himself too seriously," wrote Smith. "This lesson is especially desirable for an academic administrator."
Smith's tenure at FMU was defined by the natural growth of the college from startup to established institution. But as the university grew under Smith, it, and the region it served, also grew on him.
Smith's youngest son Walt completed his education in Florence public schools, and his oldest son, Ian, earned his undergraduate degree in Psychology at FMU (and also worked a summer job on campus, helping to plant Smith's beloved trees on the newly minted campus).  Smith and his wife settled quickly into the Florence community and never left. He lived in the city for almost 50 years, from his assumption of the presidency at FMU until his passing.
Following his retirement, Smith participated on a number of local civic boards in Florence, chaired committees for the Florence Chamber of Commerce, the United Way, and the Pee Dee Council of Boy Scouts. He also served as the initial director of the Governor's School of Science and Math in Hartsville, helping to found yet another Pee Dee educational institution.
Smith was predeceased by his wife of 53  years. He is  survived by his two sons, Dr. Ian D. Smith (Jeanie) and Walter H. Smith (Mary Ann) of Columbia, S.C., four grandchildren Loren Smith Carlson (Cory), Ian Brewster Smith (Shaina), Miller Smith and Hayden Smith, and most recently a great-grandson, Rhys J. Britton-Smith.
Also surviving him is one sister, Mrs. Glenna Feller (John) of Signal Mountain, Tenn., and one sister in law, Mrs. Donna Miller of Everett, Wash., and four nieces and 11 nephews from that side of the family.
A memorial service for Smith  will be conducted at First Presbyterian Church of Florence at 2:00 p.m. Monday, March 12, 2018. Following the service, the family will greet friends at the church before a private interment service at the National Cemetery in Florence.