February 20, 2017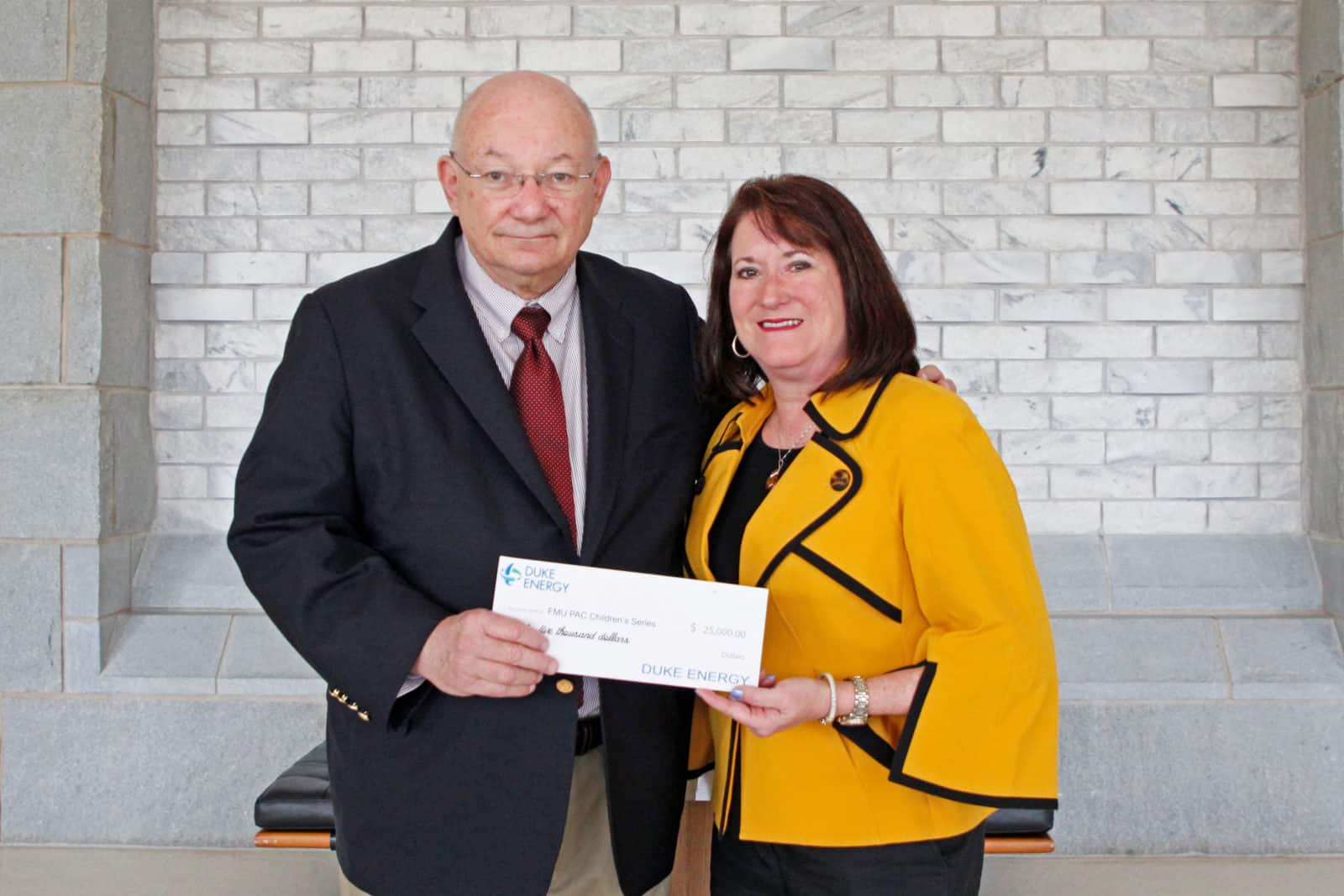 Duke Energy's support for PAC, Children's Series tops $100,000
Duke Energy is once again stepping up with a $25,000 donation to fund the Francis Marion University Performing Arts Center's annual Children's Series.
The series provides uplifting educational entertainment for school-aged children in the Pee Dee region. The gift from the Duke Energy Foundation allows students to attend Children's Series events at no, or a reduced, cost. More than 30,000 students from across the Pee Dee have seen these shows.
With this year's gift, contributions from the Duke Energy Foundation to PAC programming, and in particular the Children's Series, now totals more than $100,000.
Francis Marion University President Dr. Fred Carter said Duke Energy's ongoing commitment to the arts, and especially to children, has created an impactful tradition for students in the region.
"The Children Series has become a much-anticipated event on school calendars across the Pee Dee," Carter said. "It's a great program that introduces so many children to the fine arts for the first time. The impact of Duke Energy's gifts can't be overstated. It's much appreciated, both by FMU and the children of this region."
Mindy Taylor, government and community relations manager for Duke Energy in Florence, said the company is delighted to bring arts and culture to the region's school-age population.
"The arts give students a window to the world," Taylor said. "The arts are also a driving force in developing the vitality of a community. Programs like this enlighten our children now so they can change the landscape of this region for decades to come."
The Children's Series is part of FMU's ongoing commitment to the Pee Dee region, through an assortment of outreach programs, including programming at the PAC. The Children's Series has been a significant part of that outreach. During the past three years, more than 80 different schools from across the Pee Dee have brought students to Children's Series events.
This year's series has, as usual, presented area students with an array of programming covering the arts, history, science, entertainment and inspiration.
Shows on the 2016-17 schedule include "Junie B's Essential Survival Guide to School;" "ArcAttack: Engineering Rules;" "I Have a Dream," a dramatization of the life of Dr. Martin Luther King; and the children's musical, "The Song of Mulan."