April 20, 2021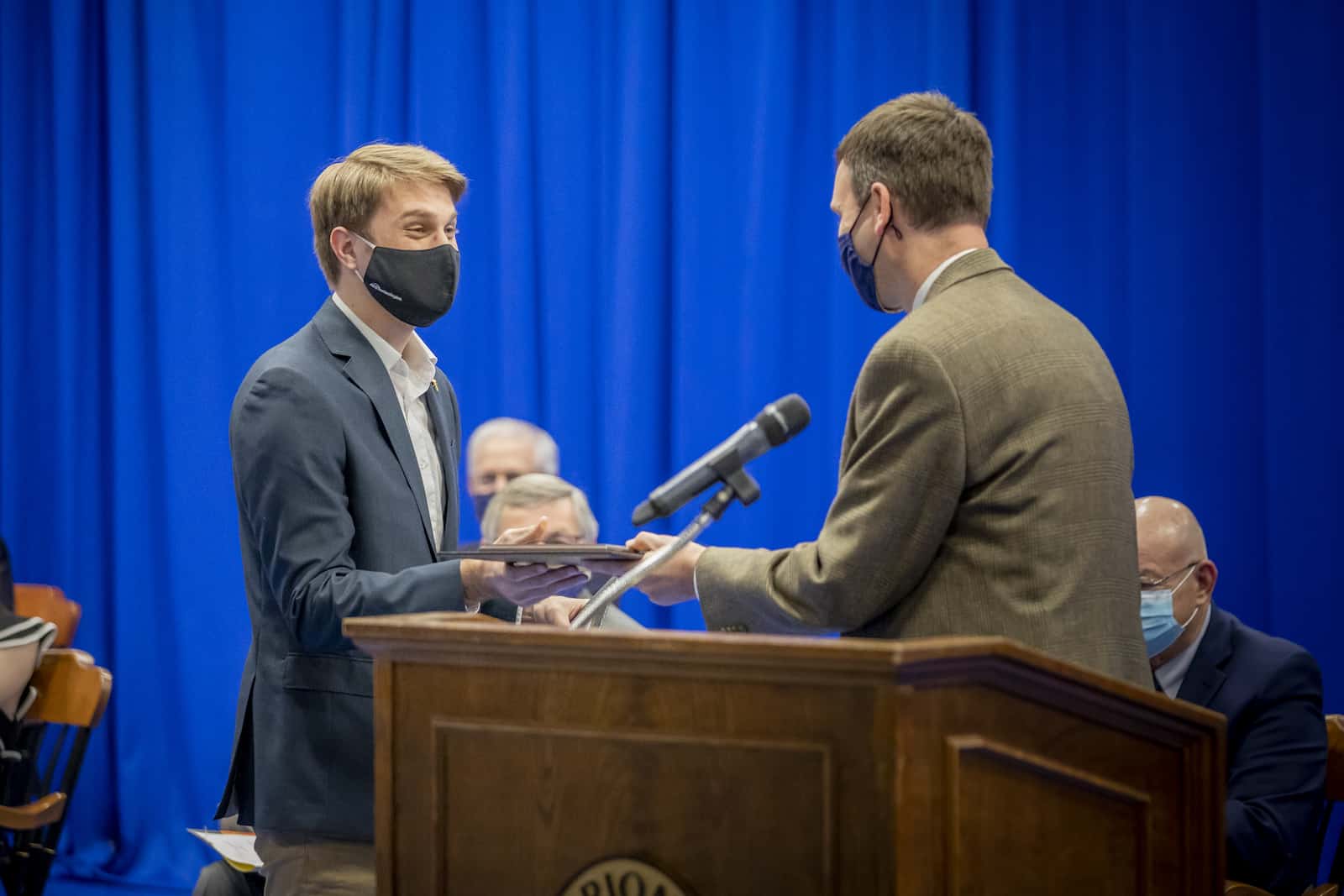 FMU highlights student achievement at Academic Awards
Francis Marion University presented awards to its top  students at its annual Academic Awards ceremony on April 19 in the Smith University Center Gymnasium.
The best students, as selected by each academic department, were recognized during the ceremony. University-wide awards, and special awards for particular achievements within a discipline were also handed out. Many of the  awards recognized graduating seniors but some recipients were underclassmen, as merited.
FMU presented five awards recognizing overall academic performance across all disciplines.
Payton R. Russo, won the Pee Dee Electric Cooperative Scholar's Award for overall excellence. Russo also won the award in 2020. Thomas O. Dixon won the Duane P. Myers Award, given to the top student in FMU's prestigious honors program, and  the Phi Kappa Phi Award. Carlie D. Fusco won the Honors Student Advisory Council Award. John A. Burghardt, Sara C. Wilkerson, and Thomas O. Dixon were co-recipients of the Scholastic Achievement Award.
The winners of FMU's academic department awards were:
College of Liberal Arts
Department of Biology
Outstanding Senior Biology Award – Anthony Ibrahim
Outstanding Research Biology Award – Landon J. Hardee
Outstanding Sophomore Biology Award – Savannah D. Mincey
Department of Chemistry
General Chemistry Award – Rylee L. Bodony
Organic Chemistry Award – Ashley N. Prescott
Analytical Chemistry Award – Chalinda B. Lasane
W.H. Breazeale Chemistry Major Award – Cheyenne A. Sconzo and Deannah Neupert
Department of English and Modern Languages
English Award – Benjamin F. Skinner and Devin A. Gregg
McCrimmon Writing Award – Kaylee E. Gillespie
Playwriting-Screenwriting Award – Cassidy R. Johnson
Katharine S. Boling Memorial Award in Fiction – Cassidy F. Tanner
Richard B. Larsen Memorial Award – Victoria E. Locklair
Modern Language Award – Lauren E. Fields
Peggy Love McLaughlin Art Award – Chase M. Herron
Department of Fine Arts 
Theatre Arts Award – Christopher M. Steele
Music Industry Award – Kevin R. Washington
Department of History
History Award – James P. McCarley
Department of Mass Communication
Mass Communication Award – Joshua R. Hardee
Department of Mathematics
Mathematics Award – Thomas O. Dixon and Taylor Boatwright
Department of Physics and Engineering
Engineering Technology Award – Maxwell D. Wheeler
Health Physics Award – Ryan W. Dees
Computational Physics Award – Thomas O. Dixon
Industrial Engineering Award – Jonathan C. Ellison
Department of Political Science
Eileen L. Kirley-Tallon Political Science Award – Nathan B. Hinson Hailey D. Reed
Neal D. Thigpen Award in South Carolina Politics and Government – Charles E. Jeffcoat, III
Department of Psychology
Douglas A. Mandra Memorial Award in Applied Psychology – Shemika O. Brown and Brittany M. Cannon
L.A. Hoff Psychology Research Award – Marisa Sams
Mike Jordan Psychology Award – Sara C. Wilkerson
Linda M. Summer Social Work Award – Kameesha B. Dupree
Sociology Award – Diamond W. Gordon
School of Education
Thomas W. Sills Memorial Award – Jimmy J. Patel
James E. Potterfield Award – Greyson M. McIntyre
Art Education Award – Faith L. Graham
School of Business
Accounting Award – Rebecca A. Cantey
Computer Science Award – Anquan L. Gamble
Management Award – Katelyn M. Thompson
Management Information Systems Award – Grace N. Teal
Marketing Award – Derek T. Neal
Finance Award – Katelyn M. Thompson
Economics Award – John A. Burghardt
School of Health Sciences
Healthcare Administration Award – Kendall R. Coward
Undergraduate Nursing Award – Jamie R. Melton
Graduate Nursing Award – Sherqunda B. James
Speech-Language Pathology Award – Kaylin C. Brown