March 6, 2023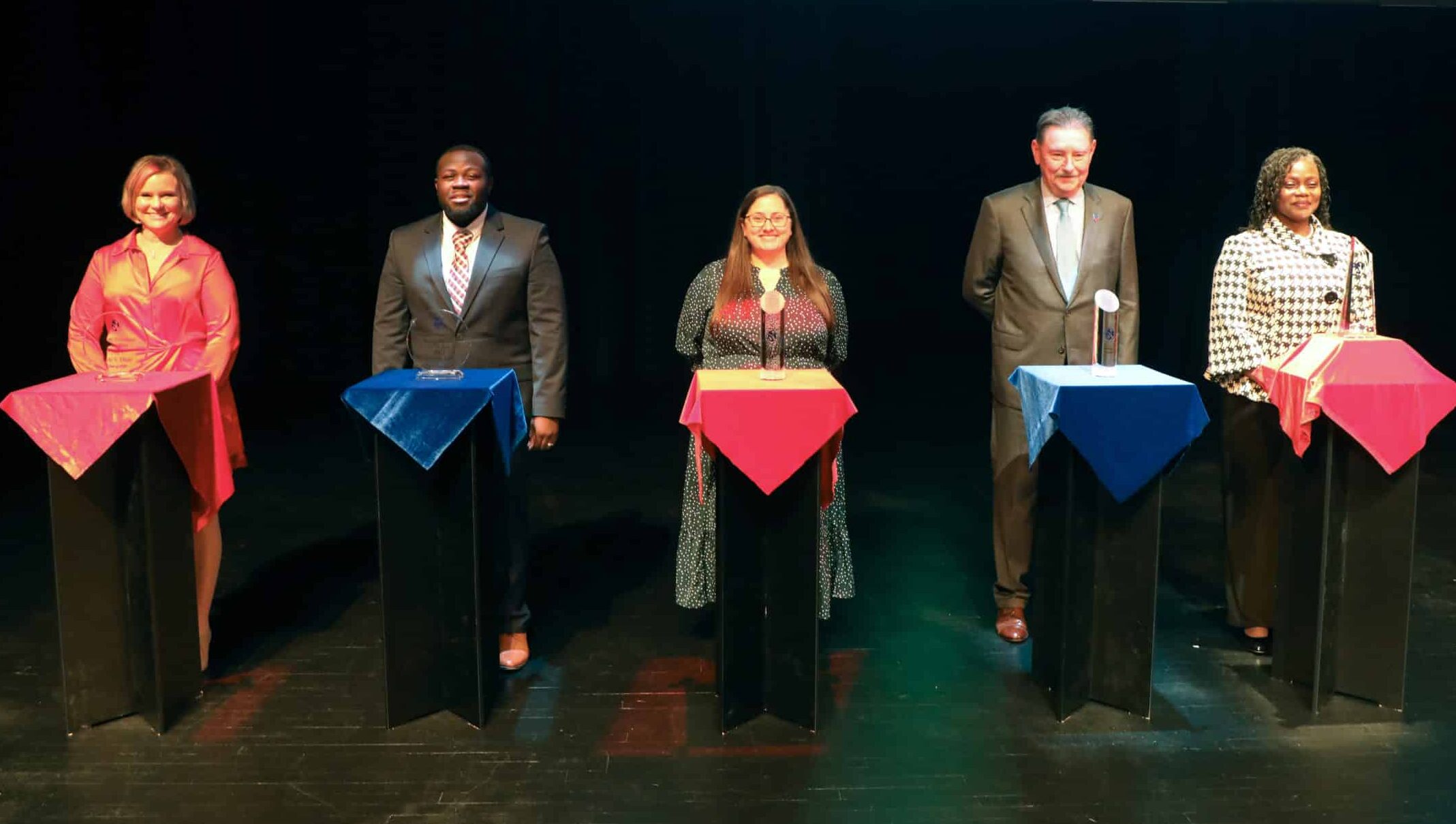 FMU honors five distinguished alumni at Awards Ceremony
Francis Marion University honored five of its distinguished alumni at its annual Alumni Awards Ceremony on Thursday, March 2 at the FMU Performing Arts Center.
Mayor Teresa Myers Ervin ('90) of Florence was recognized as the university's 2023 Outstanding Alumni. Ervin earned a Bachelor of Science in Nursing from FMU. She has spent over forty years in the medical field, and is currently employed by McLeod Regional Medical Center in the neonatal intensive care unit. In 2010, Ervin was elected to serve on the Florence City Council, where she served until she was elected Mayor of Florence in 2020.
Watson E. Snowden, III ('77) of Florence received the Professional Industry Award in Public Service and Law. Watson graduated with a Bachelor of Science in Political Science. Throughout his career, he worked for the South Carolina Board of Health, the White House, and the United States Department of State. 
Amy McAllister-Skinner ('07) of Lake City was awarded the Professional Industry Award in Education and Arts. She received a degree in English Education. She has been an educator for sixteen years and was named the South Carolina Teacher of the Year in 2013. She currently serves as an assistant principal at Hannah-Pamplico Elementary/Middle School. 
Deandre Cain ('13) of Florence received the Benjamin Wall Ingram III Young Alumnus Award. Cain graduated with a Bachelor of Business Administration with a concentration in Management Information Systems. He has worked in the IT field for ten years and is currently a Network Security Engineer at McLeod Regional Medical Center. 
Vicki Elliott ('93) of Manning was recognized as the Volunteer of the Year. Elliott graduated with a degree in Biology and a minor in Chemistry. Elliot worked in the medical field for over twenty years and currently works for Traditional Comfort LLC and Traditions Catering in Manning. Elliott is active in the community and volunteers with Feed My Starving Children, Ducks Unlimited, and the annual FMU Foundation Golf Tournament. She also serves on the FMU Alumni Advisory Board, where she is a member of the Programming Committee.