December 5, 2022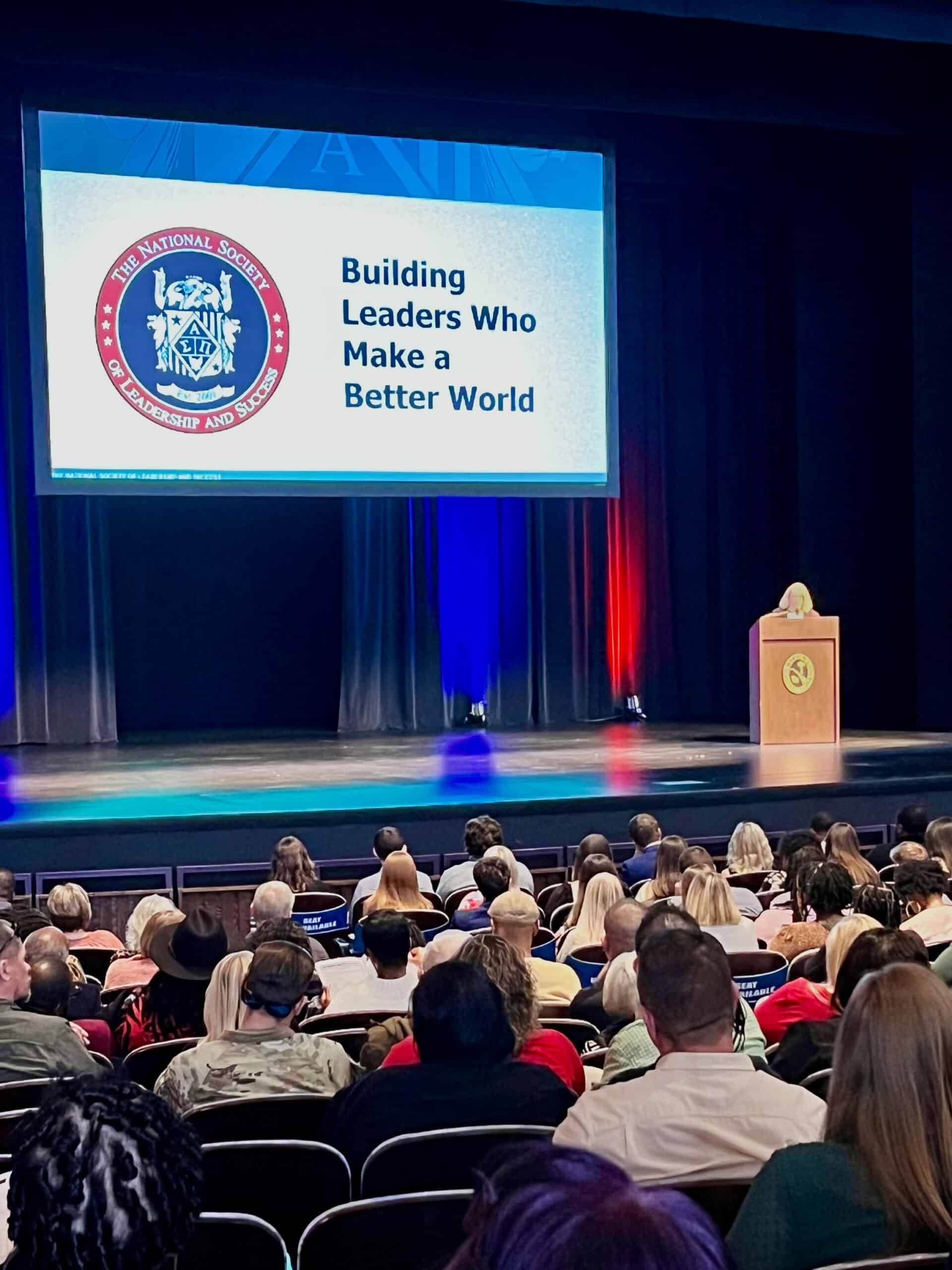 FMU inducts first class of National Society of Leadership and Success students
The Francis Marion University chapter of the National Society of Leadership and Success held its first induction ceremony at the Francis Marion University Performing Arts Center on Sunday, December 4.
The National Society of Leadership and Success was established in 2001, and it is the nation's largest leadership honor society, with 755 chapters and over 1.7 million members. NSLS supports "building leaders who make a better world."
The ceremony was officiated by Dr. Jennifer Kunka, Associate Provost for Advising and advisor for the FMU NSLS chapter. Kunka spearheaded the effort to start an NSLS chapter at FMU in August 2022. The chapter currently has 318 active members, making it the largest student organization on campus. Of these members, 213 students completed ten hours of leadership training and became inducted members at the December 4th ceremony.
Throughout the fall semester, NSLS members engaged in motivational leadership training focused on goalsetting, persistence, resilience, teamwork, inclusion, and impact. NSLS provides member schools with live speaker broadcasts from well-known leaders in government, business, entertainment, and sports. This semester, FMU NSLS members participated in live speaker broadcasts from Andrew Yang, Kelly Ripa, and Kevin Hart.
V'Auna Sinkler, a junior healthcare administration major, stated, "The most valuable lesson I took away from NSLS was how to use my leadership abilities to further my future objectives. I've learned the right way to create goals, how to accomplish them, and how to take the right actions to develop into a leader. I've met new people through NSLS who share similar goals and ambitions and have gained new friends as a result. Because of all the effort I put into this semester, it feels incredibly nice to be recognized and inducted into NSLS."
Bonét Hylton, a junior healthcare administration major, said, "I think the most rewarding aspect about my experience with the NSLS was feeling a sense of responsibility. It felt amazing to be able to fulfill my weekly goals and then congregate with my group to let them know what I accomplished. Knowing that I had weekly goals that needed to be executed within a limited amount of time motivated me to get it done quickly and efficiently."
"I have been impressed by the tremendous response that Francis Marion students have had to NSLS. It is rewarding to see so many students working on goal setting and building their leadership skills," said Kunka.  According to Kunka, future chapter plans include selecting a student executive board, enhancing leadership training for students, and starting an initiative to support the Florence community.