July 16, 2018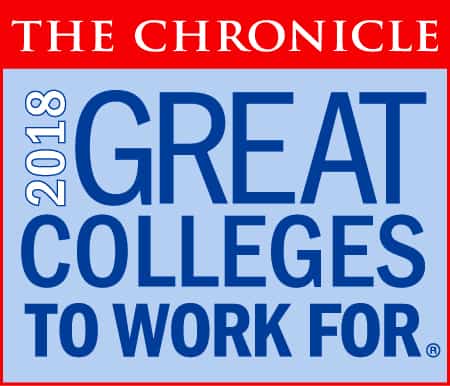 FMU recognized as Great College to Work For
Francis Marion University has been recognized as a Great Colleges to Work For® Honor Roll School for a sixth straight year.
The recognition comes from The Chronicle of Higher Education, the leading journal of university and college life. The 10th annual Great Colleges to Work For ratings appear in the latest edition of The Chronicle, which is out this week.
FMU is one of just 60 four-year colleges and universities in the nation recognized by The Chronicle and one of only 30 recognized as an Honor Roll school.  Among the other Honor Roll universities were Baylor University, the University of Notre Dame, Texas Christian and Florida International.

FMU is the only South Carolina school recognized for 2018.
The recognition is based primarily on a survey administered to faculty and staff in universities across the country, and compiled by a third party, Modern Think, a nationally recognized business consultant to universities and other institutions. More than 45,000 university employees nationwide were surveyed as part of that process.
FMU's Honor Roll designation means that it received distinction ratings (70 percent positive ratings or higher) in at least seven of the 12 categories measured. FMU has been recognized as an Honor Roll school every year it's been on the list. 
Dr. Fred Carter, FMU's president, says the ongoing recognition by The Chronicle affirms the excellence of one of the university's greatest strengths.
"FMU is proud to be recognized once again on this prestigious list," says Carter. "It's an exclusive cohort, comprised of a small percentage of schools, and we're delighted to be on it for the sixth time."
"Our faculty and staff are a unique group of professionals deeply devoted to this university and its students. All of which makes Francis Marion not simply a 'Great College to Work For,' but a truly great college in every respect."
While FMU has been an Honor Roll school for six years, it did earn its highest marks in this year's rankings, receiving distinction-level scores in 11 of the 12 workplace satisfaction categories.
FMU's employees reported high satisfaction in Compensation and Benefits; Collaborative Governance; Professional/Career Development; Teaching Environment; Facilities, Workplace and Security; Job Satisfaction; Work/Life Balance; Confidence in Senior Leadership; Supervisor/Department Chair Relationship; Respect and Appreciation; and Tenure Clarity and Process.