January 29, 2017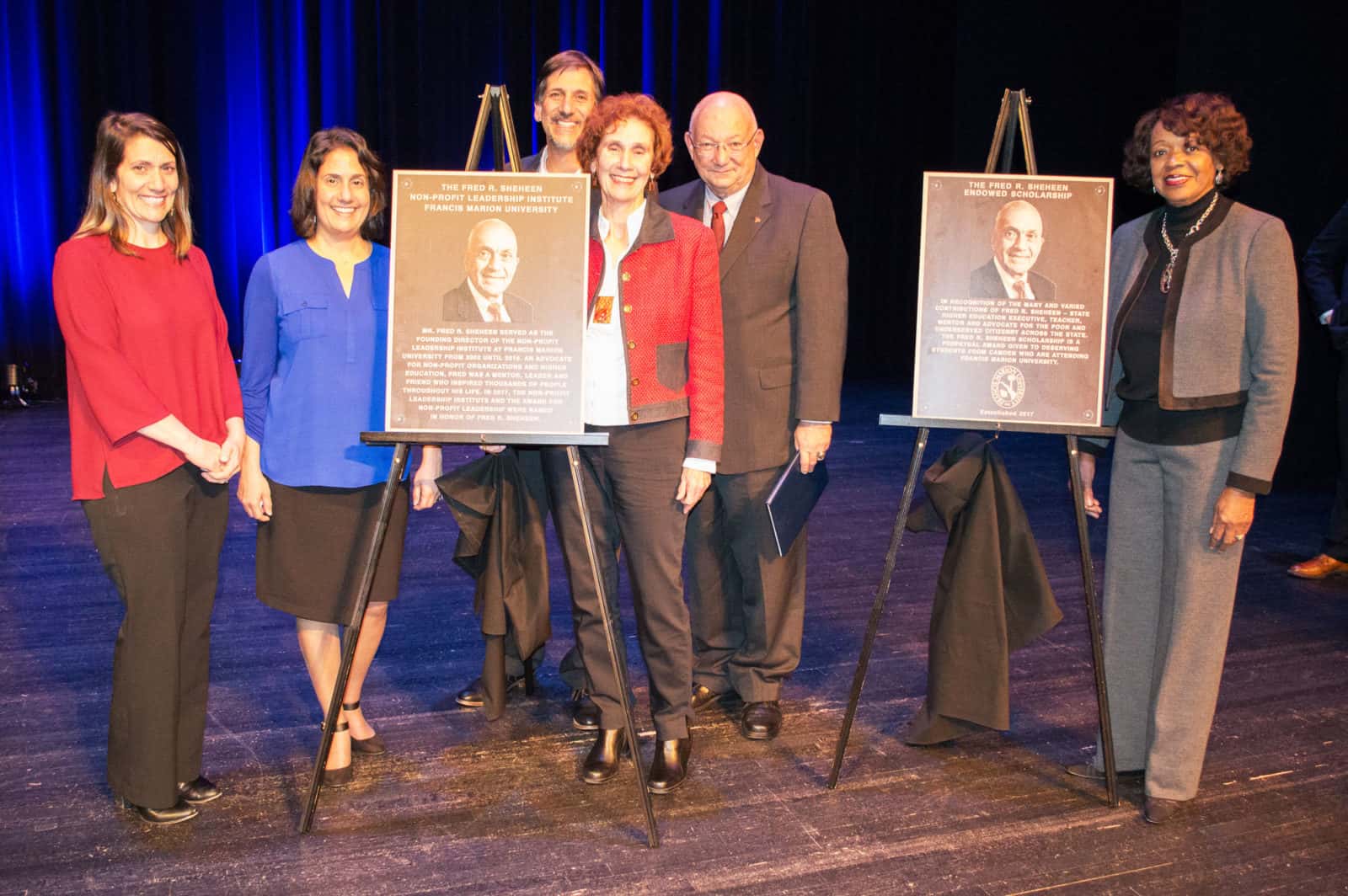 FMU names non-profit institute for the late Fred Sheheen
Francis Marion University honored long-time university friend and advocate of the downtrodden, the late Fred Sheheen, at a special event at the FMU Performing Arts Center Thursday night.
More than 150 state leaders, university officials and faculty, and friends and family turned out for a tribute to Sheheen that culminated with naming of the FMU Non-Profit Leadership Institute (NPLI) in Sheheen's honor.
Sheheen, a Camden, SC native whose career was spent in public serve to the people of South Carolina, was killed in a tragic auto accident last fall. Sheheen was the longtime director of the NPLI, and poured his heart and soul into the unique organization, which offered affordable education and mentorship to leaders of non-profit organizations across the state.
FMU President Dr. Fred Carter said Sheheen's dedication to NPLI made naming the organization the Fred Sheheen Non-Profit Leadership Institute a fitting tribute.
"Fred Sheheen was a South Carolina original," said Carter. "He was the most positive and outgoing person I've ever met and he worked hard his entire life to make this state more livable. He had a strong affinity for those who lived in poverty and his life's work reflected his efforts on their behalf."
FMU also announced that a university scholarship has been established in Sheheen's name. It will be awarded to students from Camden who want to attend Francis Marion University and who have a demonstrated financial need. Additionally, it was announced that an annual non-profit service award bestowed annually the South Carolina Association of Non-Profit Organizations (SCANPO) has been named for Sheheen.
Remembered as a champion of higher education, he served as the head of the South Carolina Commission on Higher Education, which oversees public colleges and universities, from 1987 to 1997. Sheheen graduated from Duke University in the late 1950s and began his career as a journalist at The Charlotte Observer, focusing on civil-rights issues.
Sheheen later worked as an aide for S.C. Gov. Donald Russell before moving into the world of South Carolina higher education. Her served as the director of the South Carolina Commission on Higher Education from 1987-1997.
After leaving the CHE, Sheheen moved into his role as director of the fledgling NPLI, as well as continuing to work with a variety of non-profit and public boards and organizations in the state.
Donations to the Fred Sheheen Scholarship can be made online at https://www.fmarion.edu/foundation, or by contacting the FMU Foundation directly at 843.661.1200.