June 11, 2020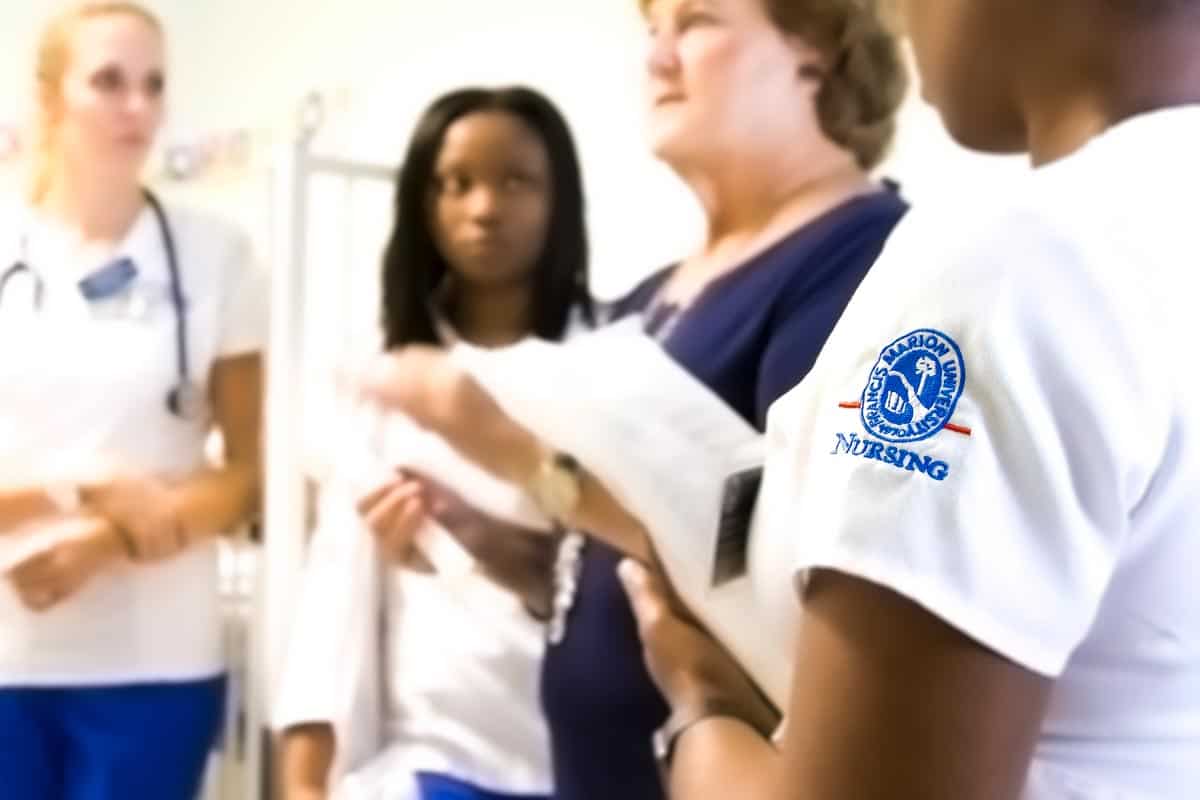 FMU Nursing receives prestigious CCNE accreditation
Francis Marion University's nursing program has received initial accreditation from the prestigious Commission on Collegiate Nursing Education (CCNE). 
The CCNE is an autonomous agency, recognized by the United States Department of Education as a national accreditor. Its mission is to ensure the quality and integrity of baccalaureate, graduate, and residency programs in nursing, and to serve the public interest by assessing and identifying programs that engage in effective educational practices. 
Nursing programs at more than 840 colleges and universities around the country have moved through CCNE's rigorous review process and received accreditation.
CCNE is affiliated with the American Association of Colleges of Nursing (AACN), the nation's leading voice for academic nursing and a renowned advocate for professional nursing education, research, and practice. 
All three levels of nursing degrees offered at FMU — Bachelor of Science in Nursing, Master of Science in Nursing and Doctor of Nursing Practice — were included in the accreditation.
Dr. Karen Gittings, Dean of the FMU School of Health Sciences, called the initial accreditation a significant accomplishment for the department of nursing.
"FMU nursing has a deserved reputation for excellence and professionalism," said Gittings. "Adding an accreditation from CCNE, which is widely recognized as a premier accreditation agency in this field, just amplifies that. We couldn't be prouder."
Dr. Rhonda Brogdon, interim chair of the department of nursing, said the accreditation achievement was the result of years of hard work by the department's faculty and students.
"Something like this doesn't happen overnight," said Brogdon. "We have a wonderful faculty that works hard and takes this profession very seriously. Their work over many years, the quality students we produce at all levels, and the time put in specifically on the accreditation, have all paid off and been recognized."
Dr. Fred Carter, FMU's president, praised the nursing faculty and said the new accreditation is arriving at an opportune time.
 "The demand for well-educated, professional healthcare practitioners has never been higher," said Carter. "Our nursing faculty are remarkable teachers and practitioners, and FMU nursing graduates have come to be regarded as the best educated and most professional in the state. This accreditation is further affirmation of this success.
The new accreditation comes as FMU moves to a more congruous accrediting body with CCNE focusing on institutions that provide baccalaureate level (four-year undergraduate) degrees and graduate-level degrees in nursing.
FMU has offered a nursing program since its founding and began administering its own program in 2006. Since then FMU has conferred more than 500 nursing degrees at all levels.
The university launched its Family Nurse Practitioner (FNP) program in 2012 and its Doctor of Nursing Practice (DNP) program in 2017. The nursing program also offers a MSN Nurse Educator degree, and, more recently, the MSN/Psychiatric Mental Health Nurse Practitioner degree.