July 18, 2017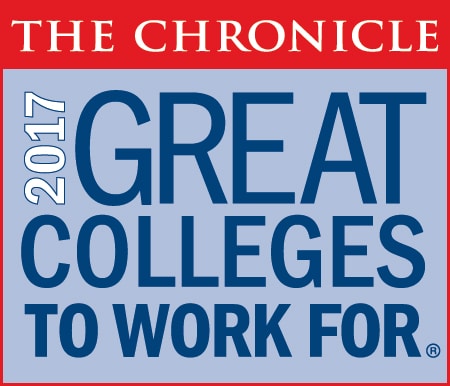 FMU once again recognized as a "Great College to Work For"
Francis Marion University once again has been recognized as a Great Colleges to Work For® Honor Roll School by The Chronicle of Higher Education, the leading journal of university and college life.
This year marks FMU's fifth straight appearance on the prestigious list. FMU is the only South Carolina school recognized for 2017.
FMU's ranking is part of The Chronicle's ninth annual Academic Workplace Special Issue, which will be available to subscribers and the public on July 21.
The recognition is based primarily on a survey administered to faculty and staff in universities across the country, and compiled by a third party, Modern Think, a nationally recognized business consultant to universities and other institutions. More than 45,000 university employees nationwide were surveyed as part of that process.
FMU is one of 79 colleges or universities recognized by The Chronicle, and was one of only 42 schools nationwide to receive recognition as an Honor Roll school. Schools that receive distinction ratings of 70 percent or higher in any of the 12 rating categories covered by the survey are recognized as a Great College to Work For.
Honor Roll schools must be recognized in at least seven categories. FMU has been recognized as an Honor Roll school all five years it's been on the list.
Dr. Fred Carter, FMU's president, says the ongoing recognition by the Chronicle is confirmation of an attribute the university's leaders have long known and appreciated.
"FMU is proud to be recognized on this prestigious list once again," says Carter. "Only a small percentage of the colleges and universities in the country are recognized, and FMU is at the very top of that group. This is no real surprise to us. We've always known that our faculty and staff are a unique group of well-educated and highly trained professionals who care deeply about this university and our students. All of which makes Francis Marion not simply a 'Great College to Work For,' but a great college in every respect."
For the third straight year, FMU received high marks in 10 of the 12 workplace satisfaction categories.
FMU's employees reported high satisfaction in Collaborative Governance; Professional/Career Development; Teaching Environment; Facilities, Workplace and Security; Job Satisfaction; Work/Life Balance; Confidence in Senior Leadership; Supervisor/Department Chair Relationship; Respect and Appreciation; and Tenure Clarity and Process.