January 16, 2018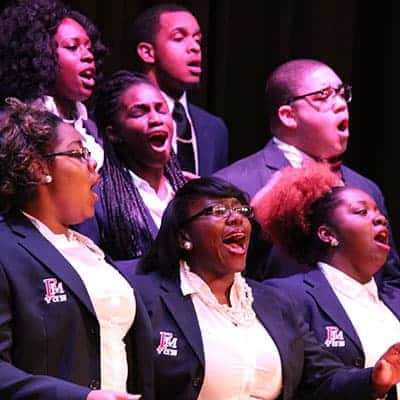 FMU to host Black History Heritage Celebration
Francis Marion University will host renowned  performer and storyteller Dr. Naima Johnston Bush on Monday, Feb. 12 at 5 p.m. at Chapman Auditorium.
Dr. Johnston-Bush's performance, Spiritual Songs: A Musical Legacy of the History of the Negro Spiritual will provide audience members with a story-telling experience that explores the Negro Spiritual as an historical art form from its inception in the 1600s to present day.
The power behind Johnston-Bush's performance comes from her ability to extract seemingly minute details from the annals of history and reflect on their importance in contemporary society, all with the power of a dynamic voice that brings each song and story to life.
The event is free and open to the public, and is sponsored by the FMU Multicultural Advisory Board and the Office of Multicultural Affairs.