January 15, 2018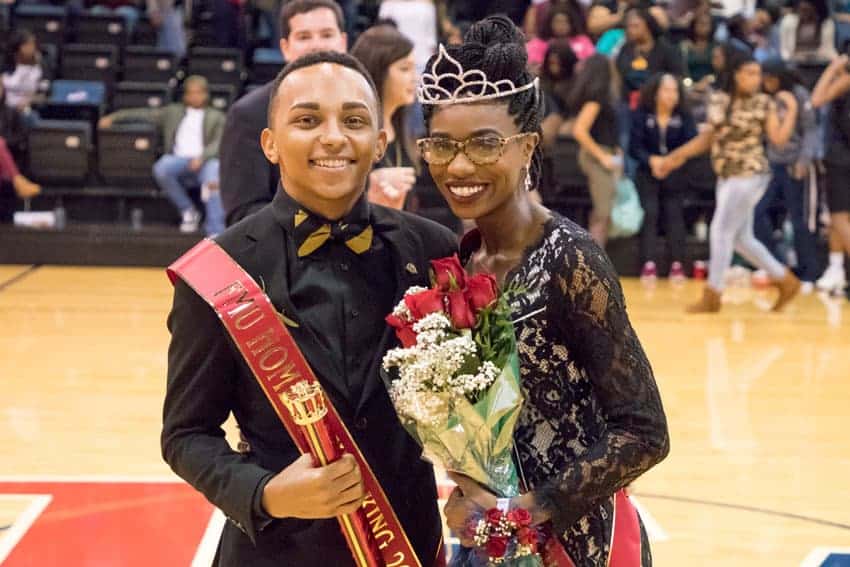 Francis Marion to celebrate 2018 Homecoming Feb. 10
Francis Marion University's 2018 Homecoming week will kick off on Monday, Feb. 5 with a week of activities leading up to the big Homecoming Day celebration on Saturday, Feb 10.
The climax of the week will be Saturday's men's and women's basketball teams squaring off against the University of North Georgia in key Peach Belt Conference contests in the Smith University Center gym. The women's game begins at 1:30 p.m. and the men's game will follow, starting at approximately 3:30.
Francis Marion University Athletics Hall of Fame induction ceremony for former golfer Matt Dura ('03) and former tennis player Annamaria Karai Meadows ('05) will be held between the men's and women's games. The Homecoming king and queen will be crowned following the men's game.
As usual, Homecoming doubleheader is free.
Pre-game tailgating is set to begin at 11:30 a.m. and conclude at 7 p.m. A Homecoming parade through campus is scheduled for 11:45 a.m. Patriot Fest, set to begin at 12:15 p.m., will feature live music and entertainment at the Smith Center.
Saturday's schedule also includes baseball and softball games. Francis Marion's baseball team will take on Augusta University at 2 p.m. The softball team meets Mount Olive University in a doubleheader beginning at 1 p.m.
The FMU Athletic Department will sponsor the 20th-annual Swamp Fox Club Benefit Silent Auction, featuring sports memorabilia and merchandise, beginning at 1 p.m. in the Smith University Center gymnasium. All proceeds from the auction will support Patriot athletics. The Patriot Bookstore in the Smith University Center will offer special Homecoming sales all day on Saturday.
Schedule
February 5, 2018
7 p.m. – UPB presents: The Patriot Challenge: The Free Money Show ft. Adam Ace
February 6, 2018
2:30 p.m. – Baseball vs. Mount Olive University
February 7, 2018
4:30 p.m. – The Patriot Experience
February 8, 2018
7 p.m. – Homecoming Bonfire
February 9, 2018
6 p.m. – Alumni Homecoming Social at Local Motive Brewing in Downtown Florence
February 10, 2018
11:30 a.m. – Tailgating Begins – Reserve Your Spot!
11:45 a.m. – Homecoming Parade
12:15 p.m. – 2:00 p.m. – Patriot Fest
1:00 p.m. – Softball vs. Mount Olive (DH)
2:00 p.m. – Baseball vs. Augusta
1:00 p.m. – Silent Auction Begins (ends at halftime of men's basketball game)
1:30 p.m. – Women's Basketball vs. North Georgia
Hall of Fame Induction
3:30 p.m. – Men's Basketball vs. North Georgia