January 12, 2018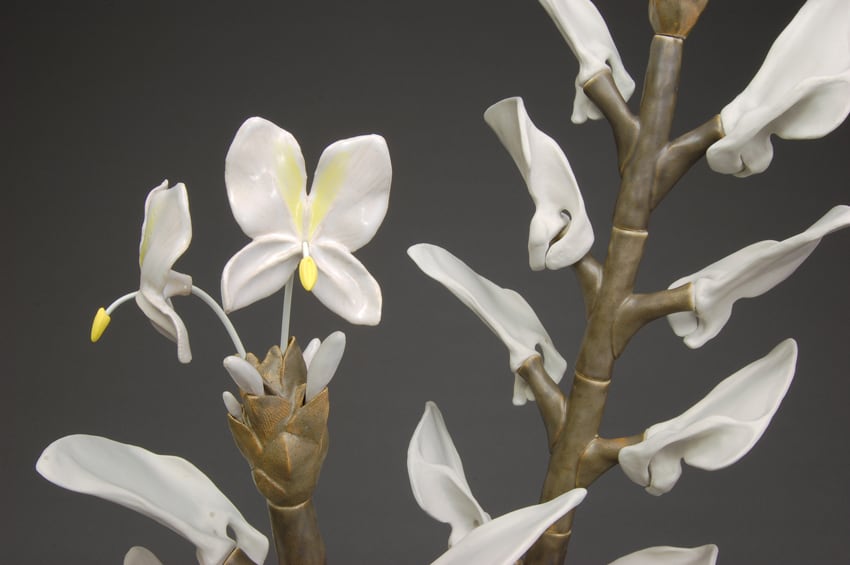 Myrtle Beach, Greenville artists' works featured at FMU gallery
Ceramic sculptures by Greenville artist Elaine Quave and paintings by Myrtle Beach artist Neva Campbell will be on view in the Adele Kassab Gallery in the Hyman Fine Arts Center at FMU from Jan. 9 through Feb. 15.
Both Quave and Campbell explore the natural world and our place within that world.
Quave states: "My ceramic sculptures evoke a garden, one reminiscent of a bleached coral reef in which the reflection of our own human nature is both terrifying and beautiful at the same time. Porcelain bones are arranged to resemble plants, each implying their own unique stories of our personal interactions with them."
Campbell's series of works include bones and the human figure. She describes herself as "a modern impressionist using bright colors to convey emotional light and density" she finds inspiration in the South's dark history, gorgeous vistas, and briny waters."
Quave received her MFA at the Tyler School of Art, Temple University and is also a graduate of the SC Governor's School for the Arts and Humanities, where she currently serves as an instructor.
Campbell is a graduate of the Art Institute of Atlanta and has worked as a graphic designer. She has returned to her native Myrtle Beach where she was named Best Artist for the 2016 Grand Strand Happening List,  and has exhibited in Artfields three times.
Neva Campbell invites friends and the public to join her in the Gallery between the hours of 6 and 8 PM on Friday, January 12.
The Adele Kassab Gallery in the Hyman Fine Art Center is open from 8:30 AM until 5:00 PM Monday through Friday. For more information call 843-661-1385.
Attached are: "Mariposa Blanca" porcelain, stoneware and steel by Elaine Quave and acrylic paintings by Neva Campbell