March 1, 2018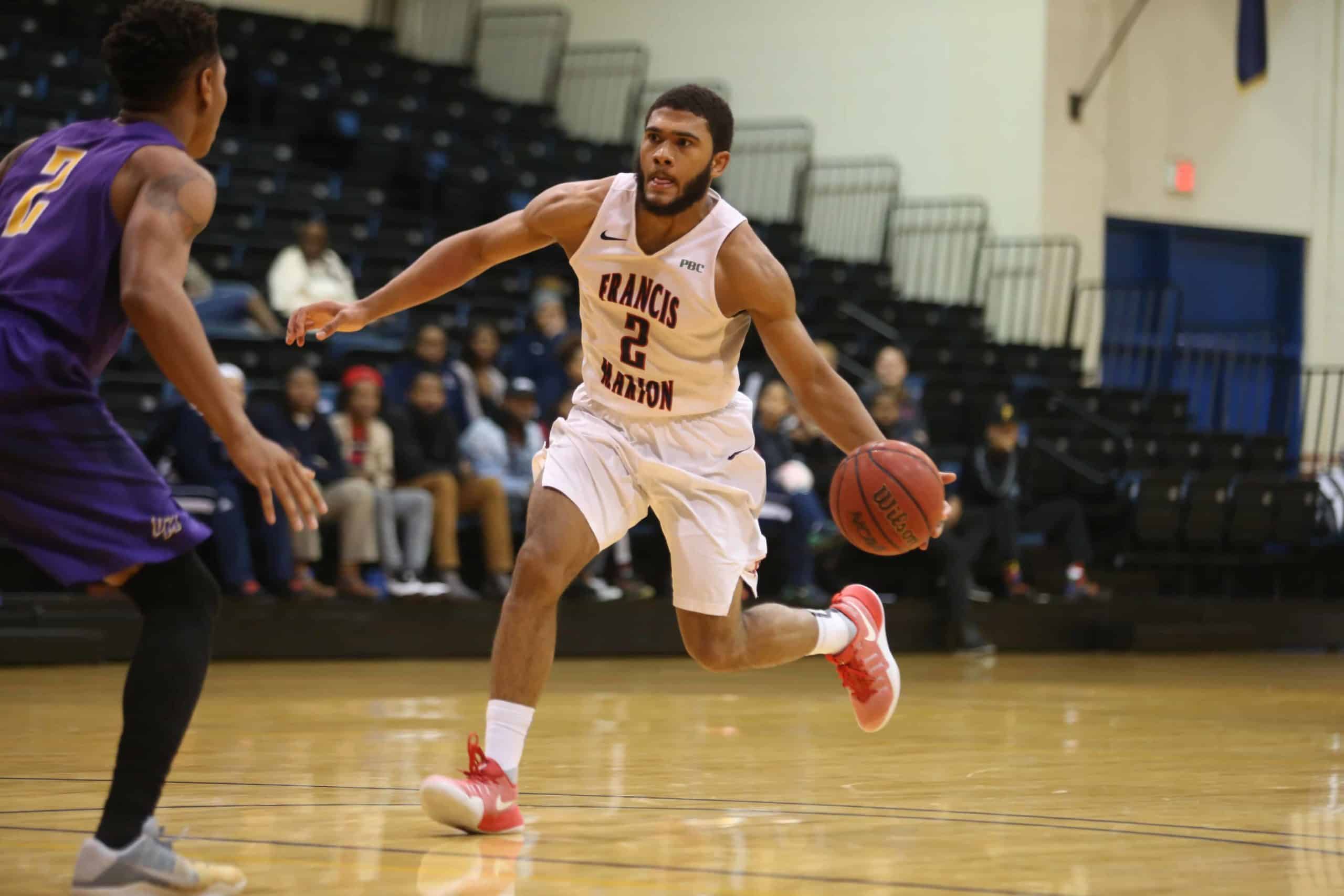 FMU's Browning named Player of the Year, Parker earns All-PBC honors
Francis Marion University senior guard Detrek Browning has been named the 2018 Peach Belt Conference Men's Basketball Player of the Year, while FMU junior forward Brandon Parker earned third-team All-Conference recognition.  The post-season honors were announced by the conference office on Thursday afternoon- March 1. 
Browning garners All-Conference honors for the third year, having been named second-team All-PBC each of the past two years.  He becomes the sixth player in league history to be named both the PBC Freshman of the Year (2015) and PBC Player of the Year.  He also becomes the second Patriot to ever be named the PBC Player of the Year, joining Carlton Farr who won the award in 1995.
A 6-0 guard from Columbia, Browning leads the Peach Belt and is fourth nationally in Division II in scoring at 25.0 points per game.  This season alone, he has set team records for points in a game (41), season (699), and a career (2,318).  His career total is second best in PBC history and he needs only 16 points to break the record.
He also ranks first in the PBC in field goals made (240), three-pointers made (90), and free throws made (129); second in steals (59) and minutes played (36.4); third in free throw percentage (86.6%); fifth in three-point percentage (43.9%); ninth in total field goal percentage (52.6%); and 12th in assists (78).
He also hauled down 3.8 rebounds per game, and despite his high work load managed more assists than turnovers on the third-best scoring team in the Peach Belt at 81.9 ppg.
Browning has scored in double figures a school-record 54 consecutive games.  This season, he registered six 30-point games.  For the second year in a row, by way of scoring or assisting, he accounted for more than 37 percent of the Patriots' scoring output.
He has re-written the FMU record book this season, including setting new FMU career marks for minutes played (3982), highest scoring average (20.5), field goals made (812) and attempted (1623), three-pointers made (287) and attempted (711), games scoring in double figures (109), and 30-point games (9). He needs only 10 assists and five steals to establish new career marks in both those categories.
Browning was named the PBC Player of the Week a record seven times this year and a record 10 times during his career.
Parker, a 6-3 Sumter, S.C., native, is second on the Patriots and 13th in the conference in scoring at 13.8 ppg. He also ranks sixth in the PBC in steals (47), seventh in minutes played (33.5), 10th in three-pointers made (57), 18th in rebounding (5.9 rpg), 18th in assists (67), 18th in free throw percentage (71.9%), and 23rd in three-point percentage (35.8%).
He scored in double figures 23 times, including four 20-point games and two double-doubles. He connected on 42.8 percent of his field goal attempts and his assists-to-turnover ratio ranked 18th best in the conference.
The two have helped lead Francis Marion (20-8) to its first 20-win season in 14 years and a spot in the PBC Tournament semifinals this weekend in Morrow, Ga.  The third-seeded Patriots will face second-seeded and 24th-ranked UNC Pembroke on Saturday at 5:30 p.m.  The championship game is set for Sunday at 2 p.m.
Browning is a former All-State performer at Irmo High School, while Parker helped lead Sumter High School to a state title.