March 1, 2018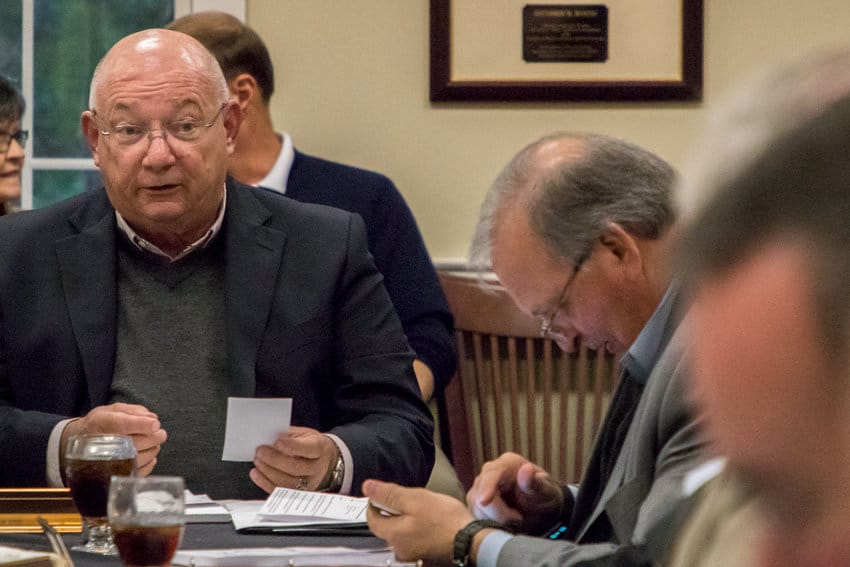 Carter highlights University achievements, future endeavors
Francis Marion University President Dr. Fred Carter told the University's trustees Thursday that the University has made significant achievements over the past five years, all pointing it towards a bright future.
Carter's comments came at the Board of Trustees' regular quarterly meeting on the FMU campus.
Carter detailed a litany of annual accomplishments across the university, including work the University has done to improve graduation and retention rates with the development of the Center for Advisement and Academic Success; the reorganization and expansion of the Office of Admissions; the enhancement of campus security through new equipment and additional law enforcement officers; and the implementation of a new information system. Next up, said Carter will be a strengthening of student programing and activities.
"All these initiatives are bringing positive and substantive change FMU," said Carter.
Carter said it is all focused on solidifying FMU's place as an exceptional and distinctive institution.
As part of his regular report to the trustees, Carter noted the a special committee studying the feasibility of a Mechanical Engineering program at FMU has recommended moving forward. The University, said Carter, will begin work immediately to bring the program to fruition in the next few years.
"It will be a terrific complement to our existing Industrial Engineering program," said Carter.
At Thursday's meeting, the board also unanimously approved a new Master of Education in Teaching and Learning degree, along with ratifying new options of Teacher Certification in the Bachelor of Science in History and the Bachelor of Arts in History, and the new options of Sports Management and Sports Marketing in the Bachelor of Business Administration.
"Each of those programs play an important role in enhancing and expanding our curriculum," Carter said. "Especially those two that will broaden what we're doing for the school districts in supporting K-12 education efforts."
Dr. Tracy Meetze-Holcombe, the dean of FMU's School of Education, says the Master of Education in Teaching and Learning degree will provide prospective teachers with a chance to hone their skills in managing a classroom environment before setting foot in a school.
"This is going to provide post-baccalaureate courses for alternative certification programs as well as enhance the skills of those teachers seeking a master's in education," Meetze-Holcombe said. "It's geared for people with limited classroom experience, but those with experience can benefit by honing their skills with classroom management theory and research."