June 3, 2019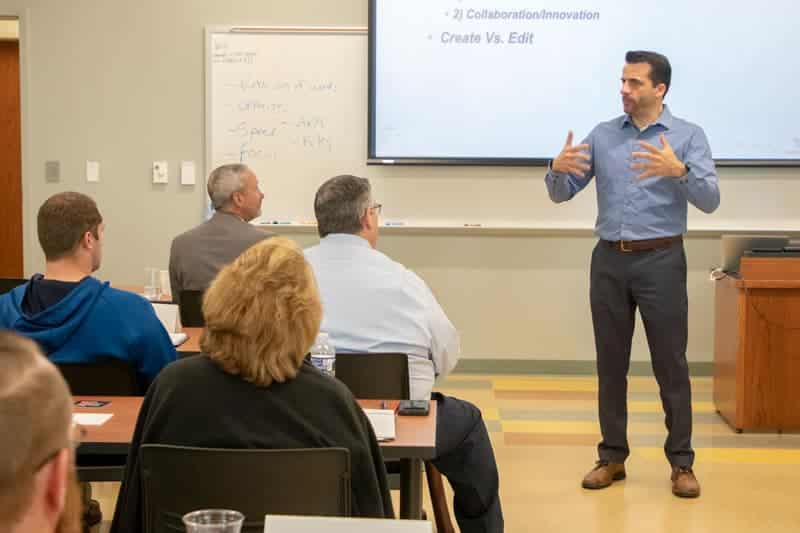 FMU's tech certificate demystifies tech world for executives
Francis Marion University's School of Business is rolling out a new certificate program for information business leaders, managers and executives that will help them understand the complex world of technology and give them access to the latest thinking on critical technology issues.
The five-month Certificate in Management of Emerging Technologies course begins in August. Participants will meet for one full day each month to hear from an all-star roster of visiting experts from across America. Classes will be held at FMU's Carter Center for Health Sciences in downtown Florence.
Sessions include "Demystifying Trends in Technology," "The Truth about Blockchain," "Unpacking the Cloud," "Cybersecurity from Different Angles" and "Conversation with Bots."
Presenters include Dr. Susan Winter, associate dean for research and co-director of the Center for Advanced Study of Communities and Information at the University of Maryland; Dr. John Leslie King of the University of Michigan; Dr. Ed Mahon, owner of Cloudworks and a long-time chief information officer; Dr. Susan Campbell, instructor and researcher at the University of Maryland; and Dr. Carolina Sagle, assistant professor of management of information systems at Wake Forest University.
Dr. Hari Rajagopalan, dean of the FMU School of Business, says the new program is a response to a critical need in the marketplace, and will help professionals slice through the clutter and mythology surrounding technology today.
"The course addresses the problem of hype versus reality in technology," says Rajagopalan. "Our star-studded panel of experts, will help participants discover trends in technology, understand what they are, and build policies and strategies to manage the impact. The program and the certificate are a great way for professionals to advance their careers and for companies to develop key professionals in their organizations."
Tuition for the 5-month course will be $1,200.
Individuals can find out more, and register for the course, at https://www.fmarion.edu/business/cmet/.
Alternatively, reach Dr. Rajagopalan at the FMU School of Business at 843-661-1419.