December 9, 2017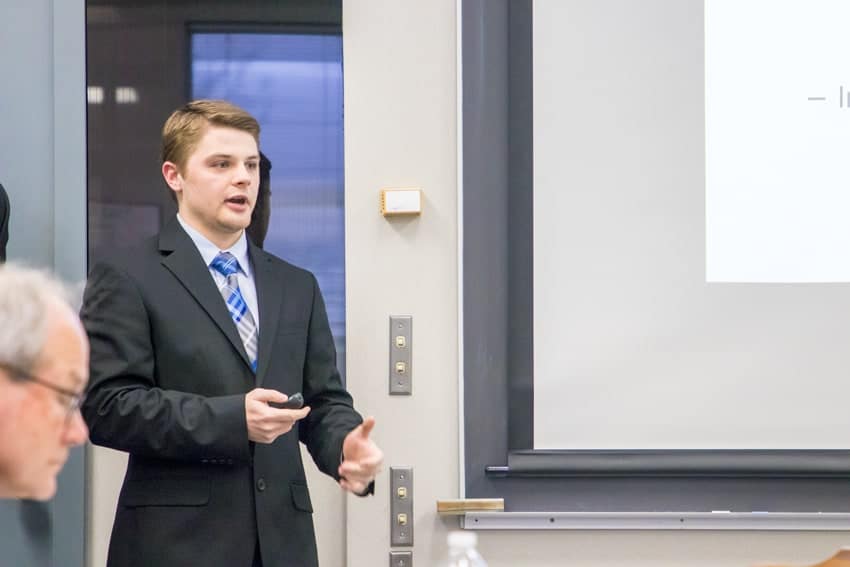 Grants give students in FMU School of Business the tools needed to produce real world industry forecasts
What do the pickles in a Chick-Fil-A chicken sandwich cost and how does that affect the Atlanta-based fast food giant's logistics management and bottom line?
A group of upper division Business majors at Francis Marion University spent the past semester studying that problem — and others — as part of a new program funded by a grant from the South Carolina Research Authority.
The SCRA's grant helped FMU's School of Business acquire sophisticated computer modeling software. That, in turn, allowed teams of students in Dr. Hari Rajagopalan's Supply Chain Management class to research logistical issues related to chicken sandwiches, magnetic MRI machines, laptops and pharmaceuticals. The students used the software to create models that allowed them to forecast demand. Those forecasts allowed them to plot strategies for hiring and firing workers, managing inventory, satisfying customers, and – of course – increasing profits.
The students presented their findings Thursday to a panel of evaluators that included executives from local industries and FMU faculty. Among the panelists were representatives from Otis Elevator, QVC, Sonoco Products, and GE Healthcare. Peter Straub of the SCRA, who managed the software grant, also served on the evaluation panel. The evaluations counted as a significant part of the student's grades.
Junior Gavin Hafey and senior Danika Guess worked on a project related to Magnetic Imaging Resonance machines, a complex medical scanning device produced by GE Healthcare at its Florence, S.C. plant. Hafey was also working at GE as an intern during the fall semester, so the project really brought supply chain theory to life for him.
"I'd go to work (at GE, for his internship) and then I'd go to class and something would come up in a lecture and I'd say, 'hey, we were just talking about that it work today,'" says Hafey. "That's such a great addition. After working through a project like this, it's hard to imagine how you'd learn it any other way."
Other students who presented projects included Tyler Matusiwicz and Skyler Herba, who studied HP laptops; Kaitlyn Parada who studied a drug manufactured by Israeli pharmaceutical giant; and Noah Trammel and Anna Wintrich who studied Chick-Fil-A's chicken sandwich (including the cost of pickles).
GE and Chick-Fil-A participated directly with students in this year's project, providing insight and detailed information. The other students used corporate reports and other sources to produce data. Dr. Rajagopalan says the program will continue and grow. Other local corporations have expressed interest in partnering with students in the future.
"It is a great way for students to really learn how this subject applies in the real world," says Rajagopalan. "The grant from SCRA made it possible for them to do some in-depth research, and the connection with local businesses helps in a number of ways, not the least of which is putting some of our students in front of people involved in the hiring process."
The South Carolina Research Authority is a public, non-profit corporation that fosters and enriches South Carolina's innovation economy. FMU's grant is a pilot project under a new SCRA initiative, created in conjunction with the South Carolina Department of Commerce, to establish a South Carolina Applied Research Center for Supply Chain and Logistics within the state.