July 18, 2018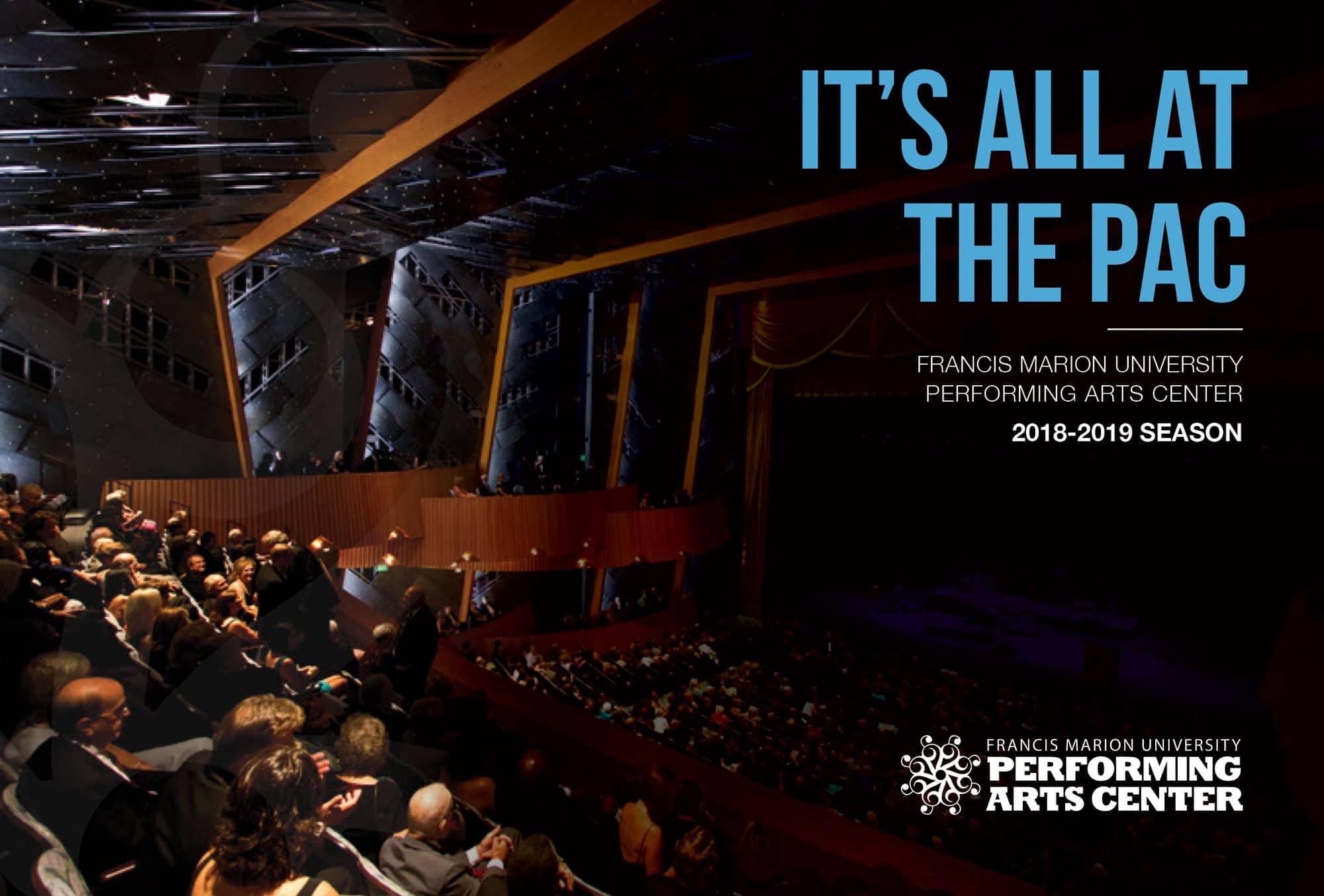 It's all at the PAC this year
FMU Performing Arts Center's 2018-19 season features Kris Kristofferson, Mary Chapin Carpenter, rising stars, Broadway shows, comedy and more.
Legendary singer-songwriters, a world famous comedy troupe, a hot new vocal group that performs Gullah-inspired music, and the music from one of Broadway's biggest hits are among the highlights in the Francis Marion University Performing Arts Center's 2018-19 season.
And a special season ticket package makes a season of superb entertainment even more affordable. Patrons who purchase tickets to any four shows receive a discount of at least 10 percent (exact discount depends upon shows purchased) on all four shows.
The special "Buy 4 PAC" goes on sale Wednesday July 18, along with tickets to individual shows.
Tickets are available online at www.fmupac.org or at  the PAC Ticket Office at 200 N. Dargan Street. The Ticket Office is open Monday-Friday, noon to 5 p.m. Patrons are welcome at the TIcket Office in person, or may call at 843-661-4444.
Bud Simmons, director of the performing arts center, says the PAC is working hard to bring top drawer entertainment to as many people as possible.
"It's a great lineup and the Buy 4 PAC is a great deal," says Simmons. "I'm excited. I'm sure our patrons will be, too.
Headliners for the 2018-19 season include Kris Kristofferson, Mary Chapin Carpenter and the Nitty Gritty Dirt Band. The season also includes Broadway shows, a classic Christmas drama, classical music, comedy and more.
The Nitty Gritty Dirt Band performance Thursday, Aug. 30 at 7:30 p.m. kicks off the season. Tickets for that show have been on sale for several weeks and it is not a part of the Buy 4 PAC special.
NGDB is fresh off its 18-month 50th anniversary Tour. The legendary group authored a slew of platinum and gold records by stringing together top 10 hits like  "Fishin' in the Dark" and their famous rendition of "Mr. Bojangles. Nitty Gritty Dirt Band has piled up multiple Grammy, IBMA and CMA awards and nominations.
The Outlaws, a Southern Rock legend, continues the hits in concert on Thursday, Sept. 27 at 7:30 p.m.
The Outlaws have always been about the music, and while they'll bring new creations to the PAC on Sept. 27, fans can rest assured that they will continued to respect their legacy. The favorites that earned them gold and platinum albums —  "There Goes Another Love Song," "Green Grass & High Tides," "Knoxville Girl" and "Freeborn Man," among others — will never be very far away.
On the heels of the release of her latest album, Grammy Award-winner Mary Chapin Carpenter will visit the PAC on Thursday, Oct. 25 at 7:30 p.m.
Carpenter has sold more than 14 million records worldwide during a 30-plus year career, thanks to iconic hits like "Passionate Kisses," "Shut Up and Kiss Me" and "He Thinks He'll Keep Her." She has won five Grammy Awards, two Country Music Association awards, two Academy of Country Music awards, and is one of only 15 female members of the Nashville Songwriters Hall of Fame.
Carpenter's newest record is a celebration of her career and features versions of some of the singer's most beloved songs, plus one newly penned track.
Just a few weeks after Carpenter's performance, legendary singer songwriter Kris Kristofferson will be at the PAC on Saturday, Nov. 10 at 7:30 p.m.
Kristofferson, a three-time Grammy winner, is the one of the most remarkable success stories of country music. His songs "Me and Bobby McGee," Help Me Make It Through The Night," "Sunday Morning Coming Down" and "For The Good Times" all became chart toppers and helped redefine country songwriting.
While Kristofferson is a brilliant performing in his own right, he's best known as a composer. Thirty years ago it was estimated that more than 450 artists had recorded Kristofferson's compositions.
It's just not Christmas without A Christmas Carol. Thursday, Dec. 13 the Omaha Community Playhouse visit the PAC to present their much-acclaimed version of this holiday classic. OCP's meticulously crafted sets and costumes are assured to put any Scrooge into the Christmas spirit.
The new year will be unique sounds of Ranky Tanky to the PAC on Saturday, Jan. 19 at 7:30 p.m.
Ranky Tanky is an engaging blend of several music styles and cultures — including Gullah. Indeed, the name "Ranky Tanky" is a Gullah term that more or less means "Get Funky."
Fittingly, all five members of the group are natives of the South Carolina Low Country, and their music is a mix of Gullah, soul, jazz and more.
Ranky Tanky is less than two years old (although some of its members go back to a college vocal group), but it is already on the rise. It's first album soard to No. 1 on the billboard, iTunes and Amazon jazz charts. NPR wrote that Ranky Tanky's Gullah songs "are lively, soulful honey to the ears," and noted that the group proved that "the right musicians can make the past new all over again."
The venerable Second City comedy troupe, known for producing some of the funniest people in show business, will bring some laughs to the PAC on Saturday, Feb. 23 at 7:30 p.m.
Second City alumni include Steve Carell, Keegan-Michael Key, South Carolina's Stephen Colbert, Tina Fey, Catherine O'Hara, John Candy, Mike Myers and many more. The current lineup carries on the tradition with sketch comedy and commentary on current society that will produce its own set of legends.
The Dallas String Quartet, an international classic music sensation, will serve as the season's penultimate show on Saturday, March 9 at 7:30 p.m.
DSQ's virtuoso artists fuse classical and contemporary sounds on both electric and traditional strings with an exhilarating style that's left audiences breathless.
The string section of the Florence Symphony Orchestra, under the direction of Francis Marion University professor Dr. Terry Roberts, will join DSQ for its Florence performance.
The season's curtain closer comes to Florence via Broadway via New Jersey in the form of The Midtown Men — the stars from the original Broadway musical Jersey Boys.
The Jersey Boys' historic three-season run on Broadway dazzled audiences. The Midtown Men are now reproducing those sounds, and that experience, lifting audiences to their feet in venues across the country.
Broadway fans will recall that Jersey Boys encapsulated the career of the famous Four Seasons through song and story. That means an evening full of chart-topping hits like "Big Girls Don't Cry," "Sherry," "December 1963 (Oh, What A Night)," "My Eyes Adored You," "Stay," "Can't Take My Eyes Off You," "Working My Way Back to You" and "Rag Doll," as well as other hits from the '60s. The show is a performance of, nor affiliated with, the show Jersey Boys.
Besides the featured shows, the FMU Performing Arts Center's 2018-19 season will also include performances by the Florence Symphony Orchestra, The South Carolina Dance Theatre, The Masterworks Choir and groups under the auspices of the FMU Fine Arts Department.
Check out www.fmupac.org for all the details.
It's All the PAC!
2018-19 Season
At the FMU Performing Arts Center
Special "Buy 4 PAC" allows patrons to purchase tickets to any four feature presentations and save at least 10 percent on all tickets. The PAC Ticket Office is open M-F noon to 5 p.m. and tickets may be purchased in person or by phone. Individual concert tickets may also be purchased online at www.fmupac.org.