November 13, 2017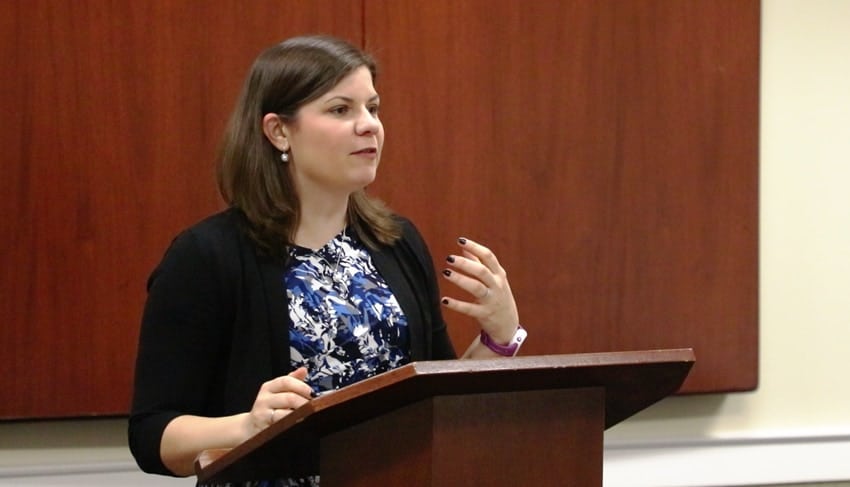 Local school psychologist wins Francis Marion Psychology alumni award
An award-winning school psychologist was honored by the Francis Marion University Department of Psychology Monday night.
Elizabeth Howell, a 2007 graduate of Francis Marion University and recipient of the 2017 Professional Psychology Award, has blazed a trail throughout South Carolina as a leading authority on the topic of school psychology.
Serving as a school psychologist within a number of school districts within the state, including Anderson, Marion and currently Calhoun counties, Howell is currently the president of the South Carolina Association of School Psychologists.
Throughout her professional career Howell maintained a close relationship with the FMU Department of Psychology by visiting classes, working with professors and teaching courses as an adjunct professor at times.
Howell says her time spent at Francis Marion as a student didn't just lead her to find the field she that she a passion for, but it provided her with the necessary experience to become successful.
"It still feels very much like home," she says. "Francis Marion, through the school psychology program, showed me this is what I love and this is what I want to do with my life."
While earning her Master's of Science in School Psychology, Howell became one of the University's most lauded students, winning the Douglas A. Mandra Memorial Award in Applied Psychology.
Though her successes have kept her close to Francis Marion, faculty still reminisce about the exceptional student that Howell was.
Dr. Will Wattles, the chair of the Department of Psychology, remembers Howell as an outstanding student that has more than lived up to her professional potential.
"You exemplify the way our alums make a difference in the region," Wattles says. "An award like this is really a meaningful acknowledgement… I have no doubt that this award is deserved and predictive of more good things to come."