February 27, 2019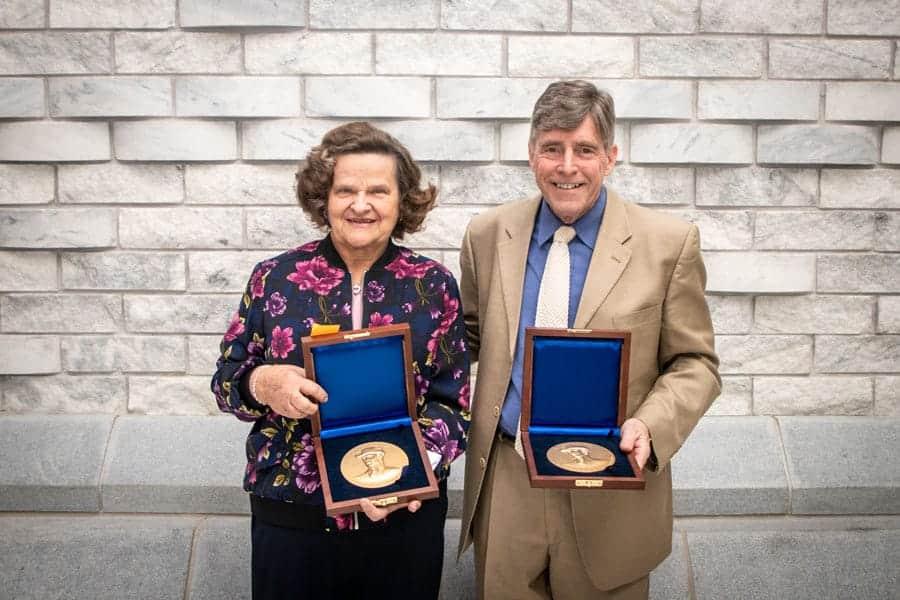 Marion Medallions go to hard-working public servant, grassroots ministry
The contributions of a respected public servant and a unique grassroots ministry were recognized at the 2019 Marion Medallion awards ceremony on Wednesday, Feb. 27 at the FMU Performing Arts Center.
Medallions were presented to Charles "Chuck" MacNeil, retiring director of the Pee Dee Regional Transit Authority, and the Parking Lot Mission, which, for more than two decades, provided much-needed weekly meals to Florence's poor.
MacNeil was recognized for his work revitalizing the PDRTA, which provides affordable transportation options to citizens throughout the Pee Dee region. During his eight years as head of the 46-year-old organization, MacNeil returned the PDRTA to sound financial footing while at the same time increasing ridership dramatically.
Since its founding by a small group of individuals from St. Anthony's Catholic Church, the Parking Lot Mission has served tens of thousands of the poor and homeless from — as the name suggests — an east Florence parking lot. Typical Saturdays see 125-200 individuals receive meals and other donated items.
The mission has never been a formal organization, but nonetheless has delivered its breakfasts and supplies with astonishing regularity for 25 years. Only a handful of Saturdays have been skipped, and only when weather conditions made it too dangerous to travel and serve.
Carol Roach, a member of the founding group, accepted the medallion on behalf of the many volunteers who have served through the years, and who continue to serve.
The Marion Medallion is a seven-year-old award, sponsored and presented by FMU and the Morning News of Florence. Officials of the two organizations work in partnership in select recipients. The medallions are awarded on or about Feb. 27 — Francis Marion Day — each year.
The medallion is named for General Francis Marion, the revolutionary war leader who led Patriot forces in the Pee Dee Region, who is the namesake of FMU.
Past winners:
Kathy Baxley, executive director of the Darlington Free Medical Clinic and Henry Johnson, and Hayward King, chief executives of the Lake City based W. Lee Flowers Company (2012)
Former Florence Police Chief Ralph Porter, executive director and founder of CHOiCES Charter School, and Bill and Olive Timberlake of Hartsville (2013)
Florence pastors Henry Badie Jr. of Pentecostal Temple Church of God in Christ and Clyde Odom of King of Kings Church in Florence, and Henry Brunson of Latta, founder of Cooks for Christ (2014)
John and Vicki Kirby of Latta and the founders of Camp RAE, Paige Alexander and Deana Huggins Strickland of Florence (2015)
Carlos Washington of Florence and the Manna House of Florence (2016)
Regi Armstrong of Armstrong Wealth Management, Carl Harmon of Sharing and Caring, and posthumously to Courtney McGinnis Graham (2017)
Wilbur Owens "Billy" Powers of HopeHealth, and Help4Kids (2018)
About the Medallion:
The medallion award is an actual medallion. It is a gold plated bronze piece that weighs 2.5 pounds and is 6 inches in diameter. Francis Marion's likeness is on one side. The recipient's name is engraved on the reserve side.