February 27, 2020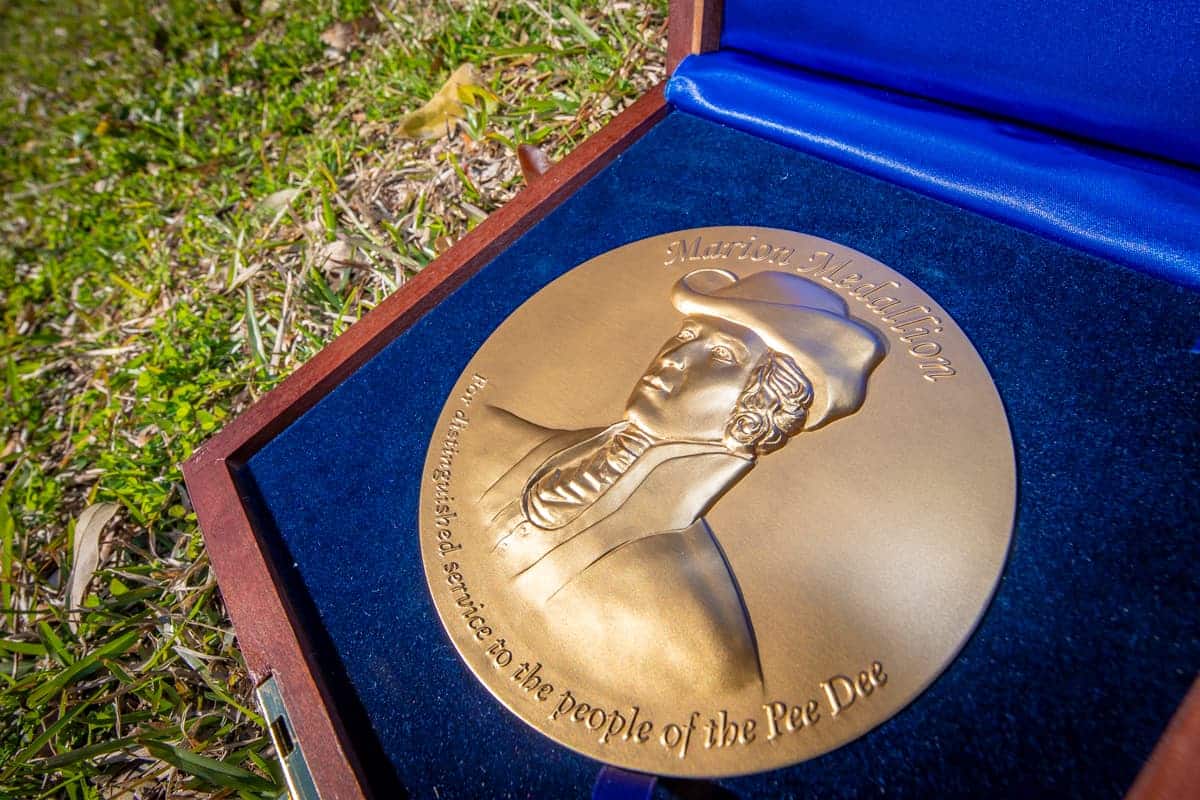 Marion Medallions go to revered politician, hard-working public servant
Two well-known public officials from  the Pee Dee region were recognized for their tireless service to the people of the area at the 2020 Marion Medallion awards ceremony on Thursday, Feb. 27 at the FMU Performing Arts Center.
Medallions were presented to Stephen Wukela, the outgoing mayor of the city of Florence, and Allen Floyd, the director of the City of Mullins Recreation Department.
Wukela was first elected mayor of Florence in 2008. Since then, he's become a key member of a coalition of community leaders that have sought to instigate growth at both an industrial level, and through an unprecedented downtown revitalization effort. He was reelected in 2012 and 2016 with wide margins. 
Wukela's mayorship, and the policies and plans he initiated, have left an indelible mark on the city of Florence. 
Allen Floyd is a public servant of the highest degree. A native of Mullins, Floyd serves as the director of the Mullins Recreational Department where he works with and mentors children in his hometown. Floyd is a 1976 graduate of Francis Marion University, and a member of the University's Francis Marion University Athletics Hall of Fame, where he's lauded as one of the basketball program's greatest players.
Floyd's first stint as full-time recreation director after graduation and lasted until 1987. In 2009 he took the reins as recreational director for a second time. He and his staff devote countless hours to providing recreational opportunities for area children. Floyd is also a member of the Marion County Council and a past member of the local school board.
The Marion Medallion is an eight-year-old award, sponsored and presented by FMU and the Morning News of Florence. Officials of the two organizations work in partnership to select recipients. The medallions are awarded on or about Feb. 27 — Francis Marion Day — each year.
The medallion is named for General Francis Marion, the namesake of FMU, a revolutionary war leader who guided the guerrilla forces in the Pee Dee Region. 
Past winners:
Kathy Baxley, executive director of the Darlington Free Medical Clinic and Henry Johnson, and Hayward King, chief executives of the Lake City based W. Lee Flowers Company (2012)
Former Florence Police Chief Ralph Porter, executive director and founder of CHOiCES Charter School, and Bill and Olive Timberlake of Hartsville (2013)
Florence pastors Henry Badie Jr. of Pentecostal Temple Church of God in Christ and Clyde Odom of King of Kings Church in Florence, and Henry Brunson of Latta, founder of Cooks for Christ (2014) 
John and Vicki Kirby of Latta and the founders of Camp RAE, Paige Alexander and Deana Huggins Strickland of Florence (2015)
Carlos Washington of Florence and the Manna House of Florence (2016) 
Regi Armstrong of Armstrong Wealth Management, Carl Harmon of Sharing and Caring, and posthumously to Courtney McGinnis Graham (2017) 
Wilbur Owens "Billy" Powers of HopeHealth, and Help4Kids (2018)
Charles "Chuck" MacNeil of the Pee Dee Regional Transit Authority, and the Parking Lot Mission (2019) 
About the Medallion: 
The medallion award is an actual medallion. It is a gold-plated bronze piece that weighs 2.5 pounds and is 6 inches in diameter. Francis Marion's likeness is on one side. The recipient's name is engraved on the reserve side.