May 9, 2023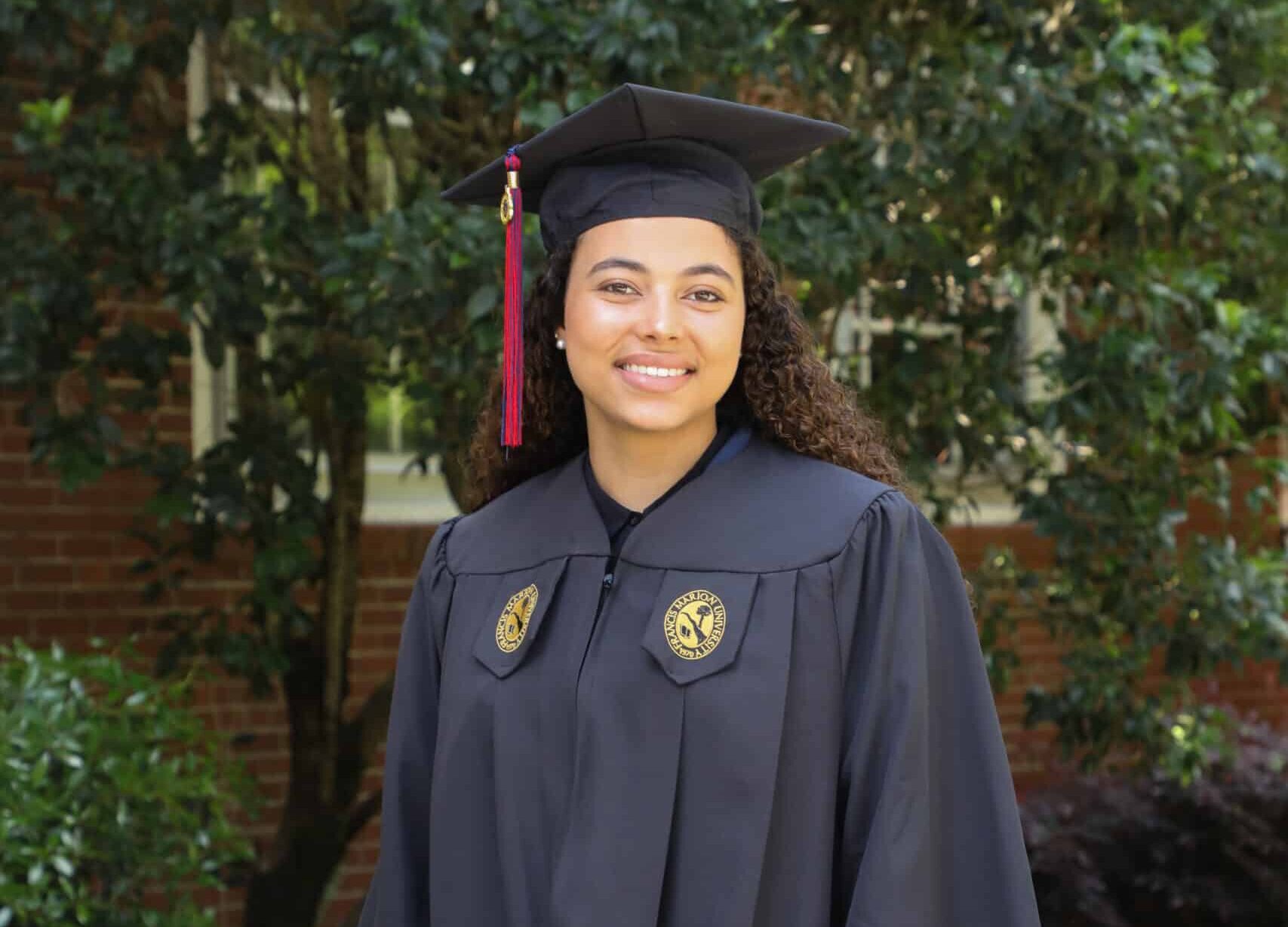 Next stop: Veterinarian School for 2023 graduate Annalena Griffin
2023 Francis Marion University graduate Annalena Griffin has always dreamed of becoming a veterinarian––specifically, an exotic animal specialist. The Taylors, SC native currently cares for over 10 rescued snakes at her home.
"I'm very into exotics and wildlife medicine," Griffin says. "Reptiles and amphibians have a special place in my heart, and I rescue them in my free time. I want to specialize in exotic medicine, and possibly work for a zoo doing wildlife rehab work."
Her passion for animals comes from her childhood, where she was constantly outdoors studying her natural surroundings. 
"I've always known that veterinary medicine was going to be my calling," Griffin says. "I've known that since I was a little kid. Several experiences I had growing up influenced me. I worked at a zoo, an animal hospital, and volunteered for different animal and wildlife organizations."


When Griffin came to FMU, the decision to major in biology was a no brainer. Her years at FMU further fueled the dream of becoming an exotic animal veterinarian. She credits many professors with making her educational experience highly enjoyable and valuable.  
"I am especially grateful for Dr. Steinmetz, Dr. Zwiers, Dr. Camper, Dr. Harness, Dr. Barbeau and Dr. Aguila," Griffin says. "My core group of professors helped me out in a lot of ways. They helped with my honors thesis, applying to vet school, and helped prepare me for my future career. I also loved their classes and learned a lot from them."
In addition to meaningful relationships with faculty, Griffin also gained immeasurable experience from her Maymester study abroad trip to the Wildsumaco Biological Station in Ecuador. The trip had profound, lasting effects on her both personally and academically.
"The trip was amazing!" Griffin says. "It was incredible to be able to apply what we were learning in the classroom to what we were seeing right outside our window at the biological station. It was the most amazing experience ever. We also got to meet other classes from other universities that were there and have really interesting discussions with them."
On top of being an Honors student graduating Cum Laude, Griffin spent her time as a student involved on campus in as many ways as she could. Griffin was a member of the Patriot track and field and cross country teams, the Student-Athlete Advisory Committee, TriBeta Biological Honor Society, Chi Alpha Sigma National College Athlete Honor Society, Omicron Delta Kappa Leadership Honor Society, and served as vice president of the FMU Pre-Vet Club. 
Griffin graduated from FMU this past Saturday with a Bachelor of Science in biology and a minor in chemistry. The next stop on Griffin's road to becoming an exotic animal vet is Veterinarian School at the University of Georgia where she will pursue the four-year veterinary degree program. After completing vet school, she hopes to work for a zoo doing wildlife rehab work.