March 9, 2018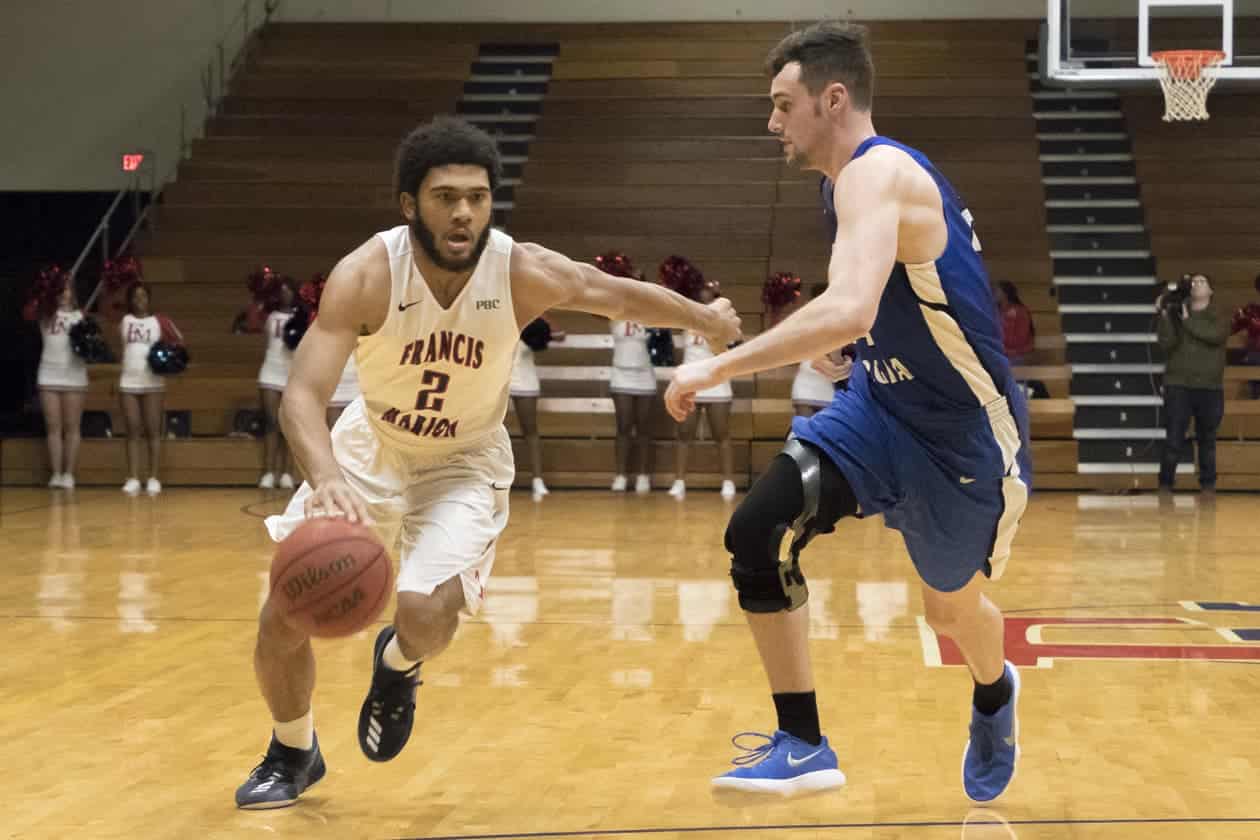 NCAA's a heartbreaker For Francis Marion men
HARROGATE, TN. – Francis Marion University was in the highlight reel for the first round of the NCAA Division II men's basketball tournament.
Just not the way it wanted.
A 30-foot heave at the buzzer by UNC Pembroke's David Strother dropped through the net, giving the Braves a 75-72 over the Patriots in a first round Southeast Regional game at Lincoln Memorial University. The heartbreak came just seconds after FMU's Brandon Parker had drilled a three-pointer of his own from the left wing to tie the game with five seconds left to play.
Francis Marion ends the season with a 20-10 mark. Pembroke, ranked 24th in the nation, advanced to Sunday's regional seminal but fell to sixth-ranked Queens University 75-63.
Senior guard Detrek Browning led FMU with 27 points, in what turned out to be his final game as a Patriot. Browning's big night helped him break the the Peach Belt Conference career scoring record. The Irmo, SC native finished his career with 2,356 points. He was selected the Peach Belt Conference's Player of the Year this year.
Parker finished with 14 points, while senior center Judah Alexander tallied 11 points and five rebounds and junior guard Ryan Davis scored 11 points for FMU.
Francis Marion trailed 72-66 with 1:37 remaining, but Davis drove to the hoop and converted a three-point play with 1:19 left to bring the Patriots to within 72-69. Browning missed a potential game-tying three-pointer with 34 ticks remaining, but Watts missed the front end of a 1-and-1 situation for Pembroke, giving FMU a final chance.
Parker then drilled his three-pointer with 5.1 seconds left on the clock to deadlock the contest at 72-72. Eschewing a timeout, Pembroke's Strother raced the ball up the right sideline and left fly from just in front of the UNCP bench as the clock reached all zeros. It swished through, setting off a wild Pembroke celebration and end FMU's season.