March 13, 2018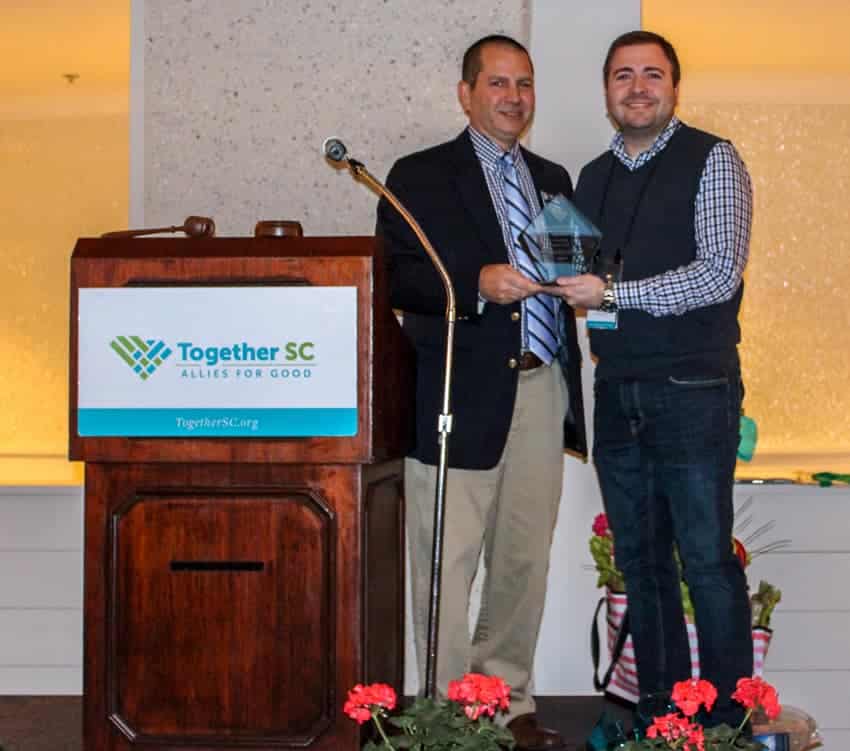 Francis Marion's Non-Profit Leadership Institute presents annual award
Francis Marion University's Fred R. Sheheen Non-Profit Leadership Institute and Together SC honored an upstate businessman with their highest award on March 6 at the 2018 Together SC's Nonprofit Summit in Hilton Head Island, S.C.
Chris Manley president, executive director and founder of Rebuild Upstate, was presented the Fred R. Sheheen Award for Excellence in Non-Profit Leadership.
The award, named in memory of the late Fred R. Sheheen, the founding director of the Non-Profit Leadership Institute, is presented annually to a graduate of FMU's Non-Profit Leadership Institute or a member of Together SC (formerly SCANPO) who has excelled in the management of their establishment through organization and resource development.
Manley's Rebuild Upstate is a nonprofit organization that is focused on performing repairs to substandard housing occupied by children, the elderly and those with disabilities. Rebuild Upstate's goal is to ensure their clients are able to remain in their own homes, free from unsafe conditions.
John Boyanoski, a member of the Rebuild Upstate Board of Directors, says Manley's work has been immeasurably beneficial to not just the recipients of Rebuild Upstate's generosity, but the entire Upstate region.
"As a direct and proximate consequence of Chris' steady guidance, Rebuild Upstate has performed thousands of repairs to homes in Greenville, Pickens, Anderson, and Oconee Counties," Boyanoski says. "This work, in turn, has enabled thousands of families to remain together in their own homes and, perhaps most importantly, this work has allowed those families to regain pride in their homes, and to transform those structures from an imperfect shelter into a source of personal dignity."
Manley was presented with a not just the Fred R. Sheheen Award for Excellence in Non-Profit Leadership, but a $500 award, recognition through various communications across the state.