The Belle Baruch Institute for South Carolina Studies is home to an array of exciting current projects. Through conservation and preservation of artifacts, as well as other ongoing research efforts, scholars are examining the critical impact of the Belle Baruch family on coastal South Carolina, the state, and the nation.  Faculty and student research projects in the humanities, arts, and social and behavioral sciences will advance awareness of the Baruch legacy through public presentations and publications.
Conservation and Reproduction of Belle Baruch's Equestrian Attire
Professor Allison Steadman teamed with textile conservator Colleen Callahan to study Belle Baruch's equestrian riding attire, removed from storage in her home's basement.  Callahan conserved some of Ms. Baruch's original garments and Steadman created patterns and reproductions that were subsequently displayed in a 2018 exhibit and a 2020 research symposium.
Archiving the Belle Baruch Papers at Bellefield House
Beginning in 2016, Dr. Lynn Hanson and her students cleaned and archived a cache of documents retrieved from Belle Baruch's basement.  Their initial focus was on a collection of financial records, mostly cancelled checks and checkbooks.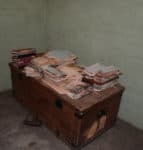 Recovered Documents
Belle Baruch kept her important documents in trunks in her basement. These are a few of the recovered documents.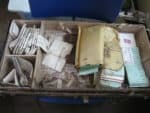 Discovered Financial Documents
Other financial documents were discovered along with the many checks.
After cleaning and recording these documents, the Institute now has a dataset of Belle Baruch's financial transactions between 1940 and 1961. The archived original documents include over 6,100 check stubs in 26 checkbooks and over 1,000 cancelled checks. These checks show Belle Baruch's numerous contributions to the community and organizations, dedication to work and responsibility, as well as her playfulness and adventurous spirit. Most of all, the collection of checks is an insight into Belle's extraordinary life.
You can open the Excel dataset of Belle Baruch's checks to view details, search, and sort the worksheet of checkbooks and the worksheet of cancelled checks. See also these Acknowledgements.
To cite information derived from this data, please use this source citation information:
Hanson, Lynn. "Belle W. Baruch's Personal Checks, 1940-1961." [Electronic Record] Details of Personal Checks and Check Stubs, 1940-1961. Francis Marion University.
Effects of Rising Sea Levels on Archeological Sites at Hobcaw Barony
Dr. Carolyn Dillian from Coastal Carolina University is researching the way in which rising sea levels and frequent and severe storm events resulting from climate change are impacting archaeological sites at Hobcaw Barony.  The shell middens visible at Hobcaw are evidence of Prehistoric Native American people, who are the ancestors of the modern Waccamaw Indian People.  The shell middens show that they harvested shellfish in this area, including oysters and clams.  However, rising sea levels and frequent storms are actively eroding the middens.  Dr. Dillian's research, in collaboration with students, documents this erosion and will be used to create mitigation plans for saving this important record of Georgetown County's prehistoric past.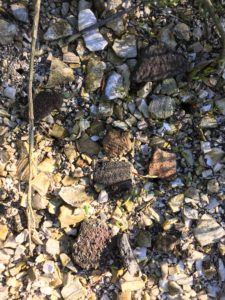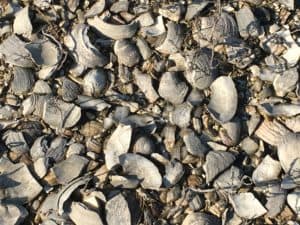 22 Hobcaw Road
Georgetown, SC 29440