Department of chemistry
Where theory meets practice
All things are made of atoms. This makes Chemistry the key to understanding both the living and non-living world and where and how they intersect. Chemistry looks at the composition and properties of substances, and the reactions by which substances are produced from or converted into other substances.
The Chemistry department at Francis Marion University provides a high standard education in Chemistry that equips students with the knowledge and skills to be successful in their professional careers. The department offers introductory, foundation, and in-depth chemistry courses that satisfy natural sciences requirements for general education, pre-professional programs, the traditional chemistry degree, and the American Chemical Society (ACS) approved chemistry degree program.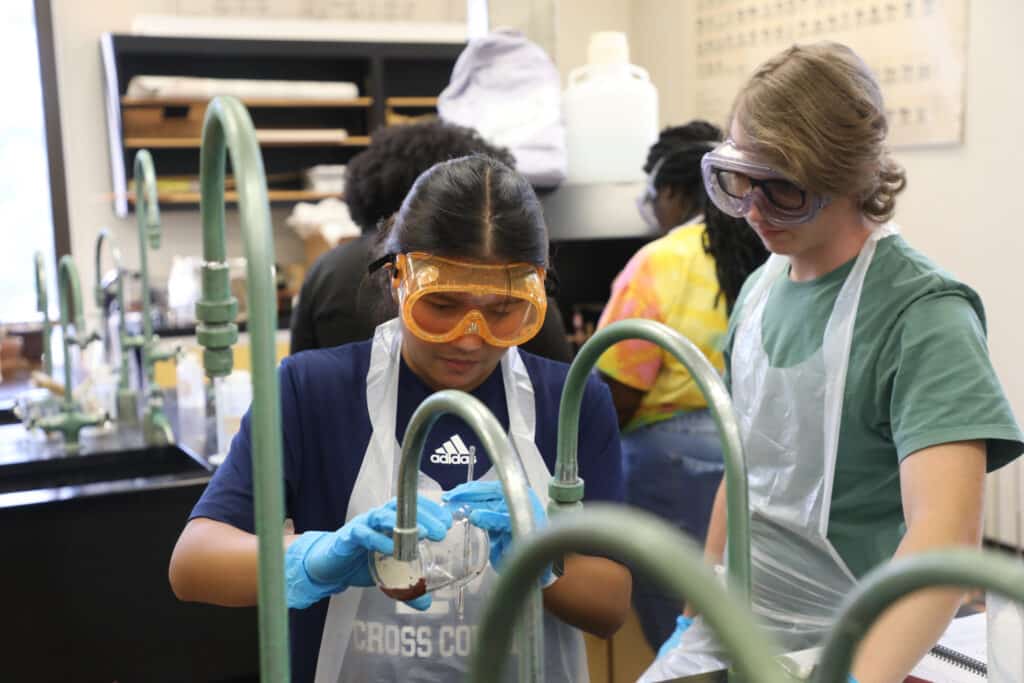 In-depth study is further promoted through student research with faculty members outside of the classroom. These types of research enhance a student's ability to think and communicate what they have learned and is often highlighted by presentations on-campus or in the broader chemistry community and in some cases, leads to a publication.
The department also supports professional development, community outreach and networking through our American Chemical Society student group.
The Chemistry Experience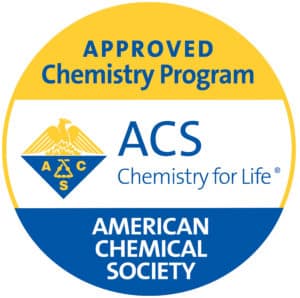 The Bachelor of Science in Chemistry at Francis Marion is a rigorous one and the program has been approved by the American Chemical Society (ACS). This approval gives students the option to obtain an ACS Certified Degree. This degree requires more upper-level chemistry, physics and math courses and that students be involved in research. These students have a competitive edge when compared to those with a traditional Chemistry degree.
There is an active student chapter of the American Chemical Society in the Chemistry Department. This chapter invites in speakers who promote a better understanding of current chemical research and careers to chemistry majors and to the general student population.
Members of the Chapter have the opportunity to attend local, state, and regional meetings of the American Chemical Society.
All Chemistry majors are encouraged to conduct undergraduate research under the supervision of a full-time faculty member and to present their results in on-campus seminars and at regional meetings of the ACS and the South Carolina Academy of Science.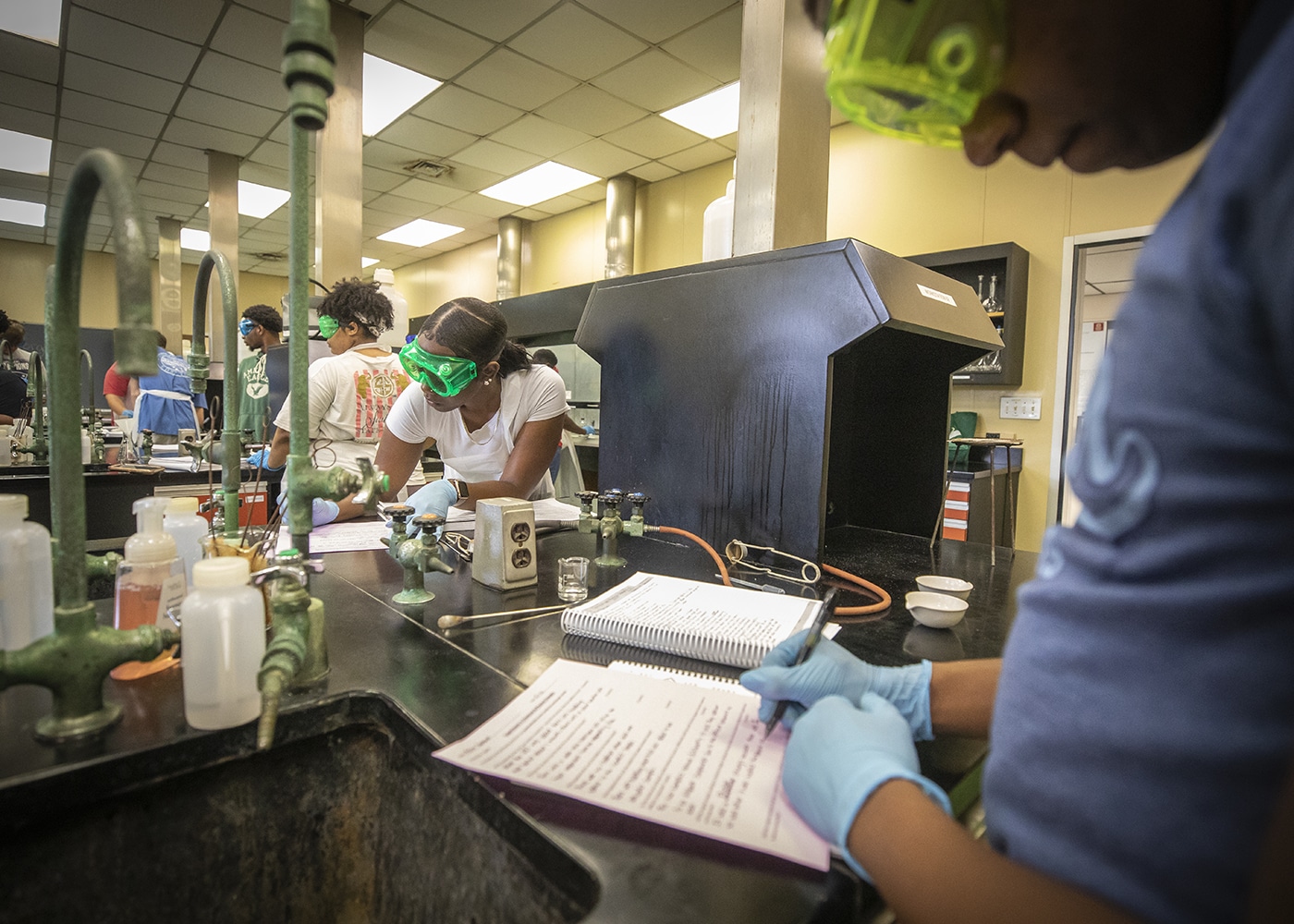 Chemistry Program
The Chemistry major requires a minimum of 36 hours of Chemistry courses, including one year each of General Chemistry, Organic Chemistry, Analytical Chemistry, and Physical Chemistry. Several optional advanced courses are available, including polymer chemistry, advanced organic chemistry, advanced biochemistry, and research.
A minor will usually involve at least 18 hours of credit.
Testimonials
My time at Francis Marion was very instrumental in setting me up for a career as a scientist and educator! These four years allowed me to flourish in an environment that saw me as a person and not just as a number in the classroom. One of the most advantageous things I did while at FMU was work on a research project under Dr. Jessica McCutcheon. She ignited a passion within myself that made me start to consider graduate school! With her guidance, as well as others from the department, I found the confidence needed to apply to a Ph.D. program in Chemistry. I was accepted to UofSC in the fall of 2017 where I continued my chemical education under Dr. Parastoo Hashemi studying biomarkers of depression using electrochemical tools. I graduated with my doctorate in 2021 and moved to the University of Cincinnati to do a postdoctoral fellowship under Dr. Ashley E. Ross where I am expanding my knowledge of electroanlytical tools as well as learning microfluidic applications to study biomarkers of stroke. After this postdoc, I plan to pursue a career in science communications to continue on the work that was instilled in me at FMU to make science consumable for the masses.
My experience at FMU while studying to obtain a Chemistry degree was wonderful. The professors within the Chemistry Department are knowledgeable and truly care for their students. While FMU is challenging, it prepares you well for the world outside of a classroom. The friendships I built within the walls of FMU has helped me get where I am today, which is the Chemistry Superintendent at Robinson Nuclear Plant in Hartsville, SC. While I do not use my Chemistry degree on a daily basis anymore, I oversee a team of chemists and scientist that sample and analyze our plant systems to ensure the health of the plant.
Studying at Francis Marion University has been a truly delightful experience. Throughout my tenure at the university, I have gained many useful qualities academically and professionally. Being a Biology and Chemistry double-major presented its challenges. From late nights to early mornings, lectures to lab experiments, I had no shortage of work. I must admit, the professors were tough, but provided support and encouragement when needed. The relationships I built through joining clubs such as the Chemistry Club/American Chemical Society (ACS) really helped shape my experience at the university. Those relationships helped me inside and outside of the classroom. FMU offers many different clubs focusing on a variety of things from community service to academic or personal niches. Overall, Francis Marion University has been one of the best things to happen to me. Even though the ever-growing university may be considered a small school, its impact is huge near and far. Every day I'm thankful for the faculty, administration, peers, and friends I have encountered while attending FMU. I am currently a Senior Analytical Scientist with over 10 years of experience in the pharmaceutical industry. My duties include developing analytical methods and managing analytical projects for various clients.
FMU and the chemistry department prepared me for a successful career. The faculty was very nurturing and supportive. This is what I needed as a first generation college student. After receiving my BS in Chemistry from FMU, I received my PhD in Organic Chemistry from USC. Until recently, I was an Associate Professor in the Department of Chemistry at Oklahoma State University. I have transitioned to the University of Tennessee-Oak Ridge Innovation Institute as a Research Associate Professor of Clean Manufacturing and Advanced Materials.
Faculty & Staff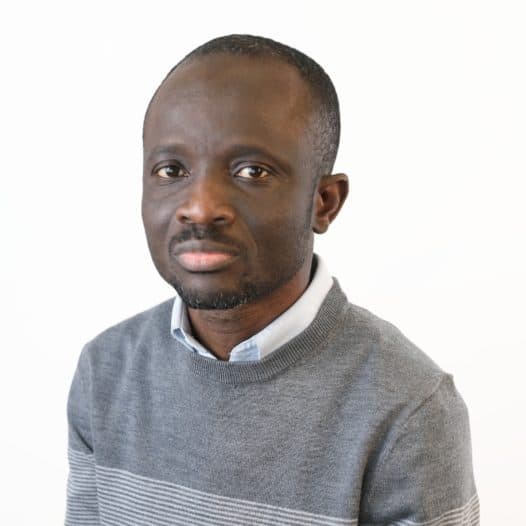 Associate Professor of chemistry
Office: LSF 303G Phone: 843-661-1483 EAdogla@fmarion.edu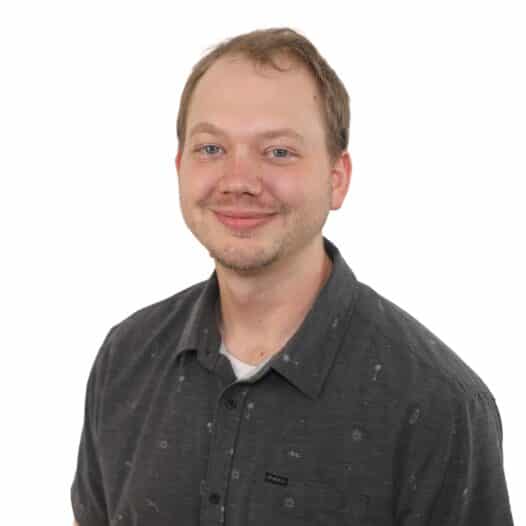 Assistant Professor of Chemistry
Office: LSF 303H
Phone: 843-661-1384
Trevor.Baumgartner@fmarion.edu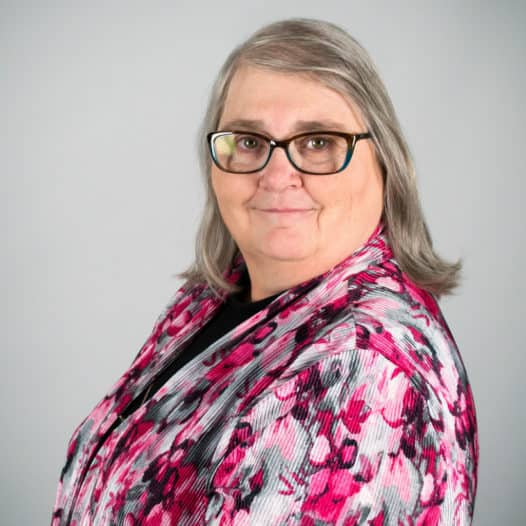 Associate Professor of Chemistry
Office: LSF 303B
Phone: 843-661-1449
bholliman@fmarion.edu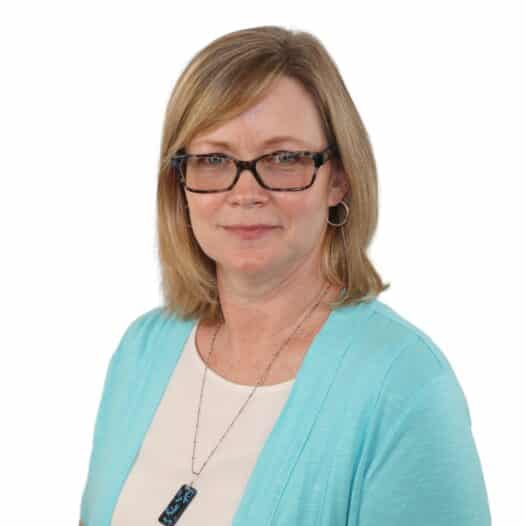 Chair, Department of Chemistry
Professor of Chemistry
Office: LSF 303-C
Phone: 843-661-1492
jkelley@fmarion.edu
Associate Professor of Chemistry and Coordinator of the Tutoring Center
Office: LSF 303A
Phone: 843-661-1715
jmccutcheon@fmarion.edu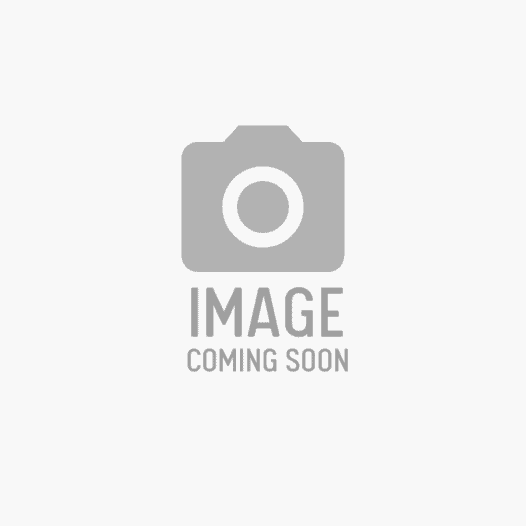 Administrative Assistant - Chemistry, Physics and Engineering
Office: LSF 103
Phone: 843-661-1381
sowens@fmarion.edu
Professor of Chemistry
Office: MSB 301-F
Phone: 843-661-1454
lpeterson@fmarion.edu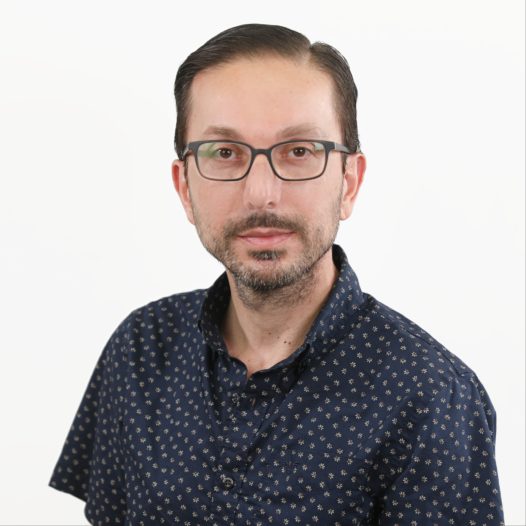 Professor of Chemistry
Analytical Chemistry
Pre-Pharmacy Advisor
Office: LSF 303D
Phone: 843-661-1450
kvarazo@fmarion.edu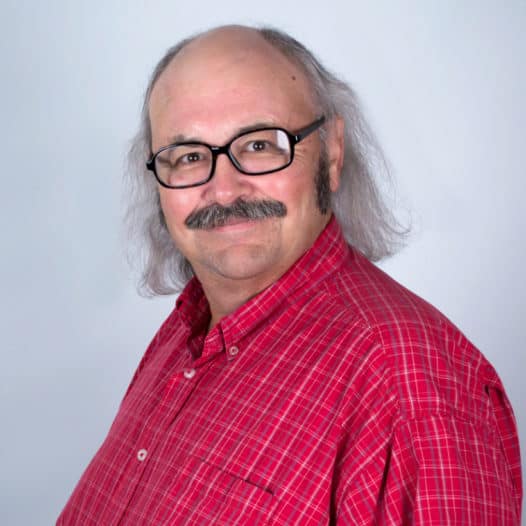 Faculty Emeritus in Chemistry
Professor of Chemistry
Professor of Chemistry Drs. Bruce and Lee Foundation Professor of Chemistry