June 20, 2019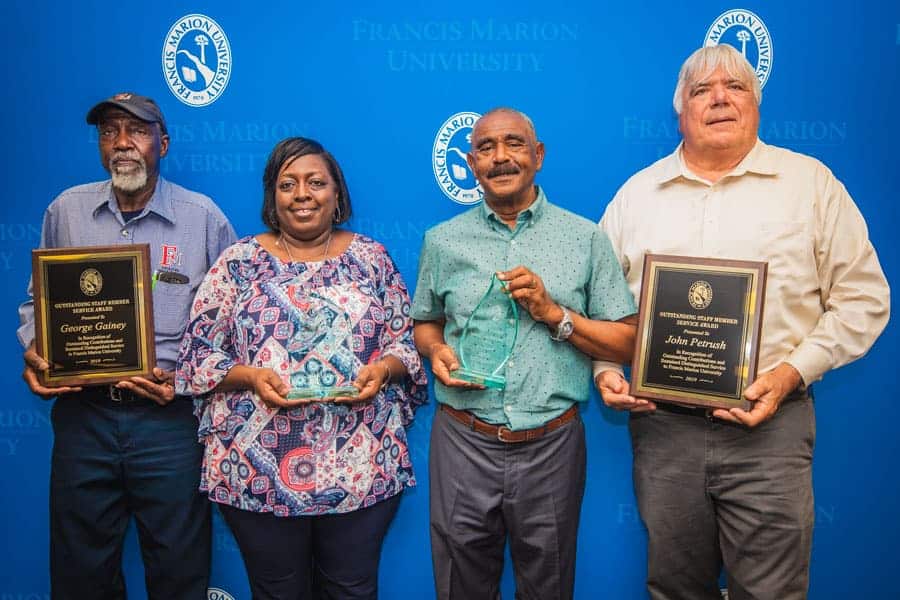 FMU recognizes outstanding staff service
Francis Marion University recognized outstanding contributions by four of its employees at its annual Staff Awards Luncheon on campus Thursday.
Ann Williams received the John J. Kispert Leadership Award, and Karl McAlister was the recipient of the Marvin Lynch Humanitarian Award. John Petrush and George Gainey were named winners of the University's two Outstanding Staff Service awards.
The award recipients are nominated by their colleagues. A special committee consisting of past award winners and representatives of the University's academic schools and colleges select the winners from the list of nominees.
Williams, the recipient of the Kispert Award, is the University registrar. She has been with FMU for 24 years. The Kispert award, named after the University's outgoing vice president for business affairs John "Jay" Kispert, recognizes staff members who inspire their colleagues with a higher standard of leadership than what is called for by their position.
McAlister, who received the Lynch Award, is a library specialist at the Rogers Library and has been an FMU employee for the past 25 years. McAlister has been instrumental in preserving and promoting the Hewn-Timber Cabins at the University. The Lynch Award recognizes a staff member who exhibits an unusual commitment to and care for his fellow man both on and off the job.
John Petrush is the University's director of instructional technology and has been at FMU for the past seven years. George Gainey is FMU's estate groundskeeper and has been employed at FMU for 12 years.
Both Petrush and Gainey were lauded for their cheerful dispositions, their cooperative spirit, and their commitment to their jobs.
Other employees were recognized for long-time service at the annual Staff Awards Luncheon Thursday on campus.
Recognized for 30 years of service were: Dean Blackburn, Benjamin Blanks, and Brenda Calcutt.
Recognized for 20 years of service were: Marion Atkinson, Art Inabinet, Janet Pearson, Cheryl Tuttle, Howard Brown, Jane Madden, Janice Smith, and Ronnie Woodberry.
Recognized for 10 years of service were: Lind Kelly, Brandon Turbeville, and Marquis Woodberry.
Nine employees who recently retired or will soon be retired from FMU were also honored. They included: Christal Bazen, T. Lang Beaty, Angela Cantey, John Kispert, Karl McAlister, James McLeod, Ted Nettles, Mitchell Pressley, and David Robinson.