April 26, 2019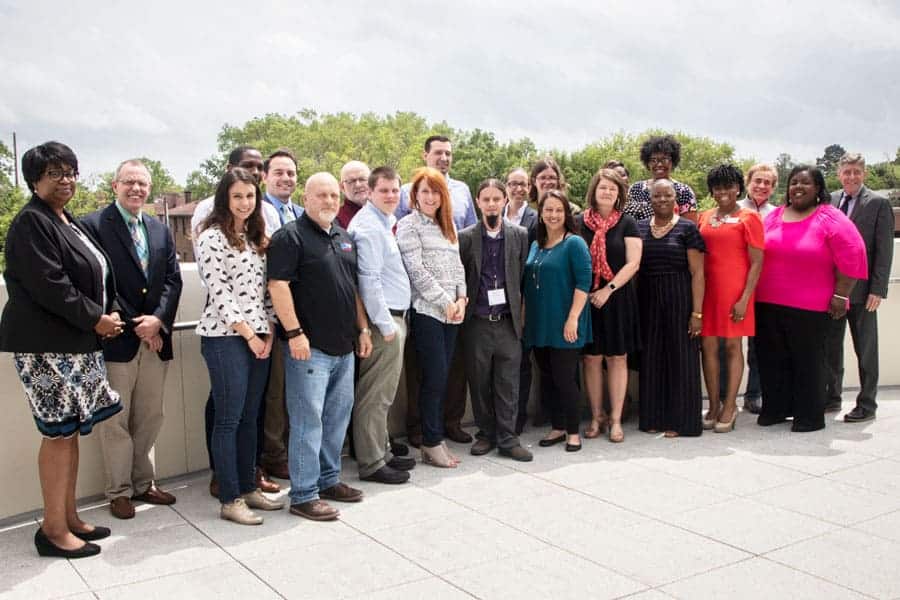 Sheheen institute celebrates 17th graduating class
Twenty-four leaders from South Carolina non-profit organizations graduated earlier this month from Francis Marion University's 17th Fred Sheheen Non-Profit Leadership Institute (NPLI).
The seven month-long program equips personnel from regional and statewide non-profit organizations to be more effective leaders in their organizations by providing education and skill development through a series of monthly seminars.
Experts from public, private and non-profit sectors lead the sessions. Session topics include program development, human resources, financial resource management, data collection and managing external relations.
This year class included: Joe Craig, United Way of Florence; Michael Shirley and Sherri Childress, Children's Trust of SC; Andy Whipple, Sea Haven, Inc., Kayla Jebaily, Boys & Girls Club of the Pee Dee; Clyde Nance, Circle Park Behavioral Health Services; Julie Maxham, House of Hope of the Pee Dee; Cookie Cawthon, Tenacious Grace; Ericka Bennett, Lake City Community Outreach; Joey Smoak, Eastern Carolina Homeless Organization; Anny Gowdy and Kyle Jenkins, Eastern Carolina Homelessness Organization; and Chasidy Graham, Housing Authority of Florence.
Also, Monica Jeffcoat, Helping Hands Inc.; Nick Washington, The Original Six Foundation; Jordan Evans, Anderson Interfaith Ministries; Dawn Lavoie, Little Steps; Mandy Black, Little Steps; Jennifer Powell, Clarendon County Council on Aging; Jesseca Horton, Senior Citizens Association; Rion Kennedy-Mcallister, Pee Dee Land Trust; Erin Walters, Habitat for Humanity of Horry County; Dorothea Bernique, Increasing H.O.P.E; Joceyln Rogers, SC Campaign to Prevent Teen Pregnancy.
The institute began with initial grant support from the Drs. Bruce and Lee Foundation of Florence. FMU President Dr. Fred Carter and the late Fred Sheheen, former SC Commissioner of Higher Education, were instrumental in founding the NPLI.
FMU supports the NPLI by hosting the institute and providing funding support.