May 4, 2018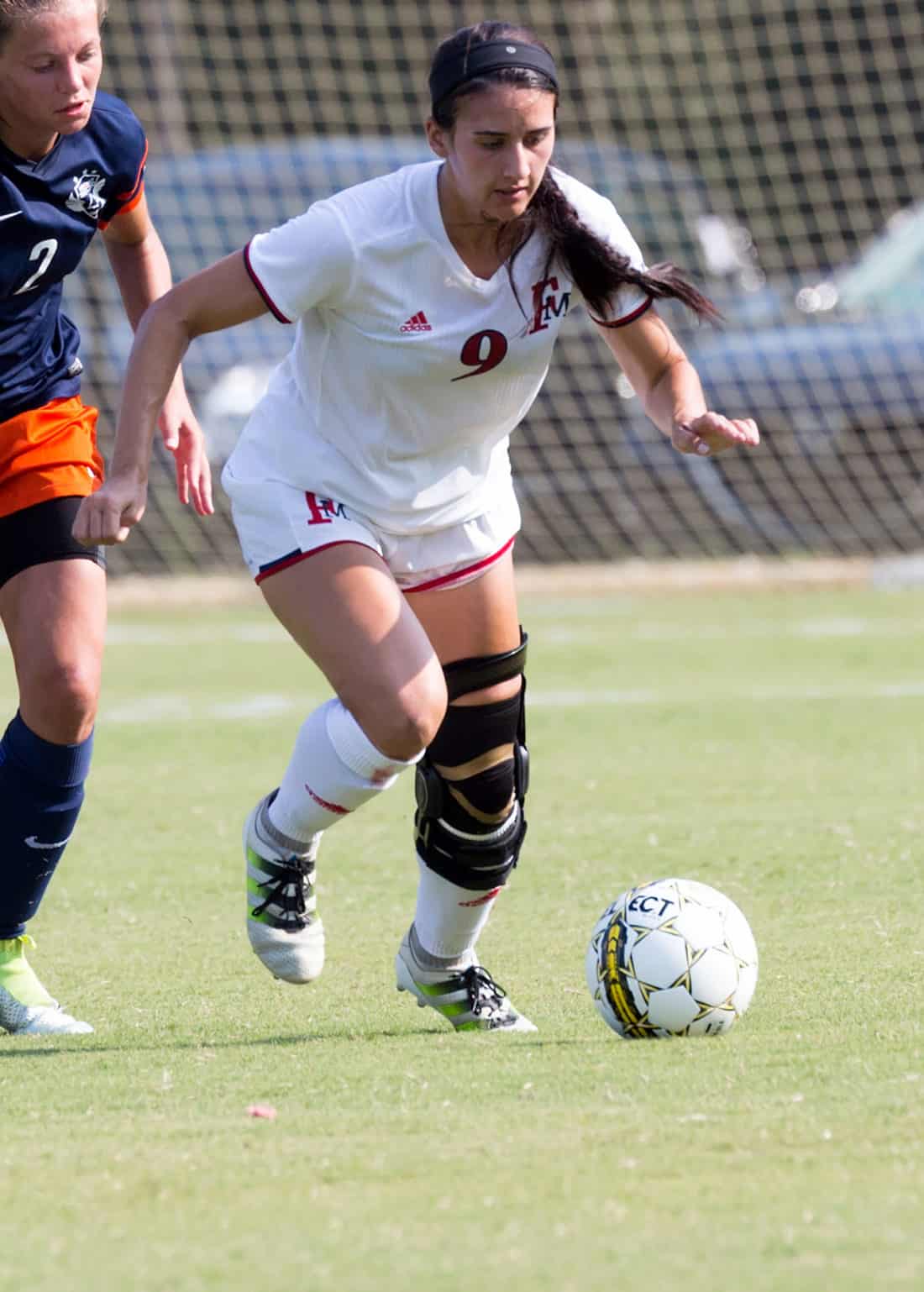 In San Diego, they've heard of FMU now
Mia Much, one of the stars of the Class of 2018, is spreading the Francis Marion to the far ends of the earth. Even California
Melania "Mia" Much grew up in the northern suburbs of San Diego and is quick to describe herself as a "southern California girl, born and bred."
Now, she can describe herself as one of the shining stars of the Class of 2018 at Francis Marion University.
Much, a Political Science and Economics major, graduated Summa Cum Laude; was one of the five recipients of the Blackwell Award, which goes to the member or members of each graduating class; and walked away with six departmental academic awards at FMU's annual academic honors night. Now it's on to grad school at the University of California Irvine.
"It's just been a great four years," says Much.
That's not a surprise to Much, but it may leave some of the folks back home agape. Her decision to go to college 3,000-some miles away from "Cali" caused more than a little head scratching a few years back.
"Oh, I'm sure that none of my friends at school or any of my teammates (on Arsenal FC, a national travel soccer team out of San Diego) could have told you where Francis Marion was or anything about it when I made that choice," says Much. "But … I guarantee you they can now. My family — and I have to say, they had a few reservations, too — talk about all the time. We'll tell anyone who'll listen about Francis Marion. It's just a very special place."
The particular "specialness" that Much discovered and enjoyed is no big secret in South Carolina, or to members of the Patriot family. FMU is an intimate, student-centered place, populated by faculty whose great joy it helping students, in the classroom and out.
Much got a hint of this on a recruiting visit before she ever came to FMU. She asked if she could meet with the chairman of the Department of Political Science, Dr. David White, and lo and behold, a few minutes later, there she was in his office, discussing courses and post-graduation plans.
Connections like that continued throughout Much's illustrious academic  career. Professors read drafts of her papers, wrote letters of recommendation and discussed the finer points of the "academic life." They took time to help her understand material in the courses they were teaching — and sometimes in the ones they were not.
"I still of Dr. (Ben) Kyer in Economics who'd meet me at 7 a.m. or some other ungodly hour and help with whatever I needed help with," says Much. "As long as it was in his field, he'd give it a try.  But I have to say he wasn't exception. Just about every professor I came in contact with did the same thing.
"That's really what was different here," says Much. "I felt it when I first visited. There was something different here. And no, it's not a "big name" school. But I had a lot of friends at the big name schools – UCLA, Berkley, all the big ones in California and beyond, and … well, I don't want to sound too negative about this, but I kind of saw that I was going to come out of FMU with a better education than what they had.  At a big place, with classes of 600 or whatever, you're just going to be a number. There's no way around it. At FMU, it you will take the time, you will know your professors and can learn from them in a really deep way."
Dr. White, Much's first faculty encounter at FMU, says Much understood FMU's value proposition in a way that few students do.
"She really took advantage of what FMU has to offer," says White.
That extended beyond the standard classroom. Much came to FMU to play soccer and she did that, although an injury shortened her career. She traveled overseas twice, went to New York two times as a member of the university's Model United Nations team, and wrote sharp opinion columns for the student newspaper.
"Because our soccer traveled all over the country, I looked at schools all over the country," says Much. "Francis Marion was by far my favorite. It may be hard for some people to find, but there's a lot here."
Much is now headed to grad school. She will work as a teaching assistant (something, ironically, she never experienced at FMU) while pursuing a doctorate in Political Science, a subject that has always fascinated her.
When she has her PhD. — and that seems far more like a when than an if — Much says she could work for a non-profit organization …
… or, teach.
"It sounds a little corny, but my professors here at FMU are my role models," says Much. "I see the impact they have on students, have had on me, and I think, 'wouldn't that be cool?' I think it would."
Much's gaze moves off into the distance as she says. She is looking somewhere far away again.
She's never had much trouble with that.