3.11.3
The institution operates and maintains physical facilities, both on and off campus, that appropriately serve the needs of the institution's educational programs, support services, and other mission-related activities. (Physical facilities)
Compliance Judgment
X     In compliance     Partially compliant     Non-compliant
Narrative
Francis Marion University sufficiently operates and maintains physical facilities to meet the needs of the institution's educational programs, support services, and other mission-related activities. Francis Marion University's campus currently includes 700 acres with 33 major Campus facilities as detailed below:
Routine and Preventative Maintenance of Physical Facilities
The Facilities Management Division, which consists of 89 full-time staff, 12 temporary staff, and 8 student assistants, is divided into 7 divisions: Building Maintenance, Construction/Renovation, Custodial Services, Events Support/Setups, Grounds Maintenance, Key Control, and the Work Order Center/Warehouse.
Building Maintenance has 20 personnel including craftsmen, plumbers and electricians, welder, carpenter, locksmith, and painter who provide repairs and renovations to existing facilities. The University has a contract for HVAC maintenance with a major HVAC contractor. The department utilizes Zone Maintenance personnel as a first level maintenance approach for many buildings with these technicians serving as first responders and providing limited electrical, plumbing, and carpentry work. When a task exceeds their capability or involves more than one trade, Special Trades personnel may be called in for assistance. Alternatively, a contractor may be hired via an Indefinite Delivery Contract (IDC) or via a single procurement.
The Construction/Renovation area consists of four personnel who manage construction and renovation projects for the campus. The Directors of Facilities Engineering and Maintenance; Facilities Services; and Facilities Support oversee the development of construction plans, operating budgets, schedules, project management and other such elements required for the success of any project. These directors report to the Director of Facilities Management.
Custodial Services consists of 33 personnel and 8 temporary employees who are responsible for cleaning the interiors of all campus buildings including classrooms, lecture halls, theaters, laboratories, library, offices, halls, stairs, elevators, and other public areas as well as cleaning and restocking building restrooms. Most routine cleaning is scheduled once per day. The department also has daily cleaning responsibilities for Student Housing including all common areas, the housing office, trash rooms, laundry facilities, and the Heyward Community Center.
Facilities Services utilizes four personnel and one temporary employee to coordinate support for events held on campus by providing tables, chairs, tents, stages, sound systems, etc. upon request. Request for support is initiated with the Space Coordinator located in the Office of Business Affairs' Financial Services Office.
Grounds Maintenance consists of 18 personnel and 4 temporary employees and is responsible for maintaining approximately 350 acres of University property in pristine appearance utilizing a zone maintenance approach. Daily tasks include, but are not limited to, trash/debris removal, mowing, mulching, plant bed maintenance, fertilizing, and weed control. The Grounds Maintenance Department takes care of the main campus using a zone maintenance approach.
Key Control consists of five personnel (four of whom also have responsibilities in other areas). These employees provide keyed access to each facility on campus and maintain all physical locks/electronic door access locks for the campus.
The Work Order Center and Warehouse/Shipping/Receiving include five personnel. The Warehouse is the primary location for all university equipment and supplies which are received and/or shipped out. The Warehouse maintains a minimum inventory of parts supplies as needed to support the needs of the other maintenance departments. The Warehouse also manages the surplus property in conjunction with the state surplus property office.
Work Order Procedures
The Work Order Center receives and distributes work orders to the appropriate maintenance staff member and maintains a database to document work order history and completion. This office develops preventive maintenance work orders for major equipment across campus [1].
Routine work orders and preventative maintenance is accomplished through use of the work order system on campus. This system allows anyone who identifies a problem to request maintenance services via a call center or web-based request [2]. Resident students report issues through the Housing Office. Once a work order is received, the Building Maintenance Superintendent prioritizes and assigns the work.
Building Maintenance periodically inspects and evaluates campus buildings including building structures and critical support systems to initiate preventative maintenance work as needed. The University has preventative maintenance contracts with outside vendors for select equipment items. For many campus buildings, Building Maintenance Technicians are assigned as the primary individual/first responder for maintenance issues including reporting deferred maintenance issues [3]. When physical renovations or repairs are needed, Facilities Management staff members report the severity of the problem, and, in conjunction with the appropriate administrators, assign priorities for repair.
The University extends sufficient facility support to campus buildings not located on the main campus. Building maintenance, custodial, and grounds support are extended to buildings located downtown to include the Francis Marion University Performing Arts Center, the Luther F. Carter Center for Health Sciences, and the Francis Marion University Recording Studio. These facilities utilize the same work order procedures as buildings on the main campus. The Work Order Summary by Fiscal Year (FY 2014-15 and FY 2016-17) is provided below in Figure 1 [4].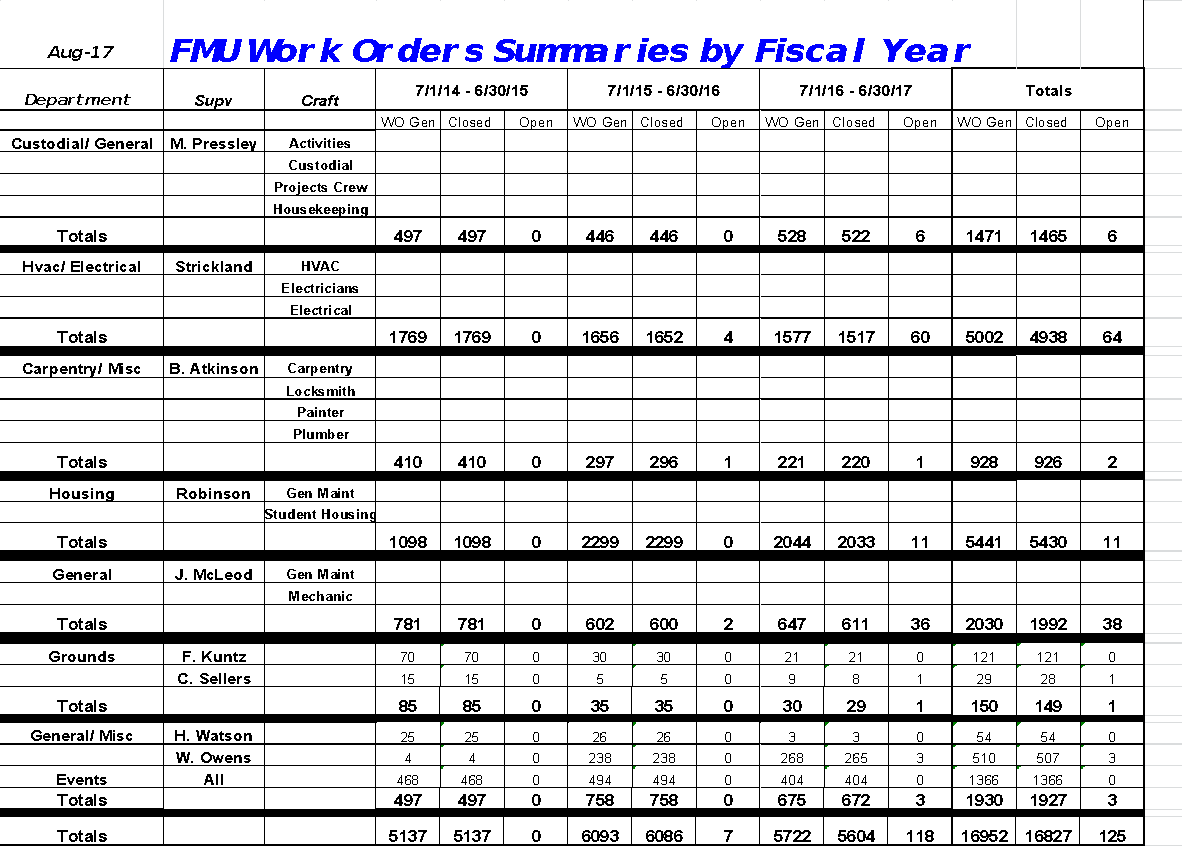 Figure 1. Work Order Summary by Fiscal Year
Condition of Physical Facilities
The South Carolina Commission on Higher Education conducts a Building Condition Survey every three years to determine the extent of maintenance needs at public colleges and universities in South Carolina. The 2017 survey has not been conducted as of August 2017; therefore, the last Building Condition Survey was conducted in 2014. The Building Condition Survey is designed so that Facilities Management personnel from each institution can rate the condition of their facilities using rating forms provided by the South Carolina Commission on Higher Education. The University completes these rating forms for all buildings with 25% or more of space dedicated to education and general purposes that are greater than 3,000 square feet.
Each individual building system (foundation, exterior wall system, etc.) is to be evaluated on a scale of 1 to 5 where "1" is satisfactory and "5" is in need of total replacement [5]. A sample rating form from 2014 for one building, Stokes Administration Building, is located below: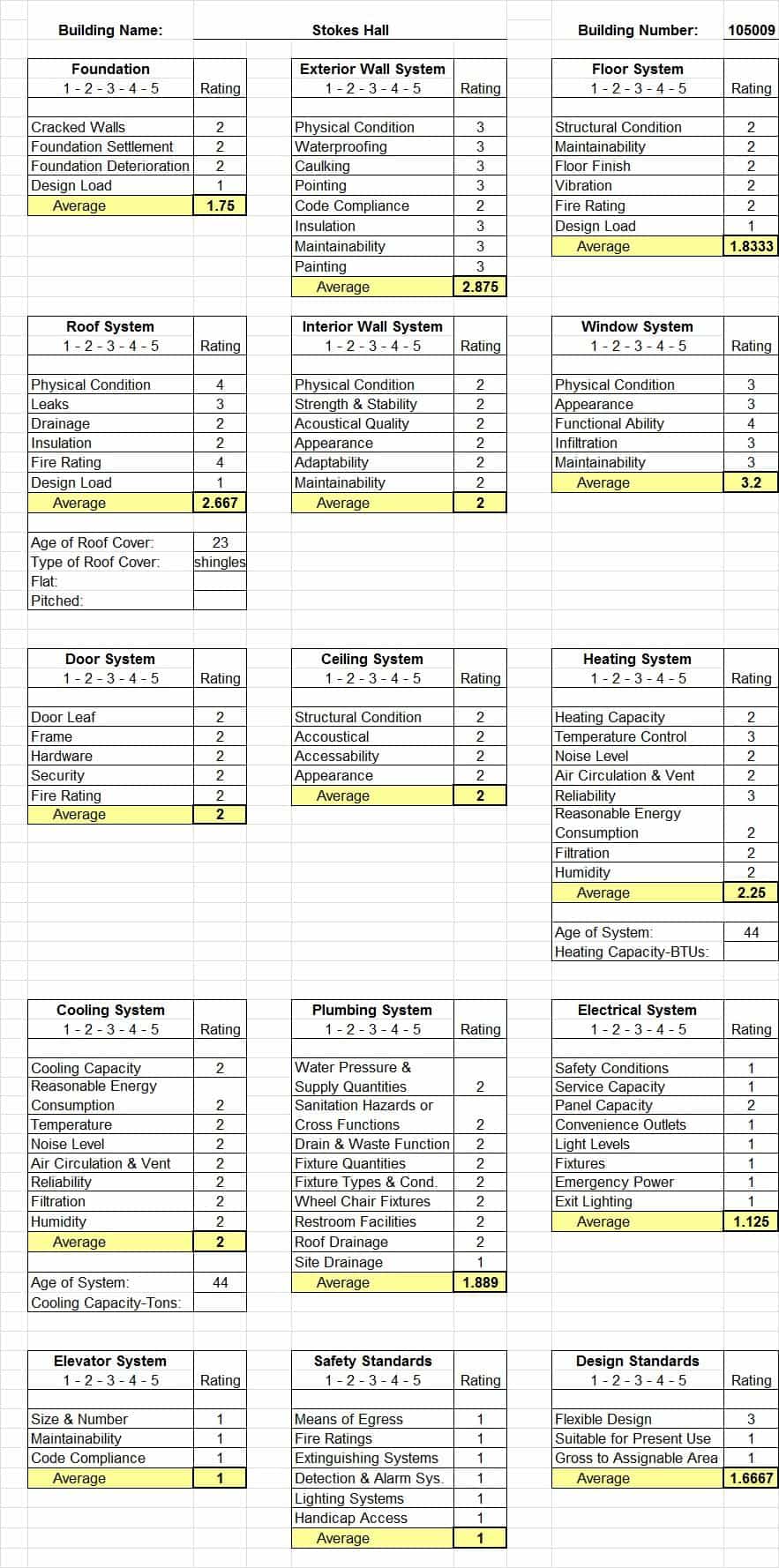 Figure 2. South Carolina Commission on Higher Education Building Condition Survey – Rating Example (Stokes Administration Building)
This rating is then compiled into the Building Condition Survey Summary Form for each respective building with the example for Stokes Administration Building as follows: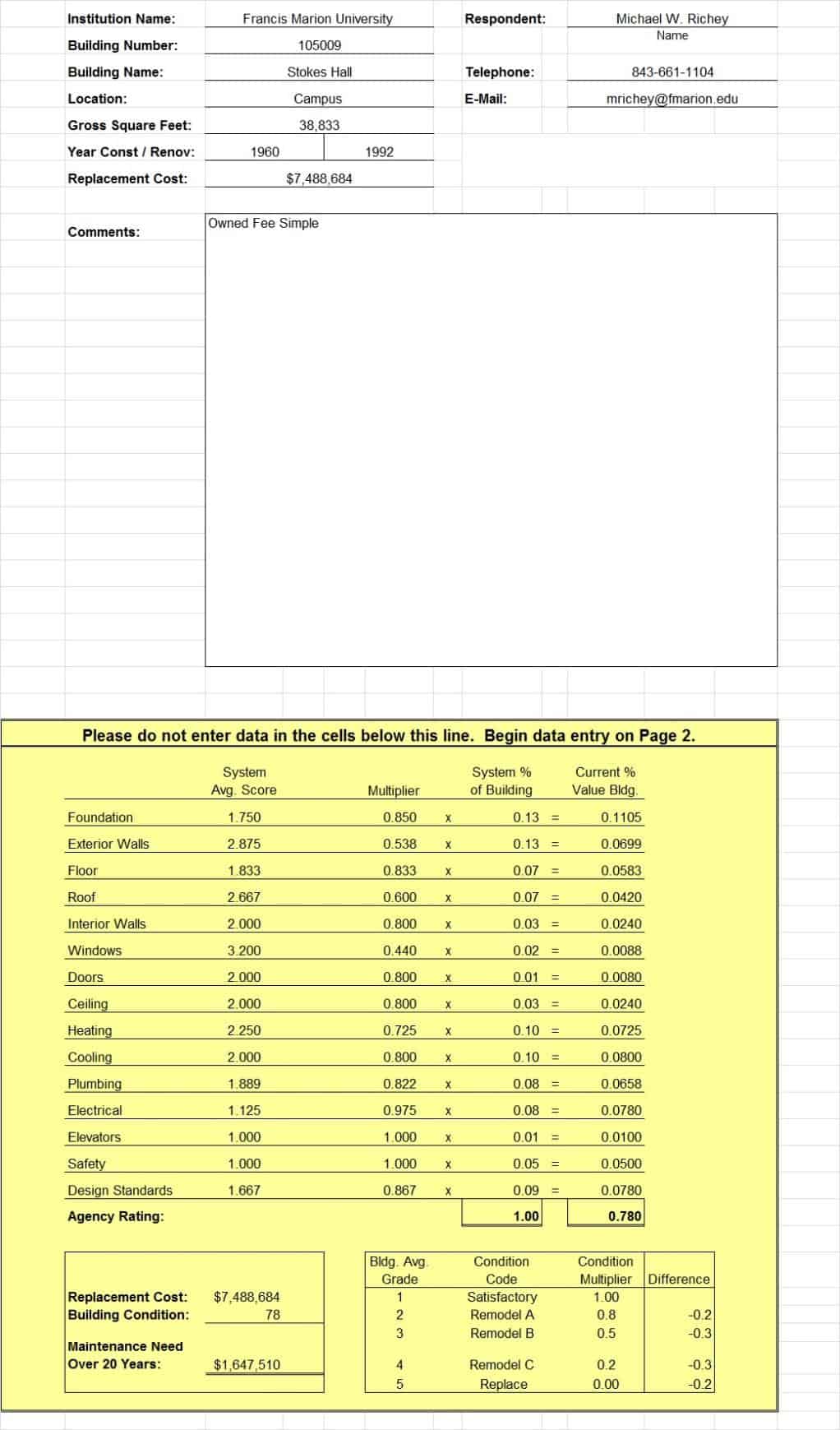 Figure 3. Building Condition Summary Example (Stokes Administration Building)
These individual Building Condition Survey Summary Forms are then compiled into the Building Condition Survey as follows: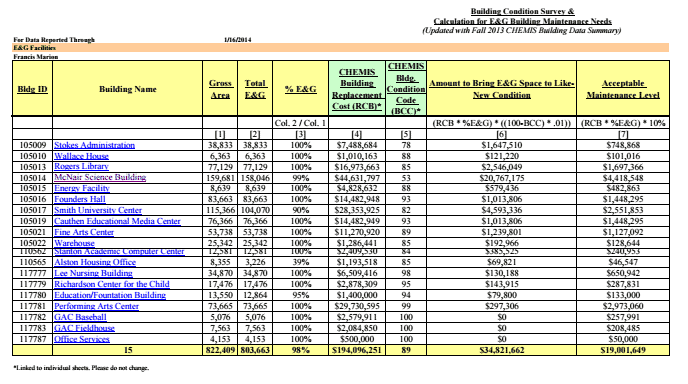 Figure 4. South Carolina Commission on Higher Education Building Condition Survey Summary
This information is used by the South Carolina Commission on Higher Education when evaluating requests for Capital Improvement Bonds and when responding to legislative requests. The last Building Condition Survey (conducted in 2014) noted a total deferred maintenance need of $20.6 million [6].
Recent Deferred Maintenance and Capital Investment
The University continues to monitor and address ongoing deferred maintenance needs. Since 2011, the University has received Maintenance Reserve funds to accomplish deferred maintenance and capital investment projects as follows:
2011-12 Maintenance Needs/Deferred Maintenance:
HVAC with Humidification Capabilities–Rogers Library – $472,064.88
Sidewalk repairs – $40,801
Gymnasium Roof Replacement–Smith University Center – $200,000
Renovations–Founders Hall/Cauthen Media Center – $100,000
Campus Signage Upgrade – $75,000
2012-13 Maintenance Needs/Deferred Maintenance:
Tennis Court Refurbishment – $32,711.59
Chillers Repairs/Replacement – $1,500,000
HVAC Replacement–Rogers Library, Stanton Academic Computer Center, and Hyman Fine Arts Center – $500,000
Roof Repairs–McNair Science Building and Smith University Center – $400,000
Repave Parking Lots A and C – $499,004
Replace carpet, remove wallpaper, and paint–Leatherman Science Facility – $469,745
Carpet replacement in Hallways–Stokes Administration Building – $62,764
Asbestos Removal–Rogers Library, McNair Science Building, and Stokes Administration Building – $1,500,000
Water Tank Replacement–McNair Science Building – $23,234
Sewer Line Replacement–Village Apartments – $50,000
2013-14 Maintenance Needs/Deferred Maintenance:
Soundproofing–Founders Hall/Cauthen Media Center – $185,442.16
Door Upgrades–Founders Hall/Cauthen Media Center – $48,000
Interior Restrooms–Founders Hall/Cauthen Media Center – $156,450
Elevators–Founders Hall/Cauthen Media Center – $141,550
Paint and Flooring–Founders Hall/Cauthen Media Center – $20,000
2014-15 Maintenance Needs/Deferred Maintenance:
Sidewalk Repairs – $28,392
Boiler #1 Replacement – $60,000
Clerestory Window Repairs–Smith University Center – $75,000
Emergency Power Upgrade–Stanton Academic Computer Center – $90,000
Repair Storm Drainage System – $5,000
Inclement Weather Mitigation/Night Vision – $16,000
Flooring Renovation–President's Office – $17,904
Pavement Striping – $5,000
Proviso 118.16 – Classroom Building Renovations:
Physics Furniture – $1,400
Biology Furniture – $14,300
Chemistry Furniture – $4,300
3-D Printer for Physics and Fine Arts Departments – $2,000
Music Studio Furniture – $1,231.16
Sound Studio Lighting and Wall Treatment – $2,500
Orr and Gualdi Studio Space Repurpose- $13,650
Music Studio Furniture II – $1,720
Costume Lab Furniture – $720
Trailer Flooring Renovation–Hyman Fine Arts Center Annex – $2,000
Lighting–Hyman Fine Arts Center Theater – $30,000
Proviso 118.16 – Founders Hall Renovations:
Founders Hall/Media Center–Interior Renovations – $540,000
Founders Hall/Media Center–Furniture – $657,500
2015-16 South Carolina Lottery Maintenance Needs:
Campus Security Siren System Upgrade – $88,992
Campus Video Surveillance – $88,723 [7]
Deferred Maintenance Planning
In the spring of 2017, Facilities Management developed an $8.7 million Five-Year Deferred Maintenance Projects [8] plan to address the most critical maintenance needs. These needs, more fully detailed in the Campus Development Master Plan 2017, are as follows:
$398,000 for IT fiber and cabling infrastructure needs to multiple buildings on campus to support network expansion and emerging technologies
$1,007,000 to repave parking lots and streets
$3,020,000 to replace roofs for five campus buildings
$3,000,000 to renovate the McNair Science Building and Leatherman Science Facility including enhancing the exterior façade of the buildings, updating bathrooms, replacing HVAC systems, and asbestos abatement in the McNair Science Building
$250,000 to repair or replace sidewalk segments due to ground settling or infringement of roots
$1,068,780 to replace damaged infrastructure related to the hot water supply system for heating the residence halls and for providing domestic hot water to the residence halls and the Ervin Dining Hall
In 2014, the architecture firm, Goforth, Brown & Associates provided a condition assessment of campus housing noting the need to replace siding, windows, roofs, and HVAC systems for these apartments. These renovations, estimated at slightly over $2.75 million, are planned to be undertaken gradually as funding becomes available [9].
The University submitted an infrastructure improvement request to cover $5 million of these needs as part of its Fiscal Year 2017-2018 Agency Budget Request package to the South Carolina State General Assembly. Though this request was not funded, the University will continue to request state funding for deferred maintenance as opportunities arise.
Land Acquisition/Growth of Campus Facilities
Throughout the past seventeen years, there has been dynamic growth in the university's physical facilities. Highlights from this time period as exhibited in the Campus Development Summary 2001-2007 show a dedication to maintaining and upgrading the campus infrastructure to fulfill the university's academic mission [10].
Campus Development Master Plan
The Campus Development Master Plan 2017 allows flexibility as planning initiatives and goals evolve and as funding opportunities become available [11]. It is a continuation of the Facilities Master Plan 2012-2020 that was presented to the Board of Trustees at the Summer 2012 Board Retreat [12]. This document provides an update for how the University plans to address near term future expansion.
Capital Projects and Capital Planning
Francis Marion University complies with the South Carolina State's Annual Comprehensive Permanent Improvement requirement for Capital Planning. Section 2-47-55 of the S.C. Code of Laws [13] requires all state agencies responsible for providing and maintaining physical facilities to submit a Comprehensive Permanent Improvement Plan (CPIP) to the Joint Bond Review Committee and the State Fiscal Accountability Authority (SFAA). The Comprehensive Permanent Improvement Plan must include all of the agency's permanent improvement projects anticipated and proposed over the next five years beginning with the fiscal year starting July 1 after submission. The Comprehensive Permanent Improvement Plan  process provides the committee and the authority with an outline of each agency's permanent improvement activities for the next five years. Higher education institutions must also submit the Comprehensive Permanent Improvement Plan to the South Carolina Commission on Higher Education in accordance with the statute.
To fulfill its mission and in accordance with the university's strategic plan, the University makes strategic capital investments in academic, student life, athletic, housing, parking, and other plant facilities using a mix of funding sources including state appropriations, state capital reserves, state institution bonds, internal capital reserves, and private grants.
The University received $5 million in state funding in support of the construction of the Carter Center for Health Sciences in fiscal year 2013-14. This was followed by $1.5 million in state funding in fiscal year 2015-16 to purchase a new Enterprise Resource Planning (ERP) system for the campus and $100,000 toward the School of Education/School of Business Building. In fiscal year 2016-17, the University received $700,000 toward the construction of the Honors Building [14].
Consistent with the Campus Development Master Plan and the 2017-18 Comprehensive Permanent Improvement Plan priorities, the most recent budget request to the General Assembly is as follows:
$8 million to renovate the Medical and Health Education Classroom Complex:
Through the generosity of private donors and the City of Florence, the Historic Florence Post Office/Federal building was acquired by the Francis Marion University Education Foundation in 2017. The Francis Marion University Education Foundation purchased this building with plans to transfer ownership to the University. The University is seeking $8 million in capital funding from the state to renovate the facility for offices, classrooms, lecture halls, and clinical laboratories.
$2.4 million to construct the Honors Building:
Providing state of the art learning facilities is critical to the University meeting its academic mission. The University has determined a need to construct a 15,000 square foot academic facility to consolidate and house the university's Honors Program, McNair Center for Research and Services, and its International Programs. The University received $700,000 in state support and will request an additional $2.4 million of state funding for construction. The facility will include faculty offices, seminar and conference rooms, and instructional space all surrounding an atrium.
$23 million to construct the School of Education/School of Business Building:
This project is to construct an approximately 61,000 square foot two-story building for the School of Education and the School of Business. The building will provide thirteen classrooms, a distance learning classroom, four computer laboratories, one open computer laboratory, four project rooms, a teaching materials center, fifty faculty offices, two dean's offices, and various support staff facilities. The projected cost of the building is $23,850,000 with the University previously receiving $850,000 in State Funds to undertake architectural and engineering design work [15].
Capital projects for building and permanent improvements must pass a series of reviews and approvals prior to execution. Each project must be approved by the South Carolina Commission on Higher Education as well as by the State Engineer's Office. To change the scope or funding of a project, the institution must first file an A1 form to get approval by the South Carolina State Budget and Control Board [16]. Expenses for capital projects are monitored by the State Budget and Control Board through the monthly Statewide Permanent Improvement Reporting System [17].
Surveying Efforts
In an effort to meet the facilities needs of campus users, annually the Facilities Management Division distributes a satisfaction survey to all faculty and staff. In 2017, this survey changed from a paper based survey to an online survey. With this survey, the Facilities Management division seeks to have an average score of a 3 or above on a scale 0-5 on all questions. As can be seen in the latest Facilities Maintenance Survey Results for 2017, the average score for all questions is 3 or above as seen in Questions 2-12 of the survey [18]. As shown in the Chronicle of Higher Education – Great Colleges to Work For Survey 2016, the percentage of university faculty and staff who rate campus facilities as "Very Good to Excellent" was 88% in 2016, up from 84% the prior year and rating above the average for 2016 Honor Roll schools at 81% and the 2016 Carnegie Master's schools at 73% [19].
Technology Support
Francis Marion's Campus Technology unit is a centralized technology organization led by a Chief Information Officer, reporting to the Vice President for Administration.  There are 18 positions including professional staff in the fields of networking and communications, security, systems, operations, instructional technology, media services, programming, desktop support, and administration [20]. This team provides technical support for faculty, staff, and students for both on-campus and distance education support. The University received $1.5 million of state funding in Fiscal Year 2015-16 to implement a new Enterprise Resource Planning (ERP) system for the campus. The first phase of this implementation went live in July 2017. Online courses were first offered by the University in Fall 2011 and have grown to 92 undergraduate and 64 graduate courses.
Campus Technology uses SysAid for Help Desk Support and Tracking software.  University technology users can submit Help Desk tickets online or by calling extension 1111.  The Campus Technology Help Desk is staffed by student workers who are screened and hired based on their technical aptitude and skill sets and go through basic technical support and customer service training.  When calling the Help Desk directly, efforts are made by the student workers to assist the caller over the phone and a Help Desk ticket is entered.  If the support issue requires more technical support, the ticket is routed to the appropriate staff person.  Users receive an email when a ticket is opened and closed with details of the issue and resolution [21].
Documentation